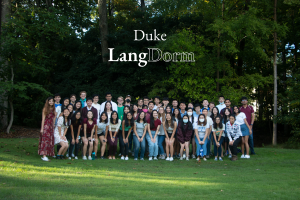 Who We Are
LangDorm is a selective living group (SLG) of Duke students living together in Edens 2A. Although our members come from all around the world, we are united by a common interest in international cultures and languages.
Today, LangDorm is home to 55 members, half of which live in-section in Edens. Arabic, French, German, Italian, Japanese, Korean, Chinese, Spanish, Hindi, Tamil, Bengali, Thai, and numerous other languages have all been a part of LangDorm over the years.
Common events include language lessons, cooking sessions, game nights, movie nights, and group trips to downtown Durham and Asheville, NC.
Why Join?
We are, at heart, a very wholesome and chill group of friends. Since we have members from many backgrounds and walks of life in our community, we always strive to create a very welcoming and accepting environment. We have members who have lived in the same city in the United States their whole lives, and others who have never been in the same house for more than a couple years. As long as you have an open mind and love food as much as we do, you will always be welcome in our community. We promise to keep you well nourished — literally and metaphorically.
Learn More
Stay tuned for updates on Fall 2021 Rush!! We are almost finished with the calendar, and we are so so excited to finally get to meet you in person!
In the meantime, feel free to check out our Instagram and Facebook to see what shenanigans we've been up to recently 🙂