Dr. Landstrom is a physician-scientist trained in pediatric cardiology, human genetics, and molecular pharmacology.  He completed an MD and PhD from Mayo Clinic College of Medicine, with a research focus on the genetics of cardiovascular disease with Michael Ackerman – a leading expert in long QT syndrome and cardiovascular genetics.  He completed a pediatric residency at Texas Children's Hospital, part of Baylor College of Medicine, as well as fellowships in pediatric cardiology and an advanced fellowship in pediatric electrophysiology.  He also completed a research fellowship in molecular physiology and biophysics with Xander Wehrens – a leading expert in cardiovascular molecular physiology.
Currently, Dr. Landstrom is a faculty member in the Duke Department of Pediatrics, Division of Cardiology and the Department of Cell Biology.   He has affiliations with a number of research entities including Duke MEDx,  the Duke Cardiovascular Research Center,  and the Duke Children's Health and Discovery Initiative.   He is a faculty member of the Duke University Program in Genetics and Genomics, Cell and Molecular Biology, and Developmental & Cell Biology Program and can serve as a research mentor for students in these programs.   He sees pediatric, and young adult, patients at Duke Children's Health Center as part of Duke Health.
Dr. Landstrom leads the Cardiovascular Genetics Clinic at Duke Children's Health Center and specializes in the diagnosis and treatment of arrhythmias, heritable arrhythmia syndromes (cardiac channelopathies), cardiomyopathies, and cardiovascular genetic diseases.  He also specializes in the evaluation of families who have experienced the sudden and unexplained death of a child or young adult. 
LAB ALUMNI
Shea Malham (former post-bac student, BIGGER program scholar)
Dihara Hossain (former post-bac student, BIGGER program scholar)
Michael Rosamilia (former CTSA Duke Masters program, current Duke medical student)
Scott Zheng (former 3rd year Duke medical student researcher, current Duke medical student)
Lexy Markunas (former undergraduate, current Duke medical student)
Alexander Behura (former undergraduate, current research technologist in the Lefkowitz Lab)
Ellen Mines (former undergraduate, current Duke medical student)
Kaila Moore (former post-bac student, BIGGER program scholar)
Kyra Potter (former post-bac student, BIGGER program scholar)
Jordan Ezekian, MD (Post Doctoral Research Fellow, TL1 Fellowship Awardee, currently Advanced Fellowship in Pediatric EP and Fellowship in Cardiovascular Genetics)
Ruth Lehan, MS, CGC (T32 Fellowship Awardee)
Rakesh Manivannan, MBBS (former research fellow, currently Resident in Internal Medical at West Virginia University)
Ragavilasini Suresh, MBBS (former research fellow)
Chichi Ogbonna, BS (former post-bac student, BIGGER program scholar, current medical student at Wake Forest School of Medicine)
Qixin Yang, MD (former Post Doctoral Research Fellow)
TEAM PHOTOS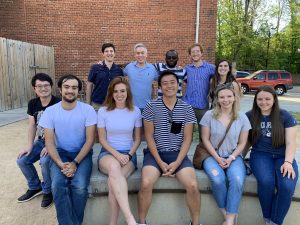 April 2022
April 2021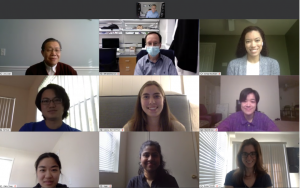 April 2020 – COVID19 Social-Distancing
May 2019