During the summer of 2021, several English Ph.D. students are gaining work experience through internships. Five of these students shared insight into their experiences: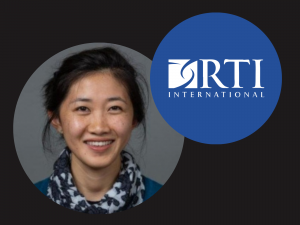 Shirley Li, '23, is interning at RTI International (RTI). She began her internship working on the East Africa Energy Program Impact project in early June. Li is designing and conducting a "most significant change" (MSC) study of the influence the East Africa Energy Program had on the enabling environment around the grid-based energy sector in Kenya. She expects the study to blend government consulting, international development and social science research. Li learned about this internship opportunity through Duke's Provost Experiential Fellowships program, which offers summer research internships to continuing Ph.D. students.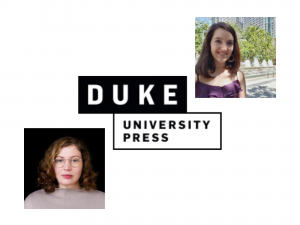 Two students are interning for Duke University Press this summer. Carolin Benack, '23, is interning as a journal platform creator. In her role, Benack assists the business systems and IT teams in creating the Scholarly Publishing Collective, a set of services ranging from journal subscription management to web hosting for university presses beyond Duke University Press. Benack builds and reviews journal sites and provides data analysis and management for them. She learned about this Provost Internship through Duke's Office of Interdisciplinary Studies' website.
"Working at the Press is reminding me of my professional identity outside of academia. I realize that the skills I gained during my Ph.D. training are much more useful in the nonprofit/business world than I thought. I'm learning the appropriate language to make these skills legible to nonacademic employers." – Carolin Benack
Jessica Covil-Manset, '23, is also interning with Duke University Press in the books marketing sector. She started working with Duke University Press during the fall of 2020 and has continued into the summer of 2021 with additional hours. When asked about her responsibilities, Covil-Manset noted that they are diverse. She orders books for reviewers, processes book reviews to share with authors, researches awards, writes nomination cover letters, writes descriptions of books for catalogs, schedules tweets to advertise books and events, formulates questions for Q&As with authors, and creates posts for the Duke University Press blog.
Covil-Manset shared that she is learning a lot about the behind-the-scenes elements of the publishing industry and how various staff positions collaborate to assure a book's success. She now knows how acquisitions editors acquire and develop content that the publisher can utilize to market a book.
Covil-Manset added, "I've benefited greatly from the mentorship program that Duke University Press recently started. I was paired with Elizabeth Ault, an editor at DUP whom I've enjoyed video conferencing with and whose perspective/advice I truly value."
Ellie Vilakazi, '25, is interning locally as a graduate student project manager for Story+.
The Franklin Humanities Institute and Bass Connections offer Story+ as a 6-week paid summer research experience for Duke undergraduate and graduate students interested in exploring interdisciplinary humanities research topics and methodologies. Vilakazi began her internship in May overseeing international undergraduate students conducting research. Her team interviews international students who resided in Durham during the summer of 2020.
Vilakazi is responsible for guiding her team through the interview process and the development of a creative, visually compelling website. The website features stories organized around the themes, challenges, shows of resilience, and records of institutional solutions that emerge from the project's interviews. She is leading an interview training session to prepare her students to write these stories, and she meets with them four times a week for an hour to discuss their progress.
"I am an English student. IRB (Institutional Review Board) and human research is not something I have to deal with in my studies, but it has been eye-opening to see the whole application process and how to deal with human beings as data. This internship has taught me more about the nuances of scholarly interviews as opposed to journalistic interviews. I have tremendous respect for the work that social scientists do now that I have had a small view into the process of researching human beings." – Ellie Vilakazi
Catherine Lee, '23, is completing an internship at Durham Technical Community College. Her internship is one of the Provost's internships for Ph.D. students without summer funding. Lee is working with Durham Tech's Creative and Liberal Arts faculty to diversify the curriculum for general education courses (British Literature I and II) so that they are more inclusive of groups historically left out of the Western canon. During her internship, she will be researching work from underrepresented communities in British literature and developing course content for future instructors.
"I can't say I have learned much about the industry or professionalization yet, but the research that I have been doing has been fun and informative." – Catherine Lee
The students featured in this article found their internships through Duke University resources that provide information about internship opportunities sponsored by the university or partners. Each student took advantage of the internship to gain insight into an industry they may pursue upon completing their studies. Opportunities like these provide real-life experience and allow our doctoral students to learn about alternative potential careers and professions.
By Quantá Holden, Digital Communication Specialist; originally posted on the Duke English Department website