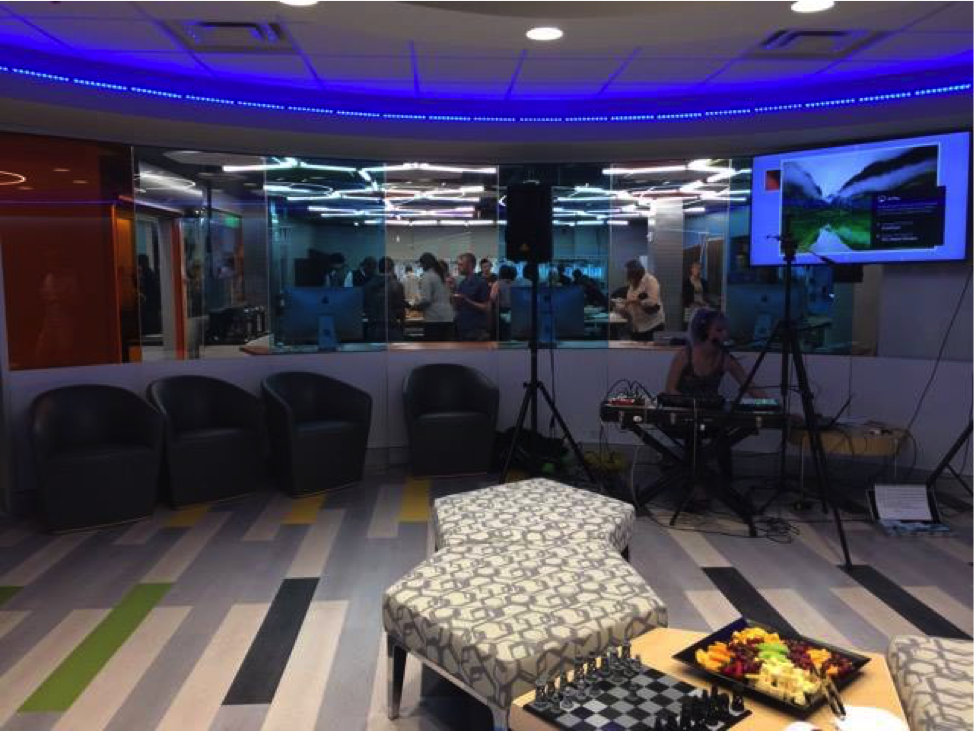 By Anandita Ananthakumar
In October, Duke's Office of Information Technology (OIT) hosted the grand opening of the new Technology Engagement Center. The TEC is a space where students can engage in collaborative projects and use the various resources available to aid their design ventures. It was certainly a sight to see. The atmosphere was buzzing with technological innovations and creative exchanges, accompanied by some great food and live electronica music.
The new center is organized into seven main sections:
The Co-lab commons is the center of it all. It's a great place to hang out with people, discuss projects and have meetings in a more informal setting.
The Duke Research Computing area provides space for researchers to learn about cluster computing, big data management, visualization, and storage.
The Classroom features an open space that serves as a classroom setting for free technology training courses or it can transform into a conference room. This space supports audio and video conferencing and lecture recording.
The Project room is a more formal work place setting, where people can choose to use their wired or wireless connection systems.
The Studio features a wall of 3D printers that are available for free to the entire Duke community. It is a great place for collaborative work that offers open spaces to enable creative expression.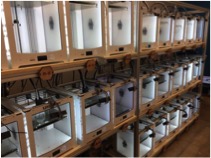 The Garage is adjacent to the studio and features laser cutters and some higher-end 3D printers. Together, the Studio and Garage are arguably the most exciting spaces in the center.
The Academic Production Studio houses the team responsible for Duke's academic video and audio content on various online platforms like Coursera and Duke Extend. This space will promote further digital and audio visual collaborations amongst students and faculty.
A number of students showcased the ideas and design products they developed with the help of Innovation Co-lab, including a prosthetic arm developed by the student organization Duke eNABLE, and the spontaneous hangout app "Walla." The attendees of the event enjoyed free t-shirts, 3D-printed stickers and other exciting giveaways.
The event was certainly an enriching experience. The Technology Engagement Center is a first-rate resource—a uniquely open space that encourages collaborative thinking. Students will benefit from the Center's innovative spaces and resources while working on senior capstones, startup projects and other design experiments.
Anandita Ananthakumar, currently a Biomedical Engineering graduate student, grew up in Dubai and recently graduated with a bachelor's degree from the University at Buffalo, New York. She enjoys meeting new people, loves to travel and will never say no to chocolate. She is currently working as a student assistant in the Office of the Vice Provost for Interdisciplinary Studies.