Brian Southwell has spent his professional life dedicated to telling stories of the human condition. In particular, he's focused on making scientific research relatable.
"I've been attracted to finding ways social science research can inform the broader public discourse and be useful in finding a way to translate work that happens in the public arena," he said. "I've realized scientists and researchers often struggle to inform people of what they do. Translating their work is very important because social scientists study the everyday life of humanity."
To help increase the understanding of social science in the future, Southwell, an adjunct professor in Duke University's Social Science Research Institute (SSRI), teaches students how to analyze, decode and share research that affects public attitudes and policies. But they don't write stories. Instead, they produce radio segments for both local and global audiences.
With Southwell's guidance, these students tackle topics to peel back the layers of how different societal groups relate. They hope this knowledge will positively impact social relationships and activities.
Southwell hosts "The Measure of Everyday Life," a radio show broadcast on North Carolina Central University's WNCU 90.7 FM station. It's dedicated to interviewing social scientists about the human condition.
To ensure the public has a greater knowledge of science in the future, Southwell is using his radio and podcast class to groom the next generation of social science communicators.
This is a class where students learn to talk about social science in a way that [Southwell] does on his show. I think we'll see students producing short pieces that may well end up on the show. I hope all sorts of new ways of bringing social science insights to the public will emerge. —Tom Nechyba, Director, SSRI
Set up like a workshop, the course has 10 enrolled students. Southwell said he begins the class by introducing students to classic theories on the role social science plays in policymaking. They have open discussions about unconventional ways of connecting the public to social science, including podcasting, and students master technical editing skills by using free or low-cost editing software.
During the class, students produce several 4-to-7-minute stories on individual topics. For example, undergraduate class participant Jesse Remedios produced the podcast on reducing North Carolina's high school dropout rate. He spoke with several state high schools, gathering advice and tips on helping students stay enrolled.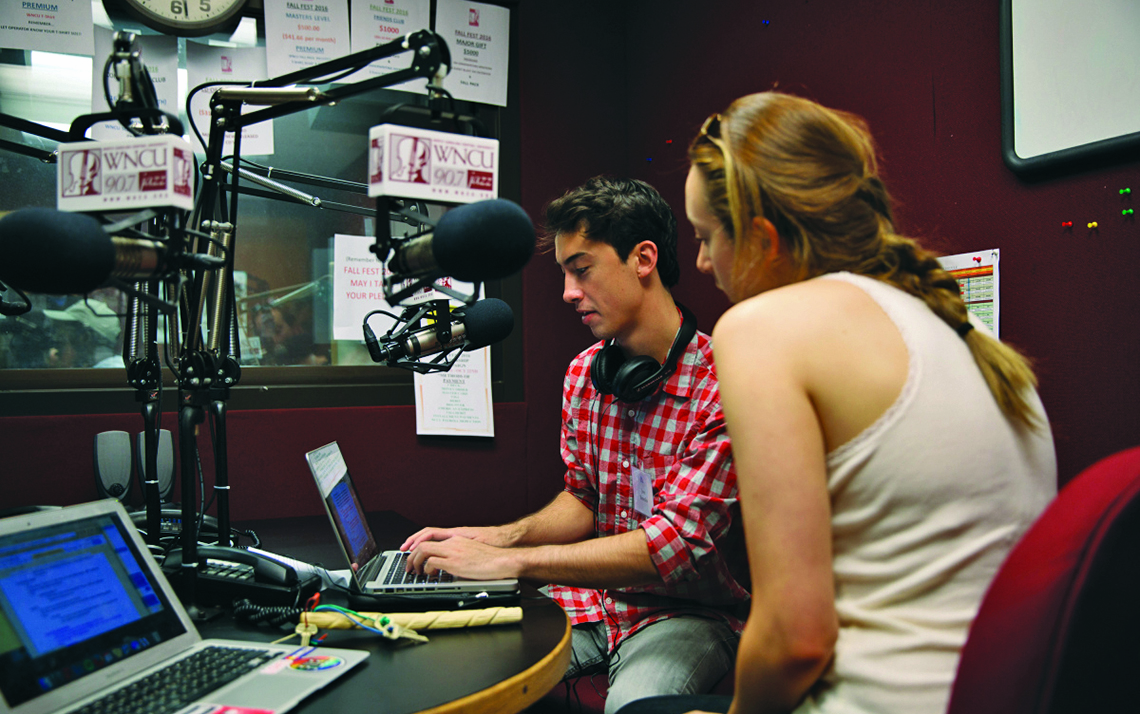 Two other students, McCall Wells and Lou Kendaru, collaborated on a story about votership among white women in the most recent presidential election. "We worked to push aside our disagreements with the voters to identify the logic behind their votes," Kendaru said. "We used it as an opportunity to truly understand the support for the Trump presidency rather than just pretend we understood it."
Students also learn how to talk with people and handle unfamiliar and unforeseen situations while working on stories, Remedios said, while they sharpen their research skills.
Southwell also teaches students how to use straightforward language that allows the public to understand the importance and impact of social science research, Kendaru said.
I get very frustrated with academia being in the Ivory Tower and not being very accessible. This class and these stories are things that normalize conversations about the world we live in. And, we're having them in a language that is accessible to most people. That's important. —Lou Kendaru
For his students, Southwell is much more than a professor they see only in the classroom. He's an approachable mentor—an instructor who takes time to get to know his students individually and unearth their goals and dreams.
"Dr. Southwell supports us all. He pays attention to our individual goals and tries to think through ways to help connect us to the next step," Kendaru said. "We've all had conversations with him about where we see ourselves in five to 10 years."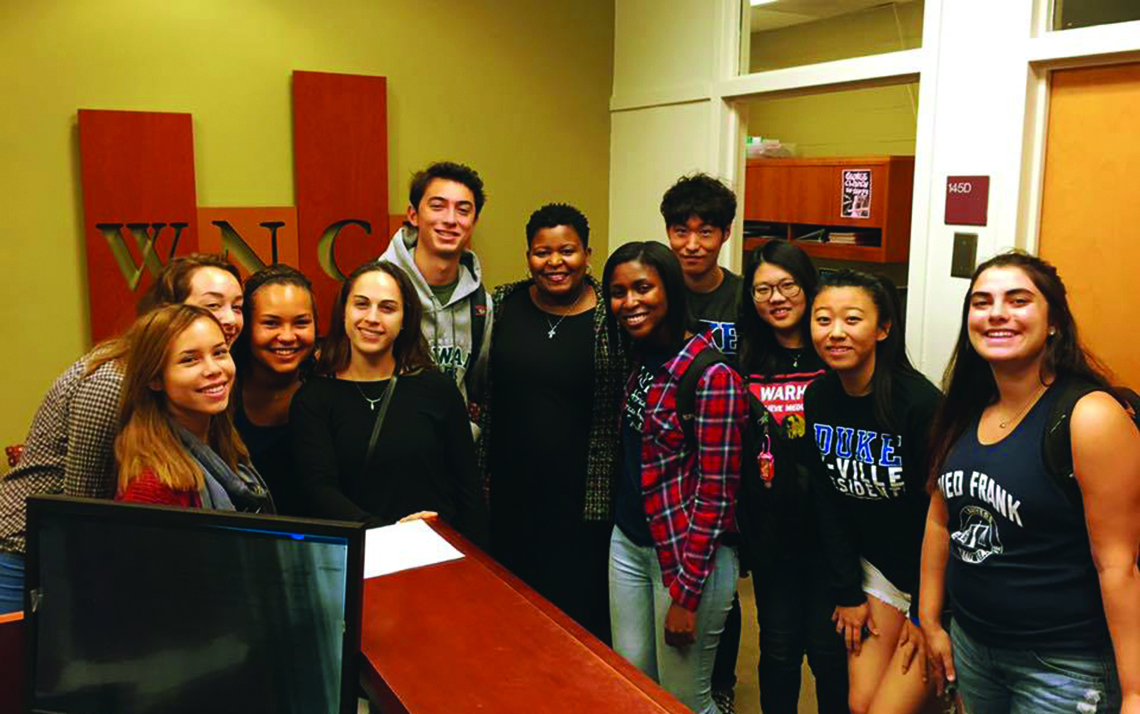 It's not enough to simply give students the technical skills needed to produce compelling stories, Southwell said. Aspiring social science communicators can benefit from networking and internship opportunities, as well.
Consequently, as part of the course, he brings in professional communicators, such as David Crabtree from WRAL and Susan Davis from WUNC, to answer questions.
Several students, including Remedios, Wells and Kendaru, also accepted internship positions to work alongside station staff on "The Measure of Everyday Life." These opportunities are invaluable, Remedios said, because it gives students a head start on their careers with actual work experience instead of only classroom learning.
This class is good preparation for the students to get out of their comfort zones and ask good questions. It helps them recognize they're not the absolute expert in all areas. They learn to be humble in asking insightful questions. It's a good skill to have whether for podcasts, shows or for life. —Brian Southwell
The Social Science Radio Workshop is a Bass Connections in Education & Human Development course.
Excerpted from Sharing the Sounds of Science, originally published in the Spring 2017 issue of GIST by the Duke Social Science Research Institute (SSRI)