The Ph.D. Transitions Group Coaching Program helps Duke Ph.D. students from all disciplines navigate the many changes and learning curves embedded in a five-to-seven-year doctoral program. Learn more about the program and register for Fall 2022 groups.
Meet the Coaches
Lauren G. Anderson, Ph.D.
Dr. Anderson is the director of research development for the Department of Surgery at Duke. In this role she provides strategic guidance for the development of research proposals and manages a team of proposal developers and project managers. Dr. Anderson came to Duke in 2010 as a postdoctoral associate in the Department of Neurology before transitioning into research development. She holds a Ph.D. in neurobiology from the University of North Carolina at Chapel Hill and a B.A. in neuroscience from the Johns Hopkins University.
Since her days as a student, Dr. Anderson has helped graduate students and postdocs navigate degree completion and professional transition processes. She applies her knowledge and experience as a manager not only to her team, but also as a mentor to others, helping them to build confidence in their roles. Dr. Anderson is sought out by her colleagues as a resource to bounce ideas off of, get information about administrative and programmatic resources, and consult on strategies to address difficult situations. Well respected by her colleagues, she has completed training for facilitating implicit and unconscious bias dialogues, continues to be involved with the Department of Surgery's diversity and inclusion team, and is an advocate for positive culture change.
As a coach, Dr. Anderson believes in helping others achieve their goals through confident autonomy and agency. She believes the challenges faced by students in pursuit of their Ph.D. are possible to overcome. Further, the resolution of these challenges can provide a useful framework from which to address issues in the future. Dr. Anderson's experience developing and maintaining a network beyond her immediate field has helped her keep perspective through all of her transitions, and has helped her relate to many others along the way. She believes interdisciplinary and multigenerational networks have the power to provide perspective, especially when challenges mount and a natural response would be to retreat. Dr. Anderson welcomes the opportunity to work across disciplines with graduate students and postdocs who are completing their degrees or in transition to achieve their next goals. She particularly enjoys working with first-generation and nontraditional students, and with students working or considering changes in their professional field or field of training.
Kris W. Herring, Ph.D., MScM, ACRP-CP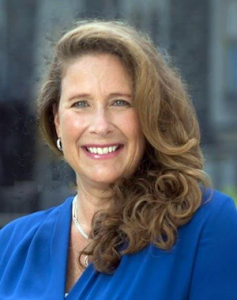 Dr. Herring is a clinical research professional specializing in cancer patient reported outcomes (PRO) and real-world evidence research (RWE). Her passion for research has cultivated a career comprised of positions in both academia and the biopharmaceutical industries. Dr. Herring came to Duke in 2017, and her roles within the Duke Cancer Institute include assisting with building the Cancer Patient Experience Research Program, managing PRO and RWE research, and mentoring students regarding research methods. Before coming to Duke, she was faculty and the program director for the University of North Carolina Wilmington (UNCW) Clinical Research Program. She also founded the Master of Science in Clinical Research and Program Development degree at UNCW.
Dr. Herring possesses experience working in compliance and regulatory affairs for companies such as Amgen, Inc., GSK, Inc. and AAIPharma, Inc. She has over 15 years of experience instructing, advising and/or mentoring undergraduate students, graduate students, medical students and medical residents. Dr. Herring holds a Ph.D. in Health Science, an M.S. in Management of Biotechnology, a B.S. in Zoology and a B.S. in Biological Sciences.
Although Dr. Herring is a clinical researcher, she is also a musician and has a profound love of music from varying genres. At 17 years old, she was a student at the Tanglewood Institute of Music in Massachusetts where she received instruction as a classical flutist. Hence, her background also includes performing as a soloist and with orchestras and symphonies.
Dr. Herring immensely enjoys spending time with her husband, children, two dogs and green cheek conure bird. She loves animals and enjoys the outdoors, including swimming, walking, biking, hiking, boating, and yes, ziplining. She loves watching college sports, but sadly, not with her husband since they went to rival schools! When she is not at home, she can usually be found at Atlantic Beach, N.C., enjoying the water or reading.
Liz Milewicz, Ph.D.
Dr. Milewicz is head, digital scholarship and publishing services, and co-director of ScholarWorks: A Center for Scholarly Publishing at Duke. In these roles, she advises and leads initiatives and services that encourage the creation, use and dissemination of scholarly materials in a range of media. The Digital Scholarship & Publishing Services department collaborates with researchers at any level of study to plan and build digital research projects. It encourages learning and experimentation in digital scholarship through exploratory projects, programs of hands-on instruction, graduate student internships, and resources and programming in The Edge/Murthy Digital Studio. As co-director of ScholarWorks, A Center for Scholarly Publishing at Duke University Libraries, she helps to promote and support programs, services, and resources that help scholars realize the full potential of their work, whether presenting it in new forms, expanding and engaging audiences, or planning for sustainability. Currently Dr. Milewicz also serves as co-director of Project Vox, an open educational resource on early modern women philosophers that is collaboratively developed by Duke Libraries and the Duke Department of Philosophy and that serves as a platform for students, faculty and staff to develop hands-on experience in digital publishing.
Before coming to Duke, Dr. Milewicz managed two NEH-funded digital humanities projects at Emory University (The Expanded Online Transatlantic Slave Trade Database), and worked with the Emory Libraries on a range of digital library initiatives. She earned her doctorate from Emory, where she studied cultural and linguistic anthropology, organizational sociology, and histories of libraries and reading. Her master's degrees came from the University of Alabama, where she earned an M.S. in library and information science and an M.A. in English, and where she spent two glorious semesters making paper and binding books in the Book Arts program.
Meet the Program Director
Maria LaMonaca Wisdom, Ph.D., ACC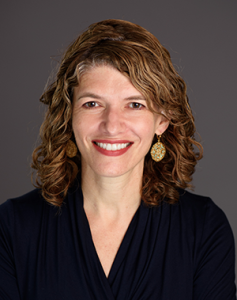 Maria Wisdom is the director of interdisciplinary coaching and mentoring programs in the Office of Interdisciplinary Studies. In addition to overseeing the Ph.D. Transitions Group Coaching Program, she directs the Ph.D. Student Peer Mentoring Program, which provides first-year Ph.D. students across Duke the opportunity to receive mentorship in a supportive, interdisciplinary peer group setting. She regularly teaches a Duke Graduate Academy course on "Best Practices in Mentorship," and provides customized workshops on mentorship to Ph.D. students and faculty. Her parallel coaching work with faculty through the Office for Faculty Advancement helps her (and her coachees) to understand complex issues in graduate education from multiple perspectives. Dr. Wisdom's reflections on mentorship, coaching and faculty life show up occasionally in The Chronicle of Higher Education.
Dr. Wisdom holds a Ph.D. in English literature (Victorian studies) from Indiana University, and was an assistant/associate professor of English at Columbia College in South Carolina for over a decade. She is the author of "Masked Atheism: Catholicism and the Secular Victorian Home" and a recipient of two research grants from the National Endowment for the Humanities. Her articles on women writers and religion have appeared in Studies in the Novel, Nineteenth-Century Literature and other peer-reviewed journals. Before arriving at Duke in 2016, she was executive director of the Institute for Arts and Humanities at the University of North Carolina–Chapel Hill.