Office of the Vice Provost for Interdisciplinary Studies
216 Allen Building | Box 90003
919-684-1964 | interdisciplinary@duke.edu
The Office of the Vice Provost for Interdisciplinary Studies provides central organization and oversight for interdisciplinary units throughout Duke University. The Office helps to develop and implement policies and procedures that advance the often unique administrative, research, educational, and practice needs of interdisciplinary groups; provides leadership and central organization for Bass Connections; coordinates faculty hiring for the university-wide institutes, initiatives, and centers; and facilitates collaboration among faculty, Deans, and Directors. It also provides administrative and fiscal oversight for interdisciplinary units' space, budget, and personnel, coordinated through the Office of Interdisciplinary Program Management.
 Edward Balleisen, Vice Provost for Interdisciplinary Studies
919-684-1964
eballeis@duke.edu
216 Allen Building
Arriving at Duke in 1997, Edward Balleisen is Professor of History and Public Policy. He has written widely on the historical intersections among law, business, and policy in the United States, as well as the evolution of American regulatory institutions and contemporary debates on regulatory governance. The recipient of awards for excellence in undergraduate teaching and graduate mentoring, Balleisen's most recent book is Fraud: An American History from Barnum to Madoff (Princeton, 2017). A national leader in conversations about the need to reconfigure doctoral training to foster intellectual versatility and career diversity, Balleisen is the program director for Duke's Versatile Humanists program. As Vice Provost, Balleisen is responsible for facilitating cross-school collaborations around research, teaching, and outreach.
Sarah Dwyer, Director of Communications
919-684-5379
sarah.dwyer@duke.edu
Erwin Mill C104D
Sarah collaborates with faculty, academic leadership, students, and colleagues to document and share interdisciplinary education, research, and engagement at Duke, including the Bass Connections program. Previously, Sarah worked at IntraHealth International, a global health nonprofit, where she managed communications for the organization's largest project. Prior to moving to Durham from New York City in 2006, Sarah was the Acting Director of Development at The Graduate Center of the City University of New York. Sarah has an M.A. in International Studies from The Graduate Center of the City University of New York and a B.A. in Art History from Vassar College. She speaks French and is passionate about cheese.
Amy Feistel, Administrative Assistant
919-684-1964
amy.feistel@duke.edu
216 Allen Building
Amy supports the Office of the Vice Provost for Interdisciplinary Studies. Her primary responsibilities include scheduling and administrative duties for strategic development and implementation of interdisciplinary education and research at Duke. Amy has a varied background in project management and curriculum development. Her passion for facilitating interdisciplinary collaboration is proven by stints with the Focus Program, the former Institute for Genome Sciences and Policy, and the John Hope Franklin Center at Duke. Amy earned a B.A. in Literature from Missouri State University and an M.A. in East Asian Cultural Studies from Duke. She has worked with rural communities to develop motorsport tourism events and is a licensed stage rally navigator with competition experience in China and the U.S. In her free time, Amy can be found digging in the dirt or adventuring with her daughter.
Laura Howes, Director, Bass Connections and Rubenstein Fellows Academy
919-684-9021
laura.howes@duke.edu
Erwin Mill C104C
Laura works collaboratively across the university to manage program design, implementation, and financing for Bass Connections and the Rubenstein Fellows Academy. Laura was previously the Director of Finance and Development at the James B. Hunt Institute for Educational Leadership and Policy and, prior to that, was a Senior Program Manager at the Partnership for Public Service, where she designed and managed leadership development and cultural change initiatives for federal agencies. Laura has a B.A. in public policy analysis and political science from the University of North Carolina, Chapel Hill, and an M.B.A. from the Smith School of Business at the University of Maryland. She is certified and trained in Ken Blanchard's Situational Leadership Model, the Strength Deployment Inventory, and the DISC assessment.
Carolyn Mackman, Manager, Special Projects
919-668-7997
carolyn.mackman@duke.edu
Erwin Mill C104F
Carolyn's areas of responsibility include dual-career hiring, staffing for senior leadership searches and reviews as well as development of new projects and programs. From 2010 to May 2017, she served as the Dean's Chief of Staff at the Duke University School of Medicine, where she managed programs and projects initiated by Dean Nancy C. Andrews and her senior leadership team. Her responsibilities included overseeing the Dean's administrative staff, planning senior leadership meetings, staffing executive committees, implementing new initiatives, and managing ongoing programs. Carolyn earned a B.S. in Molecular Biology from the University of Edinburgh and an M.Phil. in Medical Microbiology from the University of Leicester. Carolyn's career has involved working in biotechnology companies as a researcher and in a private research institute in the Office of Institutional Animal Care and Use. Prior to joining Duke, she served in the Office of Human Research Ethics at the University of North Carolina.
Mindy Miller, Manager, Special Projects
919-668-1460
mindy.miller@duke.edu
224 Allen Building
Mindy's areas of responsibility include organizing and staffing senior leadership searches, reviews, and institute external reviews, and coordination of faculty hiring and joint appointments in the university-wide institutes, initiatives, and centers. She joined Duke and the Provost's Office in 2011 after four years at CUNY's Queens College, where she supported the Center for Teaching & Learning and Writing Across the Curriculum programs. Mindy was previously an administrator at Memorial Sloan-Kettering Cancer Center in New York. She has a B.S. in Business Administration from Iowa State University and training in secondary education mathematics. Her daughter is a Wellesley College graduate now working in Duke's Mouse Behavioral and Neuroendocrine Core Facility; Mindy lives in Carrboro with her spouse and favorite tennis, kayaking, and gardening partner.
Meghan O'Neil, Administrative Coordinator, Bass Connections
meghan.o.neil@duke.edu
Erwin Mill C104E
Office of Interdisciplinary Program Management
2024 West Main Street | Erwin Mill | Box 104404
The Office of Interdisciplinary Program Management provides the operational support needed for Duke's university-wide institutes, initiatives, and centers to incubate some of the university's most exciting interdisciplinary research, engagement, and teaching activities. OIPM provides oversight and guidance in all areas of business, finance, planning, and human resources to interdisciplinary units, ensuring the most effective and efficient management of their budgets, which total approximately $77M annually.
Elaine Fulton, Executive Director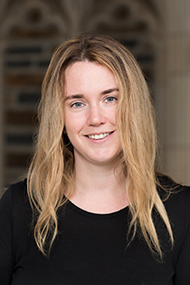 919-684-8872
elaine.fulton@duke.edu
Erwin Mill C106
Elaine provides oversight for finance, budget, space, grant administration, and fiscal policy interpretation in support of the university-wide institutes, initiatives, and centers. Prior to joining OIPM, Elaine held administrative positions within Duke and at the Massachusetts Institute of Technology. She graduated with a degree in Business Administration from Champlain College.
Misty Roland, Human Resources and Finance Coordinator
919-681-9732
misty.roland@duke.edu
Erwin Mill C111
Misty provides faculty appointment coordination, HR, and financial support to the university institutes, initiatives, and centers within the purview of OIPM. This position reports to the OIPM Executive Director and works closely with the OIPM Director of HR. Misty also manages the financial and reporting responsibilities for the Undergraduate Program Enhancement Fund. Prior to joining OIPM, Misty held positions with administrative and fiscal responsibilities at Duke, worked as a clinician in hospice, and served with other community health agencies focusing on mental health, social justice, and aging. Misty has a BSW from Mars Hill College.
Kathy Sparrow, Director of Human Resources
919-684-4135
kathy.sparrow@duke.edu
Erwin Mill C110
Kathy manages the human resources functions of OIPM to help ensure effective and efficient administrative staffing and processes in supporting interdisciplinary activities within, across, and beyond the university-wide institutes and initiatives. She provides expertise on HR policies and programs, serving as liaison between the institutes and initiatives and central HR or other administrative offices. She works closely with institutes and initiatives' administrative personnel, management center staff, Duke Corporate HR, and other administrative offices to facilitate HR policies, programs, and activities. This includes recruitment, selection, and hiring of staff; job classification; salary administration; performance management; and career development. Previously, Kathy served for eight years as HR Departmental Manager for Duke Health Technology Solutions and 20 years in HR Rewards and Recognition, where she supervised the campus wage and salary administration function. Kathy is a graduate of the University of North Carolina at Chapel Hill and obtained status as a certified Senior Professional in Human Resources.