Office of Interdisciplinary Studies
216 Allen Building | Box 90003
919-684-1964 | interdisciplinary@duke.edu
The Office of Interdisciplinary Studies provides central organization and oversight for interdisciplinary units throughout Duke University. The office helps to develop and implement policies and procedures that advance the often unique administrative, research, educational and practice needs of interdisciplinary groups; provides leadership and central organization for Bass Connections; coordinates faculty hiring for the university-wide institutes, initiatives and centers; and facilitates collaboration among faculty, deans and directors. It also provides administrative and fiscal oversight for interdisciplinary units' space, budget and personnel, coordinated through the Office of the Provost.
Edward Balleisen, Vice Provost for Interdisciplinary Studies
919-684-1964
eballeis@duke.edu
Edward Balleisen has served as Duke's vice provost for interdisciplinary studies since 2015. In this capacity, Balleisen works with university-wide institutes and initiatives and each of Duke's ten schools to foster collaborative, interdisciplinary research, teaching and engagement. He also oversees Bass Connections, an innovative program that each year catalyzes dozens of interdisciplinary, problem-centered research teams involving faculty, graduate students and undergraduates. A national leader in conversations about the need to reconfigure doctoral training to foster intellectual versatility and career diversity, Balleisen was the lead co-PI on Duke's Versatile Humanists project, funded by a Next Generation Implementation grant from the National Endowment for the Humanities.
As a professor of history and public policy, Balleisen's research and writing explores the historical intersections among law, business, politics and policy in the modern United States, with a growing focus on the origins, evolution and impacts of the modern regulatory state. He has pursued a number of collaborative projects with historians and other social scientists who study regulatory governance in industrialized and industrializing societies.
Balleisen's most recent book is "Fraud: An American History from Barnum to Madoff" (Princeton University Press, 2017), which received the Business History Conference's 2018 Ralph Gomory Prize. In this wide-ranging history, he emphasizes the enduring connections between capitalist innovation and business fraud, as well as the vexed efforts by private organizations and state agencies to curb the worst economic deceptions. Along with Duke colleagues and collaborators Jonathan Wiener, Lori Bennear and Kim Krawiec, Balleisen also completed "Policy Shock: Recalibrating Risk and Regulation after Oil Spills, Nuclear Accidents, and Financial Crises" (Cambridge University Press, 2017) — an interdisciplinary volume that examines when and how industrialized democracies reconfigure regulatory institutions in the aftermath of major crises.
Balleisen has received grants from the Mellon, Teagle and Smith Richardson Foundations, as well as the National Endowment for the Humanities and the American Council of Learned Societies. In 2018, he received the Business History Conference's Harold Williamson Award, which recognizes excellence by a mid-career scholar. In 2019-20, he served as the BHC President.
Meg Atchison, Interdisciplinary Priorities Coordinator
919-684-3475
mjb43@duke.edu
Originally from Connecticut, Meg received a bachelor's degree in psychology at NC Wesleyan College and an associate's degree in photography from the University of Bridgeport. She brings a wealth of skills to the Provost's Office, including project management, program development and evaluation, administration, communications and more. An experienced collaborator, Meg has worked effectively with numerous schools, departments, offices and units across campus through previous roles at Duke.
When she is not at work, Meg loves to be in the garden, on the trail, on a dance floor or on the water in a kayak. If weather does not permit outdoor activities, she loves to create crafts using glass, cement, clay or paper.
Sarah Dwyer, Director of Communications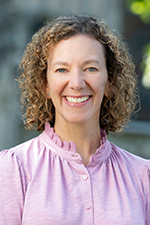 919-684-5379
sarah.dwyer@duke.edu
Sarah collaborates with faculty, academic leadership, students and colleagues to document and share interdisciplinary education, research and engagement at Duke, including the Bass Connections program. She also leads communications in the Office for Faculty Advancement. Previously, Sarah worked at IntraHealth International, a global health nonprofit, where she managed communications for the organization's largest project. Prior to moving to Durham from New York City in 2006, Sarah was the acting director of development at The Graduate Center of the City University of New York. Sarah has an M.A. in international studies from The Graduate Center of the City University of New York and a B.A. in art history from Vassar College.
Sarah Grace Engel, Program Coordinator, Bass Connections
919-681-0703
sarah.engel@duke.edu
Sarah Grace acts as theme administrator for the Brain & Society and Race & Society themes within Bass Connections, as well as assisting with the administrative and communications functions of the program's central office. After graduating from Pomona College in 2020, she made the move to Durham from her native Southern California and matriculated at Duke Divinity School, where she earned her master of theological studies degree. During her education, Sarah Grace had the pleasure of working at the Pomona College Writing Center, interning at the Tanenbaum Center for Interreligious Understanding, serving as a hospital chaplain intern and freelancing as a writer and editor. A determined lifelong learner with a soft spot for community engagement, she was thrilled to join the Bass Connections team in 2022.
Laura Howes, Director, Bass Connections
919-684-9021
laura.howes@duke.edu
Laura works collaboratively across the university to manage program design, implementation and financing for Bass Connections. Laura was previously the director of finance and development at the James B. Hunt Institute for Educational Leadership and Policy and, prior to that, was a senior program manager at the Partnership for Public Service, where she designed and managed leadership development and cultural change initiatives for federal agencies. Laura has a B.A. in public policy analysis and political science from the University of North Carolina, Chapel Hill, and an M.B.A. from the Smith School of Business at the University of Maryland. She is certified and trained in Ken Blanchard's Situational Leadership Model, the Strength Deployment Inventory and the DISC assessment.
Mindy Miller, Manager, Special Projects
919-668-1460
mindy.miller@duke.edu
Mindy's portfolio encompasses interdisciplinary faculty affairs and faculty governance. In her role, she oversees faculty appointments and promotions in the UICs, and is a resource for staff and directors regarding bylaws and process guidelines. She also organizes and staffs senior leadership searches and reviews as well as reviews of the interdisciplinary units. Mindy joined Duke and the Provost's Office in 2011 after working for CUNY Queens College. Prior to QC, Mindy was an administrator at Memorial Sloan-Kettering Cancer Center. She has a B.S. in business administration from Iowa State University and training in secondary education mathematics. She has a daughter in San Francisco, and she lives with her spouse and two very special dogs in Carrboro, where she plays as much tennis as possible.
Meghan O'Neil, Assistant Director, Bass Connections
919-681-0703
meghan.o.neil@duke.edu
Meghan provides broad administrative, communications, and strategic support for Bass Connections. An enthusiastic advocate of collaboration and mentorship across disciplines, she is a 2018 graduate of Duke's doctoral program in English and has been deeply involved with Bass Connections since its inception. As a graduate student, Meghan held leadership roles on two Bass Connections research teams, served as co-chair of the program's Student Advisory Council, and spent a year supporting Bass Connections as an administrative intern. She has extensive experience as an instructor, researcher and project manager and has completed leadership training through Duke's Emerging Leaders Institute. Before coming to Duke, Meghan worked for the United States Department of Justice and earned degrees from the University of Chicago and Georgetown University.
Sheriece T. Smith, Administrative Assistant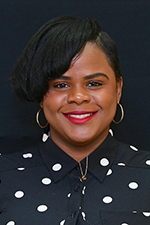 919-684-1964
sheriece.smith@duke.edu
Sheriece T. Smith is the administrative assistant for the Office of Interdisciplinary Studies and the Office of the Provost. She oversees the daily office operations, tracks expenses, supports the coordination of special events and visits, and manages the calendar for Vice Provost Edward Balleisen.
Before joining Duke University, Sheriece worked as a senior information officer at the Department of Information and Public Relations, Government of the Virgin Islands (BVI). In this role, she managed several public education and communication campaigns for six government ministries, including the Governor's Group and the Premier's Office. Sheriece has a B.A. in business administration with a concentration in marketing from the University of the Virgin Islands.
Maria LaMonaca Wisdom, Director of Interdisciplinary Mentoring and Coaching Programs
919-681-8626
maria.wisdom@duke.edu
Maria received her B.A. from the College of William and Mary, and her M.A. and Ph.D. in Victorian literature from Indiana University. After teaching at Valparaiso University as a Lilly postdoctoral fellow in the humanities, she worked as an assistant/associate professor of English at Columbia College in South Carolina. While at Columbia College, she was co-PI and co-director for a Lilly-funded faculty mentoring program, and her advising and mentoring work with students included a term as director of Columbia's Washington Semester internship program. Prior to arriving at Duke, Maria was the executive director of the Institute for the Arts and Humanities at the University of North Carolina at Chapel Hill, where she oversaw scholarship and leadership development programs for humanities faculty. Maria's commitment to individualized professional development for academics led her to complete an ICF-approved certificate program in professional coaching from North Carolina State University. She is the author of "Masked Atheism: Catholicism and the Secular Victorian Home" (Ohio State University Press, 2008), and her articles on women, religion and Victorian culture have appeared in a range of peer-reviewed journals. Her scholarship has been supported by two awards from the NEH, and she has served as a reviewer/consultant for the NEH, the Lilly Graduate Fellows Program, Ohio State University Press, Wharton School of Business (MBA Writing Challenge) and several scholarly journals. Most recently, she has written articles on humanities graduate education for Change: The Magazine of Higher Learning (2018) and MLA Profession.