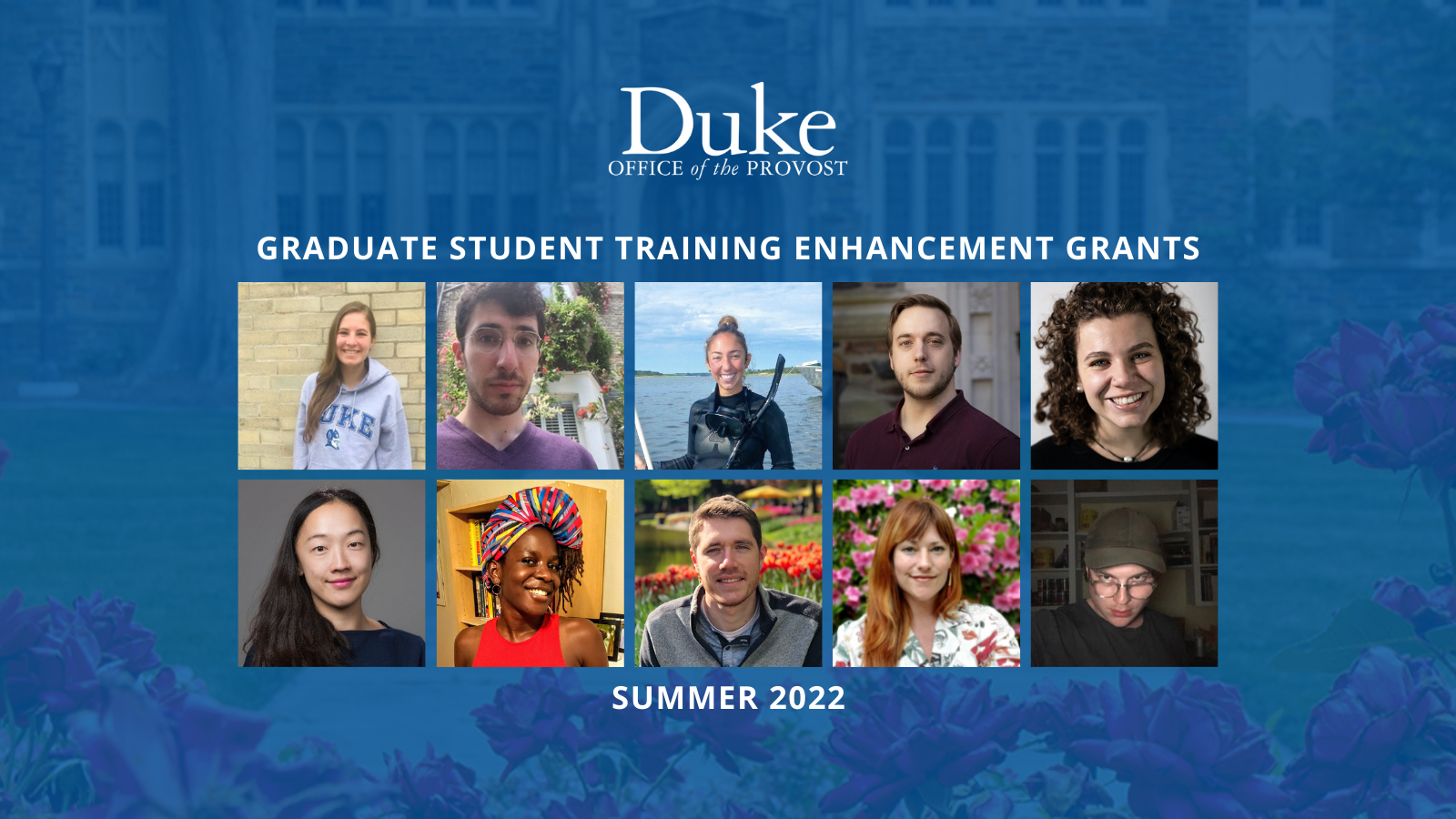 Ten Duke University Ph.D. students have received Graduate Student Training Enhancement Grants (GSTEG) for Summer 2022 from the Office of the Provost.
Ph.D. students were invited to propose off-campus internships that would amplify their intellectual agendas beyond the offerings within their programs or elsewhere at Duke.
The recipients will be provided with a stipend as well as coverage of fringe and the summer health fee. They will also take part in an experiential learning workshop taught by Maria Wisdom or Rachel Coleman. Together the students will reflect on their time with their hosts and discuss implications for their intellectual trajectory and career aspirations.
Summer 2022 GSTEG Recipients
---
Summer Intern, Women's Classical Caucus
Research Assistant in Economic Underdevelopment Lab, University of Massachusetts–Amherst
Dana Grieco, Ph.D. in Marine Science & Conservation
The Evidence Synthesis in Marine Conservation Internship, American Museum of Natural History
Science Communication and Outreach Through Visually-Guided Narratives, North Carolina Museum of Natural Sciences
Rachael Lau, Ph.D. in Civil & Environmental Engineering
Landslide Monitoring and Mitigation Using Synthetic Aperture Radar, Jet Propulsion Laboratory
Xinyan Lin, Ph.D. in Marine Science & Conservation
Philanthropy in Global Governance of Marine Biodiversity Conservation, Oceans Five
Burkina Faso Rural Land Governance Project, The Cloudburst Group
Evaluating the Impact of Multiple Management Strategies on Mountain Heartleaf (Hexastylis contracta), a Species of Conservation Concern, United States Forest Service
Jessica Orzulak, Ph.D. in Art, Art History & Visual Studies
Curatorial Intern, North Carolina Museum of Art
John Winn, Ph.D. in Literature
Curatorial Intern, Cosmic Rays Film Festival
---
Learn More