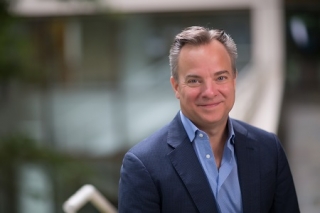 Mark McClellan, the Robert J. Margolis Professor of Business, Medicine, and Policy, has been reappointed for a second five-year term as Director of the Duke-Margolis Center for Health Policy, Provost Sally Kornbluth and Chancellor for Health Affairs Gene Washington announced this week.
The reappointment follows a faculty committee review chaired by Lesley Curtis, Professor and Chair of Population Health Sciences.
McClellan was initially appointed in 2016 to oversee the university-wide, interdisciplinary Margolis Center for Health Policy to further health policy scholarship, research and analysis and to prepare the next generation of health policy leaders.
"Under Mark's leadership, the Margolis Center has brought health policy to the forefront at Duke, positioning the center and the university to respond to COVID-19 in real time, locally, nationally, and globally," said Provost Kornbluth. "In a short amount of time, Mark's steady and forward-thinking leadership put Duke-Margolis on the map as the state, national and global resource for health policy analysis and evidence-based solutions that make health care better, more affordable, and more equitable."
In his first term directing Duke-Margolis, McClellan grew the Duke-Margolis leadership team, and together with them, built the center from seven faculty and 17 staff in 2016 to 76 core and affiliated faculty interdisciplinary members and 55 full-time staff today. In 2021, the center's student cohort includes 39 Margolis Scholars and 40 summer interns across Duke schools and learner levels. This academic year, the center's researchers and associated faculty published more than 20 white papers, 400+ peer-reviewed articles, engaged 20,000+ people in public events, and reached over 400 million people through media outreach. The center has a dynamic research portfolio with a currently active award value of approximately $18 million. Faculty engagement with Duke-Margolis has been integral to an additional $30 million in funds awarded through those faculty members' home departments.
"The achievements of the Duke-Margolis Center in our early days are a direct reflection of the unique opportunities at Duke," said McClellan. "First, core funding and confidence in us to try a new model for health policy research and education to advance better, more affordable, equitable care. Second, a truly university-wide approach, with support and engagement throughout Duke, thanks to the commitment of our university's leadership to interdisciplinary and practical approaches to solving big problems. Third and critically, the instrumental work and commitment of the Center's research, education, and operations teams, together with our extraordinary faculty and students, who have worked hard every day through the pandemic to make a difference to improve evidence and leadership for health policy and health reform."
"Mark is highly distinguished for his record in public service and academic research and is an exceptional role model for the nation's future health policy leaders here at Duke and around the country," said Chancellor Washington. "Throughout this unprecedented public health emergency, Mark has provided Duke and the Duke University Health System with prescient, pragmatic counsel that has helped us navigate this crisis and serve our community. And his leadership provided our students with an invaluable, real-world example of health policy in action."
McClellan is a former administrator of the Centers for Medicare & Medicaid Services (CMS) and former commissioner of the U.S. Food and Drug Administration (FDA), where he developed and implemented major reforms in health policy. These reforms include the Medicare prescription drug benefit, Medicare and Medicaid payment reforms, the FDA's Critical Path Initiative, and public-private initiatives to develop better information on the quality and cost of care. He also previously served as a member of the President's Council of Economic Advisers and senior director for health care policy at the White House, and as Deputy Assistant Secretary for Economic Policy at the Department of the Treasury.
Previously an associate professor of economics and medicine with tenure at Stanford University, McClellan has twice received the Kenneth Arrow Award for Outstanding Research in Health Economics. Before coming to Duke, he served as a Senior Fellow in Economic Studies at the Brookings Institution, where he was Director of the Health Care Innovation and Value Initiatives and led the Richard Merkin Initiative on Payment Reform and Clinical Leadership.
McClellan is the founding chair and a Senior Advisor of the Reagan-Udall Foundation for the FDA, serves on the Institute for Clinical and Economic Review Advisory Board, and is a member of the National Academy of Medicine (NAM). He chairs the NAM's Leadership Council for Value and Science-Driven Health Care, co-chairs the Guiding Committee of the Health Care Payment Learning and Action Network, and is a research associate at the National Bureau of Economic Research. He is also a Senior Advisor on the faculty of the University of Texas Dell Medical School and is an independent director on the boards of Johnson & Johnson, Cigna, Alignment Healthcare, and PrognomIQ.
About Duke-Margolis
Duke-Margolis leverages Duke's expertise in medicine, nursing, law, public policy, business, engineering, and other fields to address critical health policy challenges and deliver practical, innovative solutions that will improve health, health equity, and the value of health care for all. Duke-Margolis was established in 2016 with a $16.5 million gift from Duke School of Medicine alumnus Robert J. Margolis and his wife Lisa, through the Robert and Lisa Margolis Family Foundation. An academic research center and a policy laboratory, Duke-Margolis is an interdisciplinary initiative nationally and internationally recognized for its research, analysis, and educational initiatives to improve health and health policy. Its offices are located in Durham, NC, and Washington, DC.
By Patricia Shea Green