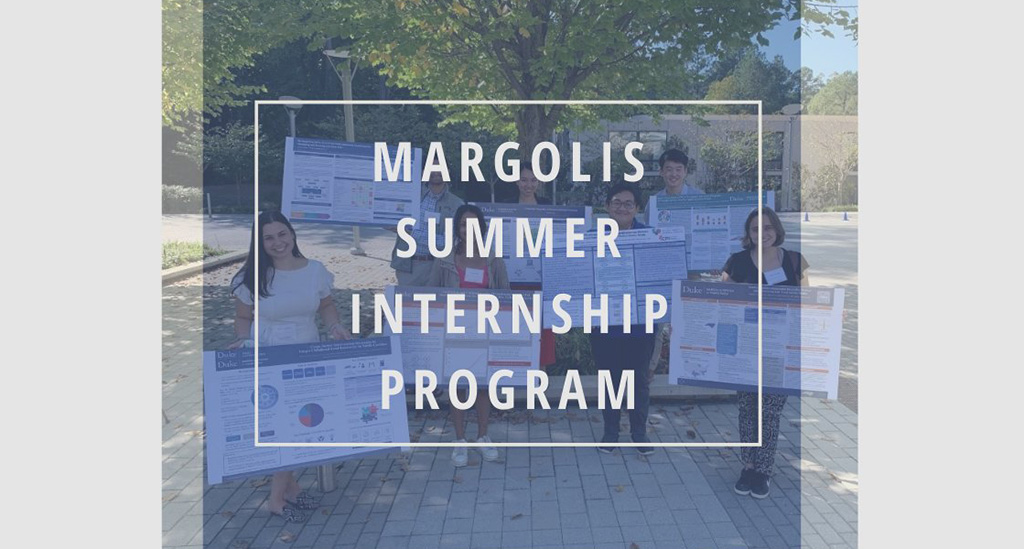 Deadline: January 31, 2022
Internship Program Overview
Effectively improving health and the value of health care requires multidisciplinary teams and capabilities. To meet this aim, Duke-Margolis Center for Health Policy uniquely brings together teams of health care and policy experts and organizations to assess key policy and practice challenges and identify and implement impactful solutions. As future policy-leaders and -aware professionals, students are integral team members. The Center offers students (undergraduate and graduate) opportunities to contribute to a variety of projects aimed at improving health and the value of health care through research and the development of innovative, practical, and evidence-based policy solutions through a collaborative and mentored summer internship experience.
Goals of the Internship Experience
Learn through challenging and meaningful activities
Link academic learning to policy and practice
Gain professional experience within the field of health policy
Build positive relationships with faculty and staff
Identify, clarify, and/or confirm direction as it relates to their academic studies and future career path
Develop strong networking/mentoring relationships
Strengthen our Margolis student community
Program Details
Locations
Durham, NC or *Washington, D.C. or *Virtual
*Participants must attend in-person Orientation in Durham on May 18-19, 2022.
Projects / Learning Outcomes
The intern will support the team's efforts to conduct rigorous analyses and communicate their findings. Individual tasks will be project-specific, but will include assignments such as literature reviews, data analyses and visualizations, and writing/editing a broad variety of work products, including project reports, policy briefs, blog posts, and article submissions for peer review.
Compensation & Hours
Paid, dependent on education level. Approximately 40 hours per week.
Approximate Program Length
10 weeks, May 18- July 29, 2022
Apply
Apply now for our Margolis Summer Internship Program! Follow the link to our application portal: Apply Now
Applicant Information
Qualifications & Eligibility
Our internship program is available to all Duke University and non-Duke University students. Current students at the undergraduate, graduate, professional, Ph.D. level, and recent graduates (less than 3 months) are also eligible.
All applicants must be able to or willing to physically reside in Durham, NC, or Washington DC for the 10-week summer program.
Each mentor and their projects require a unique skill set. Applicants should demonstrate the skills and qualifications outlined in the individual job descriptions that they apply for.
Application Materials
Resume/CV, Unofficial Transcript(s) and Academic Writing Sample (one related to health and health policy preferred, additionally, preferably no co-authored samples)
Please combine documents into one PDF in the order above
Dates to Know
Application Available: December 2, 2021
Application Deadline: January 31, 2022
Decision Notification Date: March 15, 2022
Internship Dates: May 18, 2022 – July 29, 2022