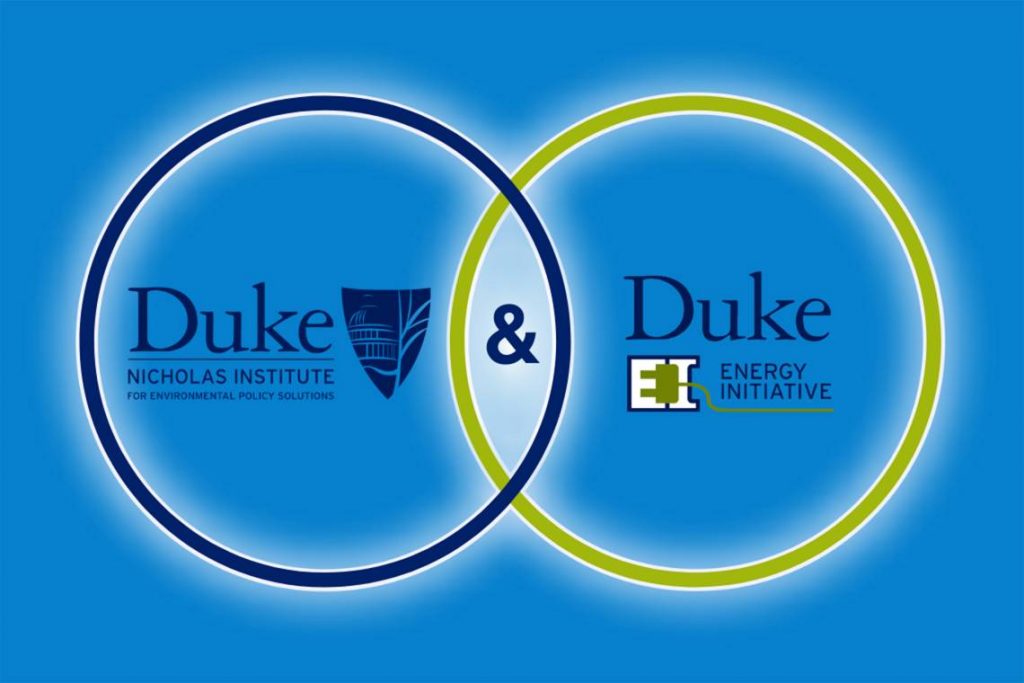 Two of Duke's interdisciplinary units will be merged as the university continues its efforts to address climate change and its impacts.
The Nicholas Institute for Environmental Policy Solutions and Duke University Energy Initiative will begin the merger process at the start of Duke's fiscal year on July 1. Energy Initiative director Brian Murray, Ph.D. will assume the interim directorship of the newly formed unit at that time.
"Duke is creating an ambitious strategy for accelerating sustainable, equitable solutions to the climate crisis and for equipping our students, faculty, and staff to drive the conversation around climate change," said Duke University President Vincent E. Price, Ph.D. "We are grateful to the visionary supporters who have made this work possible and are proud that Duke is leading the way."
"Our climate research, education and policy engagement endeavors will build on Duke experts' track record of substantial contributions to the understanding of energy and environmental challenges," said Duke University Provost Sally Kornbluth, Ph.D. "As Duke University heightens its commitment to climate solutions and sustainability, combining the strengths of the Nicholas Institute and Energy Initiative will accelerate the university's ambitious vision."
Founded in 2005, the Nicholas Institute has been a bridge between Duke's scholarly research and policymakers to create timely, effective and economically practical solutions to critical environmental and energy challenges. The Nicholas Institute's core team of policy experts, economists, scientists and attorneys develops non-partisan research and analysis, as well as convenes federal, state and global officials for dialogue around environmental issues.
The Energy Initiative, founded in 2011, has been Duke's hub for education and research around accessible, affordable, reliable, and clean energy systems. The Energy Initiative offers undergraduate and graduate courses, seminars and networking opportunities for students and faculty. It also connects with Duke alumni, potential employers, industry partners and policymakers.
"The Nicholas Institute and the Energy Initiative have highly complementary strengths, and each has built sustained, productive relationships with diverse stakeholders within the university and beyond," noted Murray, who directed the Nicholas Institute's environmental economics program for 11 years before becoming director of the Energy Initiative. "We're confident this merger will bring even more value to these stakeholders while extending Duke's reach and societal impact."
Tim Profeta, the Nicholas Institute's founding director, will step down from the director's role on July 1. As the United States' focus on climate change intensifies, Profeta will spend the next year on academic leave directly engaging in the design of policies to meet the country's climate change ambitions, after which he will return to Duke to continue his work on climate and energy policy at the university.
"Over the last 16 years, I was proud to build and lead a unique institution that bridges the academic and policy worlds to effect meaningful solutions to the complex challenges that threaten our globe," Profeta said. "With his experience at both the Nicholas Institute and the Energy Initiative, Brian is ideally suited to leverage the success of both institutions to create a new, powerful organization that will help position Duke at the forefront of the fight against climate change."
"Under Tim's and Brian's direction, the Nicholas Institute and Energy Initiative have established Duke's leadership in these vital areas," said Kornbluth. "Now we have the opportunity to integrate their tremendous intellectual resources and work closely with other schools and programs across Duke to advance data-driven discovery of energy and environmental solutions."
Originally posted on the Duke Today website