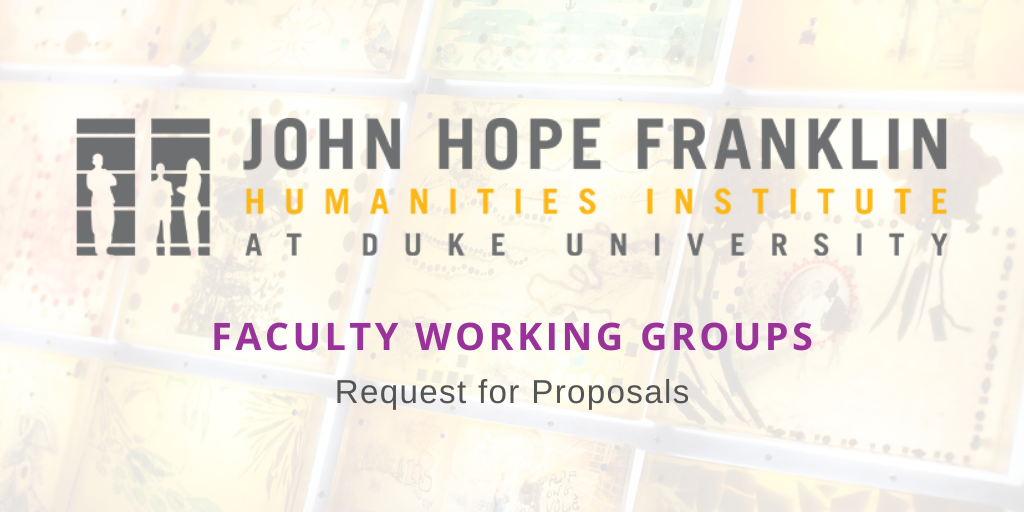 Deadline: June 18, 2021 (Summer) or September 24, 2021 (Fall)

The John Hope Franklin Humanities Institute seeks proposals for faculty-led Working Groups in the humanities, arts and interpretive social sciences for the 2021-22 academic year. We are interested in interdisciplinary projects that bring together Duke faculty, as well as graduate students and academic staff, across multiple departments. Humanities-centered projects that connect Arts & Sciences faculty with colleagues in Duke's professional schools are also welcome.
Each group may apply for up to $5,000 in financial support. Funds may be used for meetings, speaker visits, books, film and video streaming/rentals, and other materials or activities that further the group's collective intellectual work. Expenses for meetings, travel and in-person events are contingent upon University permission.
We will consider proposals in two rounds over Summer and Fall 2021. For the Summer round, please apply by Friday, June 18, 2021; for Fall, by Friday, September 24, 2021. Each proposal should include the following:
Names and affiliations of the working group's conveners: an interdisciplinary group of 2 to 3 recommended; may include non-Duke faculty, as long as project is primarily Duke-facing
A brief narrative (1 to 2-page) describing the group's intellectual project and proposed activities
A provisional budget for up to $5,000.
Please send your proposal as a single PDF by the Summer (6/18) or Fall deadline (9/24) to FHI Associate Director christina.chia@duke.edu.