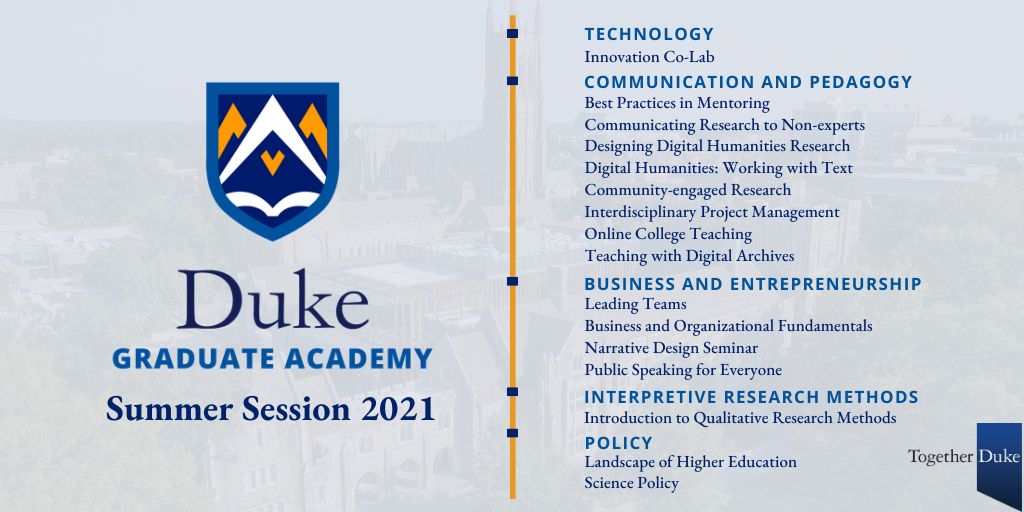 Deadline: May 14, 2021
Together Duke is pleased to announce a new session of the Duke Graduate Academy, which offers online short courses that introduce Duke graduate and professional students and postdoctoral fellows to skills, tools and knowledge that augment their regular coursework and research. These short courses help emerging scholars prepare for high-level research, innovative teaching, leadership and/or public engagement.
Courses in the Duke Graduate Academy cover topics not typically included in a graduate curriculum, or provide an intensive introduction for graduate students and postdocs who might not have the time or inclination to pursue a full course in a subject. Instructors are Duke faculty as well as highly trained Duke staff and Ph.D. students.
The Graduate Academy welcomes all doctoral, master's and professional students at any stage of their studies and all postdoctoral fellows. There are no prerequisites for any of the courses.
Program Details
Courses
2021 Graduate Academy Summer Session Course Descriptions
Students taking selected courses may qualify for Responsible Conduct of Research (RCR) credit. See course descriptions.
Dates
The Duke Graduate Academy Summer Session courses will be offered May 17 – 28 and June 7 – 18, 2021. Each course meets regularly for 1 – 2 weeks.
Courses are not for credit, but will appear on Duke graduate student transcripts. All courses are graded pass/fail. None of the offerings require prerequisites or assume areas of knowledge. Classes are offered online with synchronous and asynchronous elements. Instructors will emphasize interactive discussion and group activities/projects to maintain a high level of student engagement.
Cost
There is no cost for Duke participants.
Location
All Graduate Academy classes meet online/virtually. Individual class schedules are noted in the course descriptions and in DukeHub. Meeting details will be confirmed by instructor email or through course Sakai sites.
Registration
Participants may only register for one (1) course. Waitlists will be used for all courses. Add/Drop for the Graduate Academy Summer Session ends May 14, 2021.
For help or for more information, contact Amy Feistel at amy.feistel@duke.edu.
Participation, Eligibility and Enrollment
Participation in the Duke Graduate Academy is open to Duke graduate students, including Duke law and medical students, master's and professional students. The Graduate Academy is also open to all Duke postdocs. Space is filled on a first-come, first-served basis during registration.
Most courses will enroll 30 students, although some courses may be smaller or larger. Courses with fewer than 8 enrolled students may be canceled. Course participation will appear on Duke graduate students' transcripts.
Contact and Additional Information
For questions regarding the Duke Graduate Academy please contact Amy Feistel at amy.feistel@duke.edu.
Learn More
Check out reflections from past participants: What I Got Out of the Duke Graduate Academy