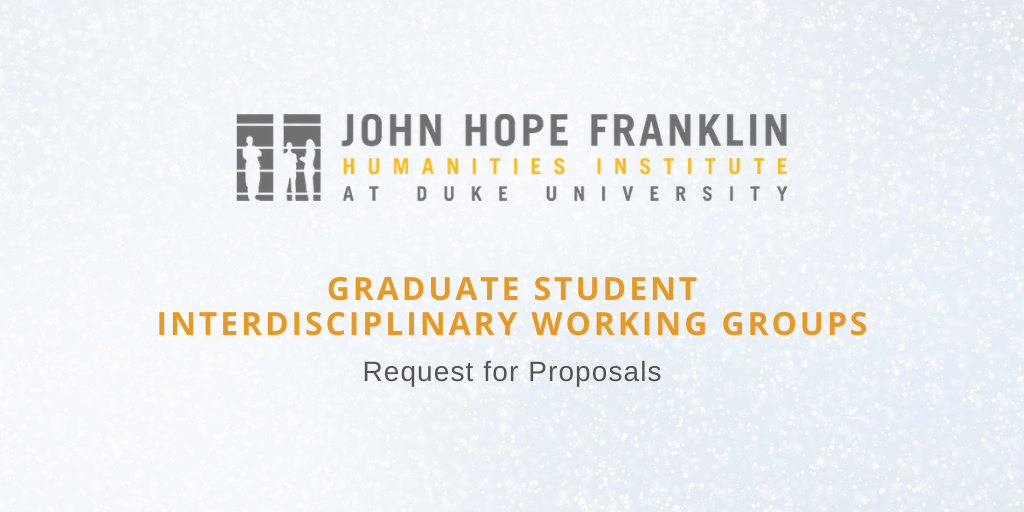 Deadline: March 5, 2021
The John Hope Franklin Humanities Institute seeks proposals from graduate student-led working groups organized around any topic of cross-disciplinary concern in the humanities, arts, and interpretive social sciences. We are especially interested in projects that relate to the FHI's 2020-21 Annual Theme WORLD ARTS or the 2021-22 Theme RIGHTS, but will be happy to consider proposals on any subjects. To be eligible for an award, a group needs to be convened by two or more PhD students in the humanities, arts, and interpretive social sciences. Conveners may also include MFA students in Experimental and Documentary Arts or Embodied Interdisciplinary Praxis. Group members may include faculty, staff, and other constituencies, but conveners need to be graduate students.
Selected groups will each receive up to $1,000 in financial support. These funds will be available from the time the groups are officially selected, i.e. March/April 2021, through June 30, 2022. As long as the University's Covid policies remain in effect, working group funds cannot be used for meals, in-person meetings, or guest travel. Expenses that are permissible at present (Feb 2021) include books, media rental/streaming fees, and speaker honoraria for virtual events. The FHI will apprise working groups of any policy changes.
To apply, please complete the online application by March 5, 2021, 11:59 p.m. You will be asked to provide these materials:
Basic information and CV (1-2 pages) for each co-convener
A brief description (maximum 3000 characters or ~500 words) of the Working Group's intellectual project. In addition to describing the WG topic, please include brief discussions of the group's likely format (e.g. reading group meetings, viewing/listening sessions, speaker visits, etc.) as well as your sense of who will likely be interested in participating.
A simple, preliminary budget proposal (e.g. $250 x 4 for virtual speaker honoraria)
Questions? Email Christina Chia.