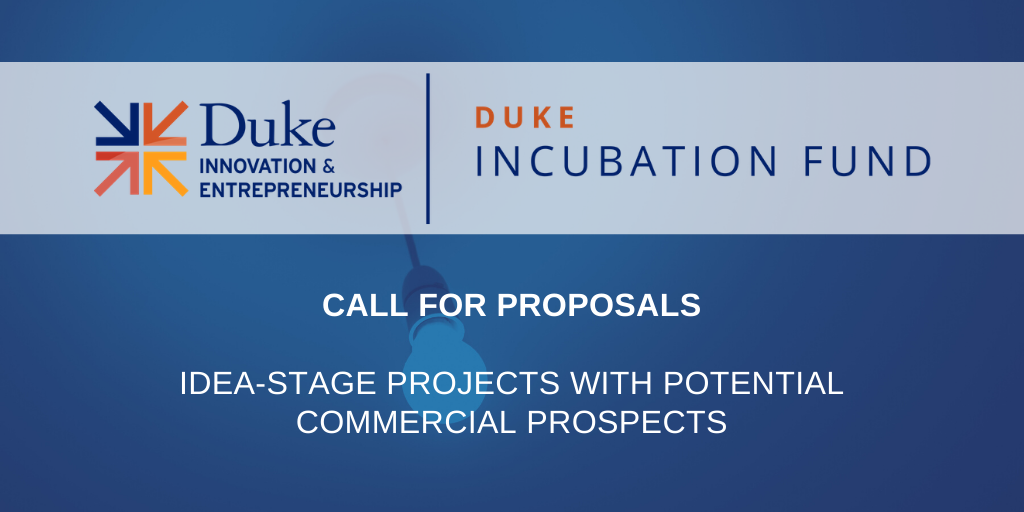 Deadline: October 16, 2020
Purpose
The Duke Incubation Fund (the "Fund") was formed to support idea-stage projects at Duke University. The Fund will make a number of awards each year to support novel ideas, applied research, potential products, nascent services and creative projects that if successful, will lead to new opportunities in the market. To receive funding, projects must demonstrate a potential path to subsequent financial support, new company formation, licensing, not-for-profit partnering or other channels to enable translation.
The Duke Innovation & Entrepreneurship Initiative, which administers the Fund, is interested in innovative projects that could lead to new products or services that will have a positive impact on society, including:
Demonstrating the feasibility of an idea or innovation for a commercial or social venture
Developing a working software or device prototype
Obtaining supporting evidence or proof-of-concept for new ideas
Developing new applications or markets for a technology under development
Creative projects that might lead to professionally produced content
Applications are welcome from all fields of inquiry. At least one member of any team must be from Duke. Awards will be contingent on the innovator entering into Simple Agreement for Future Equity (SAFE) with Duke.
Key Dates
Application Submission Deadline: 5:00 p.m. on Friday, October 16, 2020
Final Selection: November 20, 2020
Funding Period: January 1, 2021 – December 31, 2021
Learn more and see the full RFP.