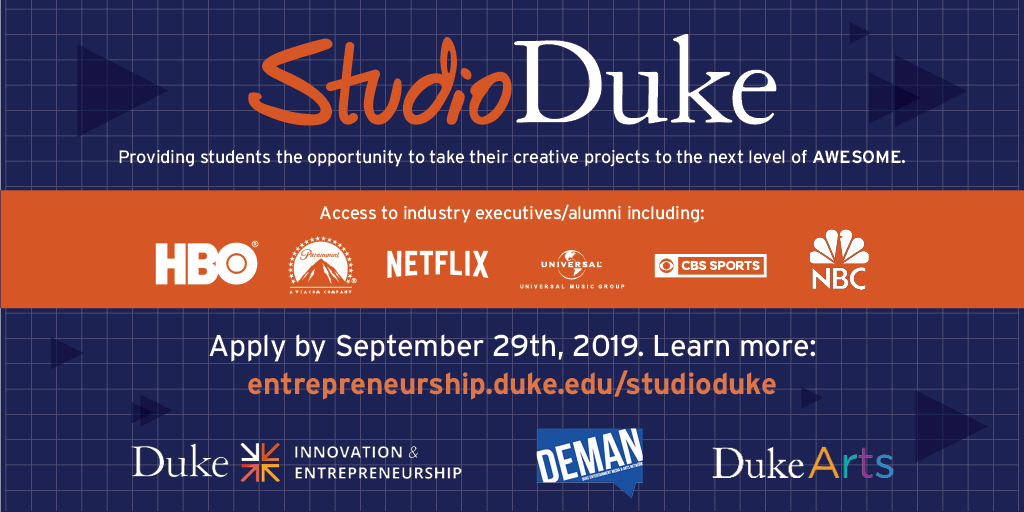 Deadline: September 29, 2019
StudioDuke is a two-semester creative lab and mentorship program providing students the opportunity to take their advanced, ongoing creative projects to the next level of awesome. StudioDuke is a collaboration among Duke I&E, the Duke Entertainment, Media & Arts Network (DEMAN), and Duke Arts.
Students are matched with creative industry professionals (including Duke alumni) for one-on-one mentorship that kicks off on DEMAN Weekend.
Apply Now for StudioDuke! The deadline is September 29, 2019 at 11:59 p.m. EST.
Here's how it works: Project submissions can range from advanced screenplays, films, stage plays, choreography, comedy, music composition, or performance, to fine arts, digital media, and manuscripts—many developed during independent studies and in the classroom.
Submissions will be reviewed by the StudioDuke team to be selected into an annual StudioDuke cohort. Selected projects can be pursued by students as an independent study, an experiential component of the Innovation & Entrepreneurship Certificate, or for no academic credit whatsoever.
Mentors: Each StudioDuke student will be paired with a mentor based on the nature of the project, its genre, and the industry expertise needed to shape and refine the creative venture. Student-mentor teams will work together throughout the semester and perhaps beyond to evaluate the creative potential of each project and then to edit, evolve, and elevate the work through remote and in-person creative iteration.
The goal is to bring each project to the point where it is ready to be presented to industry professionals. The StudioDuke team will help facilitate connections, travel resources, and logistics to support the project. Students will participate in programming aimed to help advance their creative projects and career opportunities.
Requirements
Mentor Dinners: Students will meet for monthly group dinners featuring mentors, DEMAN alumni, local entrepreneurs and I&E faculty to help successfully develop and promote their creative projects and navigate career interests. 
Weekly Updates: In addition to our monthly dinners, students will share weekly updates on mentor communications, progress on projects, challenges, questions, next steps, etc. with the cohort.
Mentor Check-ins: Students will connect with mentors at least once a month by email, phone, or in-person. Students will also have one-on-one check-in and strategy sessions with Amy during the semester.
Final Presentation: Students will give a five-minute, pitch-style presentation on their projects and strategies, followed by a reception at the Rubenstein Arts Center.
Schedule
| | |
| --- | --- |
| Date | Activity |
| August 28 |  I&E Fest: Learn about StudioDuke |
| September 29 | StudioDuke Applications Due |
| October 16 | StudioDuke 101 & DEMAN 101 |
| November 1-2 | StudioDuke Reunion at DEMAN Weekend |
| Week of December 2 | Monthly Dinner |
| Week of January 13 | Monthly Dinner |
| Week of February 3 | Monthly Dinner |
| Week of March 16 | Monthly Dinner |
| Week of April 6 | StudioDuke Final Presentations & Reception |
| | |
Pathways
Example of StudioDuke and I&E Certificate pathway (for undergraduates): 
First Year
Gateway elective: I&E 140 Create, Innovate, Act! OR I&E 295S Arts Entrepreneurship
Second Year
Keystone: I&E 352 Strategies for Innovation & Entrepreneurship
Third Year
Experience One (300 Hours) – StudioDuke
*Students get credit for Elective and 150-Hour Experience
Third Year Spring
Duke in LA*
Third Year Summer
Duke in Chicago* (Arts Entrepreneurship)
Fourth Year
I&E 499 Innovation & Entrepreneurship Capstone
Example of StudioDuke and AMI Certificate pathway (for undergraduates): 
First Year
AMI Gateway Course
AMI 101 Intro to Arts of the Moving Image or AMI 201 Intro to Film Studies or AMI 301 Moving Image Practice
Second Year*
300 level Practice Course
Third Year (Second Years* may also apply to Duke in LA)
Spring Semester, Duke in LA 
Apply for Distinction Project and put together Distinction Committee
Fourth Year
Fall Semester
AMI 499S Capstone
Spring Semester
Independent Study Distinction Project in conjunction with StudioDuke
StudioDuke is a collaboration between Duke I&E, DukeArts and DEMAN, and has been made possible by a generous gift from Clifford Chanler (T'82).
For more information about StudioDuke, please contact: StudioDuke@duke.edu