In a new article published in Change: The Magazine of Higher Learning, Edward J. Balleisen and Maria LaMonaca Wisdom share insights from their experience reimagining doctoral training at Duke University.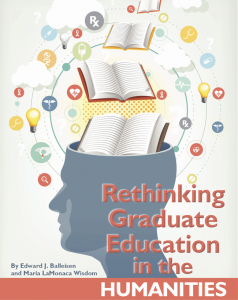 Balleisen is vice provost for interdisciplinary studies and professor of history and public policy, and Wisdom is director of graduate student advising and engagement in the humanities. Together they lead Versatile Humanists @ Duke, a partnership between the Provost's Office and The Graduate School.
They describe how the approach works and provide recommendations based on lessons they've learned since Versatile Humanists launched in 2016, when Duke received a Next Generation PhD grant from the National Endowment for the Humanities.
Balleisen and Wisdom detail three emerging best practices to support doctoral students in the humanities and humanistic social sciences:
Providing off-campus internship experiences for humanities PhD students
Integrating collaborative research into the PhD curriculum
Improving advising structures for PhD students.
They also share practical advice for university administrators, faculty, and graduate students in navigating the landscape of humanities doctoral reform.
"As we re-envisage the content and structure of doctoral training," the authors write, "we remain committed to thinking holistically about what it means to be a humanist scholar in the 21st century and how a more capacious preparation and versatile skill set might better prepare PhDs to make significant professional contributions within and beyond the academy."
Read the article, "Rethinking Graduate Education in the Humanities," on the Change website.
Image: Recent Duke graduates Scott Muir, Ashley Rose Young, and Stephanie Reist, whose experiences as doctoral students in the humanities are highlighted in the article