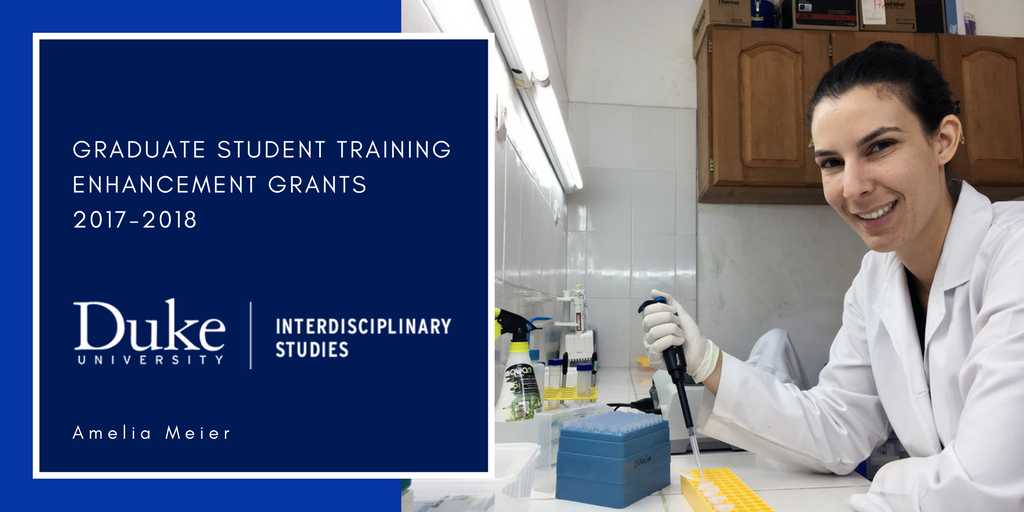 As a Ph.D. student at Duke's Nicholas School of the Environment, Amelia Meier is focusing her research on forest elephants in Gabon. Recently she set out to learn how to conduct genetic analysis to help identify individual elephants, which will inform her dissertation.
Mentored by John Poulsen, Meier was among 18 Duke University students who received Graduate Student Training Enhancement Grants (GSTEG) in 2017-18 from the Office of the Vice Provost for Interdisciplinary Studies for training beyond their core disciplines. She shared an update:
Through the kind support of the Graduate Student Training Enhancement Grant I was able to receive one-on-one training in genetic analysis at the Institute for Research in Tropical Ecology (IRET) in Gabon. Over fourteen days of training I worked directly with the scientist who developed the Single Nucleotide Polymorphism (SNP) panel necessary to identify individual elephants from their dung. After learning the theory behind SNP genotyping, I was trained on how to use and interpret results from DNA sequencing equipment such as a Real-time Polymerase Chain Reaction (PCR) machine. These skills are critical to my dissertation.

This training has proved SNP analysis a viable method for answering my research questions, which I will now use throughout the rest of my dissertation. Because of the competency I achieved during this training I will be able to conduct all the genetic analyses in country, supporting local capacity, and negating the risk of losing my samples during exportation.

During the training I presented my research to the other scientists at IRET. I was exposed to a wide variety of research being conducted in Gabon by local and international scientists. Hopefully these newly made contacts will evolve into future collaborations.
Poulsen and Meier are among the coauthors on a new paper, "Ecological Consequences of Forest Elephant Declines for Afrotropical Forests," in Conservation Biology.
About GSTEG
This internal funding mechanism from the Office of the Vice Provost for Interdisciplinary Studies encourages doctoral and master's students to step away from their core research and training to acquire skills, knowledge, or co-curricular experiences that will give them new perspectives on their research agendas. Graduate Student Training Enhancement Grants are intended to deepen preparation for academic positions and other career trajectories.