From its origins in Africa to its evolutions in the Caribbean and US, the banjo has a long and rich history—but one that's "frustratingly hard to get at," says Laurent Dubois, professor of romance studies and history at Duke.
"When you get into what we call black music or Afro-Atlantic music, it's 600 years of currents of exchange," Dubois says, "and for most of the history it was never written down. It's extremely rare before the 19th century that's there's any written music."
Dubois, who specializes in the history and culture of the Atlantic world and who also plays the banjo, set out to produce a book about the history of the instrument. Recognizing that formal training in music and ethnomusicology would enrich his work, he applied for a New Directions Fellowship from the Andrew W. Mellon Foundation.
These prestigious fellowships assist humanities faculty who seek training in areas outside their specialties. About a dozen scholars are selected annually and can spend up to three years pursuing new areas of knowledge.
The first Duke faculty member to be selected, Dubois received the fellowship in 2010 and began taking classes at the University of North Carolina at Chapel Hill and Duke. "It allowed me to slow down and become a student again," he says.
It wasn't easy. At Duke "I took a music theory class and found it extremely challenging," he laughs. "It was an undergraduate course and I was by far the slowest student, but I learned a ton." He participated in graduate seminars at UNC with David Garcia and at Duke with Louise Meintjes and Paul Berliner. "Those were really interesting departures for me," he says, pointing to one class that bridged the pra
ctice of music—he learned to play the mbira, an African thumb piano—with "highly theoretical questions of how we think about music across cultures."
When he began his book project, Dubois planned to use written archives to write about discourses around music. "Being able to take these classes really reconfigured that," he notes, "so that the music itself became much more central."
He also spent time working with instrument makers. "A couple of the biggest insights in the book came out of that dialogue and helped me understand big historical things like why instruments were made in certain ways at certain times."
Yet writing about music is a strange thing, he says, since music transcends the limits of language. "The reconfiguration of thinking that I went through because of the fellowship made me realize I could only do certain things in the digital form, precisely because I wanted to move beyond just using words."
Therefore he capitalized on the fellowship's flexibility to expand into digital projects, which he hadn't planned. This time he sought out Duke students rather than faculty experts. In partnership with Mary Caton Lingold, a doctoral student in English, and David Garner, a doctoral student in music composition, he created a website called Banjology. The site aims to share research along with musical transcription and analysis and to serve as a resource for musicians.
Most banjo songs had never been written out, Dubois notes, and he relished the rich discussions about how to transcribe them. "That was incredibly interesting. Certainly both of them have taught me probably more than they've learned from me."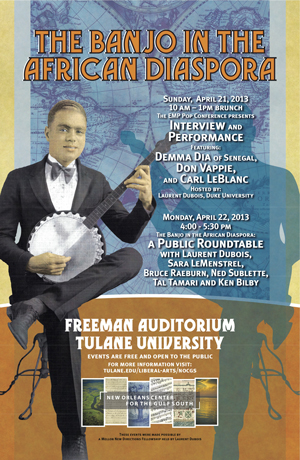 His journey also led to new collaborations with faculty. "I deepened my connections with people in the music department, and I discovered how many people at Duke are musicians or have music as part of their practice. I started collaborating with Mark Anthony Neal, who writes a lot about music, and Cecelia Conway at Appalachian State. I did an event in New Orleans that involved putting African musicians and New Orleans musicians in dialogue with scholars. That was great. It created a set of connections for me that are ongoing."
New Directions Fellowships are intended to be long-term investments in scholars' intellectual range and productivity. "What the fellowship encouraged me to do was just slow down," says Dubois, "to explore areas and to understand the fields of music, music theory, ethnomusicology…and I ended up discovering this whole field called organology, the study of musical instruments. All those sorts of things will probably influence me long term, and I can point students to these resources."
Dubois earned an interdisciplinary doctorate in history and anthropology and has been "quite interdisciplinary all along," he says. But the fellowship more deeply anchored his sense of what it means to work across disciplines.
"The prestige and support offered by the fellowship gave me a sense of freedom and space to explore," he notes, "and helped to embolden me in terms of my approaches and ambitions for my work."
Dubois's book on the Afro-Atlantic history of the banjo will be published this Spring by Harvard University Press. "I think my book took longer to write because of the fellowship, and as a result it is a lot better in the end," he adds.
Looking ahead, he thinks his teaching and research "will be much more musical and cultural than before. I feel much more comfortable doing that kind of work. I was a musician before, but this gave me a much richer spectrum of ways of thinking about it."
Photo 1: Dubois onstage at an event hosted by Duke University Libraries at Fullsteam Brewery about the history of the banjo; courtesy of Duke University Libraries; Photos 2 and 3 courtesy of Laurent Dubois