This month the 2017-2018 QISP participants gathered to share the results of their work through the program. Through the QISP program students receive didactic learning on quality improvement and patients safety and attend discussions sessions led by faculty members. The scholars are also paired with Duke University Health System faculty conducting forward-thinking Quality Improvement and Innovation work. This April, the students gathered at the School of Medicine for our annual symposium to share the results of their work with fellow students and faculty members! 25 QISP student participants presented their work at the symposium – with 18 posters and 8 podium presentations.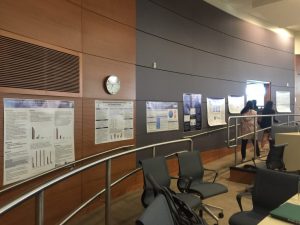 Student posters describe their work on QI and Patient Safety Projects
Students and Faculty gather to discuss QISP Participant's work and experiences
In addition the winners of the Chancellor's Scholarship were announced. The scholarship provides students the opportunity to travel and present their QISP project at the National Forum on Quality Improvement in Healthcare. The 2017-2018 Chancellor's Scholarship winners are:
Jordan Hildenbrand for her Project, "The Duke Heparin Protocol"
Briana Shipley & Alexandria Hurley for "Improving Migraine Care for Children in the Duke University Hospital ED"
They each won $1000 towards attending the National IHI Forum in December.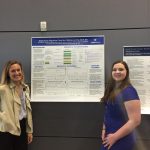 Chancellor's Scholarship winners Briana Shipley & Alexandria Hurley with their poster
Congratulations to the 2017-2018 QISP participants for their hard work and success!