Aimé Césaire was born on June 26, 1913 in Basse-Pointe, Martinique.  His father, Fernand Elphège, managed a sugar estate, though he was educated as a teacher.  His mother, Eléonore, was a seamstress.  In order to gain access to better education, his family moved to Martinique's capital, Fort-de-France, where Aimé attended the Lycée Schoelcher.  He excelled as a student and was granted a scholarship at age 18 to study in Paris at the Lycée Louis-le-Grand, where he met Léopold Senghor.  Along with Léon Damas, Césaire's classmate from the Lycée Schoelcher, Césaire and Senghor founded the student publication L'Etudiant noir, a literary review that focused on black literature from Africa and the West Indies.  This publication laid the foundation for the "negritude" movement.  Césaire began writing his poem "Cahier d'un retour au pays natal" in 1936, and it was first published in 1939.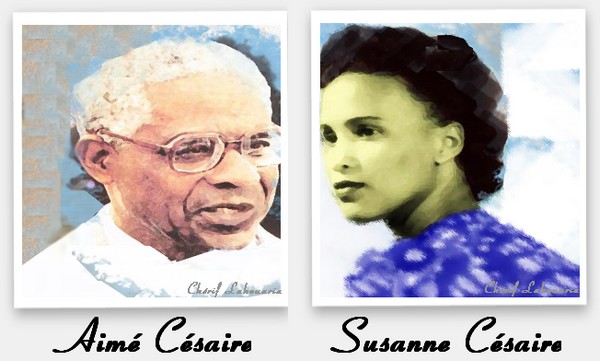 In 1937, Césaire married his classmate Suzanne Roussi, with whom he ultimately had four sons and two daughters.  The two moved back to Martinique with their first son in 1939, and both took jobs teaching at the Lycée Schoelcher.  During this time, Césaire was sent to Haiti as a cultural ambassador, and there he lectured on French poetry.  He and his wife founded the literary review Tropiques in 1941, which dealt with Martinican identity.  Around this time he also became close friends with French surrealist André Breton, who encouraged Césaire to incorporate surrealism into his writing and political spheres.  A member of the communist party, Césaire was elected mayor of Fort-de-France and deputy in the French National Assembly in 1945.  He helped to draft the 1946 law that began departmentalization of former French colonies.  Césaire maintained his position in the communist party until 1956, when the Soviet Union's suppression of the Hungarian revolution led to his leaving the party.  In 1958 he founded the Parti Progressiste Matriniquais, or Martinican Progressive Party.  He ultimately retired from French politics in 1993, though he remained mayor of Fort-de-France until 2001 (he had held the position since 1945, minus a short period from 1983-1984).  Césaire died on April 18, 2008 at the age of 94.
In trying to conceptualize the impact Césaire had on the country and people of Martinique, perhaps it is easiest simply to look at the number of attendees of his funeral procession in Martinique, united in both mourning Aimé's passing and in celebrating his achievements.  A short video of a section of the procession can be found by clicking the link below.