At the bottom of the well of my memory, I touch your face
And draw water to quench my long regret.
You recline royally, elbow on a cushion of clear hillside.
Your bed presses the earth, softening the drums in the wetlands,
Beating your song, and your verse
Is the breath of night and the distant sea.
-Leopold Senghor ("Letter to a Poet: To Aimé Césaire") **Translated by Melvin Dixon
In the interview with Aimé Césaire that we watched for Thursday's class, the poet describes the first friend he made when he moved to France as a young man, a "short but well built" fellow with "thick glasses and a gray jacket." It was Leopold Senghor, a Senegalese man who would soon rack up a dizzying and improbable list of achievements, becoming a world-renowned poet, the first president of Senegal, and the first black member of the Académie Française—a kind of George Washington meets Robert Frost meets W.E.B. Dubois in coastal West Africa.
But that pivotal day in 1931 he, like Césaire, was simply a talented student had come to Paris by way of a French colony to be educated. As young black men in Paris in the 1930s, straddling the strange cultural line between their homelands and metropolitan France, Césaire and Senghor became fast friends. Both were founding writers for L'Etudiant Noir, a newspaper that brought together the writing of students from across the African Diaspora. From amidst this dialogue on the black experience emerged a new idea, that of negritude. At its core, negritude represented a celebration of a transnational black identity in opposition to the racism of French colonialism, and it quickly colored the writing of both Césaire and Senghor.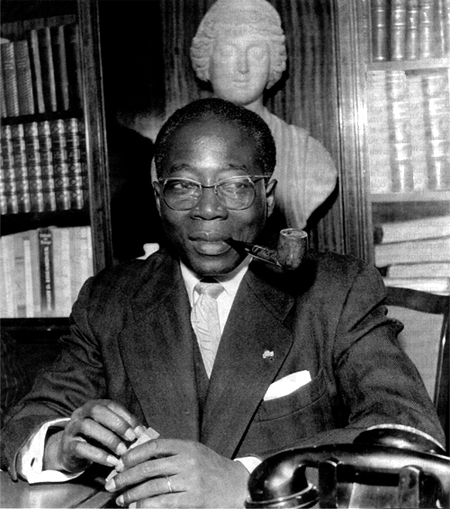 But like Césaire, Senghor developed aspirations beyond the bounds of poetry. In the aftershock of World War II—a war in which he had fought for the French—Senghor was part of the call for increased autonomy reverberating across the French colonial world and soon became one of Senegal's first black representatives to the French National Assembly.
This positioned him to become one of the leading political figures in Senegal, and when French West Africa became independent in 1960, he ascended to the role of president (although for his entire life he would remain steadfast in his belief that Senegal and France should remain closely tied). Senghor cut an unlikely figure for a Senegalese head of state. He was a Catholic in a 95% Muslim nation, a member of a minority ethnic group, and a man who had spent much of his adult life in France. But he was also a skilled negotiator and a shrewd political thinker, and he would go on to serve for 20 years before becoming one of the first African politicians to voluntarily cede power to a democratically elected opponent (even if in Senghor's case it was a hand-chosen successor from within his own political party…but that's another story).
Anyway, in the context of our study of Césaire, I thought others in the class might like to hear a little about another of the negritude poets to see how Senghor's life path intersected with—as well as diverged from—his. And Senghor just cuts a fascinating figure in his own right.
Plus, you have to admit, this is a pretty spectacular hat: