Shourya Agarwal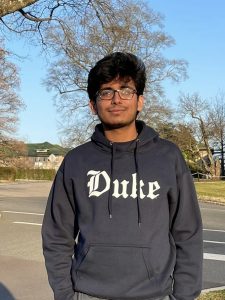 Shourya Agarwal is a rising sophomore at Duke University. He is planning to major in Global Cultural Studies and Economics with maybe pursue a minor in Linguistics. He relishes good books and movies and has a tremendous appetite for conversation. He also enjoys blogging, driving and hanging out with friends in his leisure.
Ashley Bae
I am a second-year undergraduate student from Leesburg, VA. I am planning to pursue a Program II major that explores the role of cultural literacy in effective science communication. I'm excited to meet so many new people with unique, global perspectives that can provide insights on my academic interests while also building meaningful and lasting relationships through the Global Fellows Program.
Ethan Bott
My name is Ethan Bott, and I'm a rising senior majoring in Psychology with minors in Chemistry and Italian. I've served as the Co-Leader of the International House Orientation Peer (IHOP) Program for two years, helping to organize international orientation, and I'm passionate about issues of global health, healthcare disparities, and substance abuse/addiction. Ultimately, I hope to complete an MHA program and attend medical school, and I also hope to further develop my substance use non-profit, The June Group. In my free time, I like to exercise, listen to music, or spend time with friends.
Olivia Fox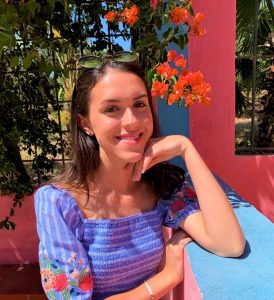 Hello! My name is Olivia Fox, and I'm so excited to be part of the Global Fellows Program! I am a sophomore from Huntsville, Alabama, majoring in Civil or Environmental Engineering with hopes of working on marine and coastal protection. Outside of my major, I am an Alice M. Baldwin scholar, a Sustainability Ambassador with Green Devils, and a 20-21 senator on Duke Student Government's Services & Sustainability Committee. I am also a violinist going on fifteen years, dabbler in the ukulele, and enjoy reading (sci-fi/fantasy), creative writing, and visual art. Of course, I love anything with the outdoors—nature is my happy place!
Jenny Li
Hi! My name is Jenny and I'm a junior, majoring in Sociology with minors in Global Health and Psychology. I was born in Winnipeg, Canada before I moved to Portland, Oregon. I'm interested in worker rights and working conditions across different countries. In my free time, I love to play and watch basketball. I also love eating and trying all types of different cuisines and you'll always find a pack of Samyang Ramen in my dorm room. I'm so excited to be a part of the Global Fellows Program!
Ezra Melaku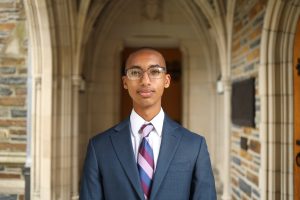 Hi! I'm Ezra Melaku, a second year student at Duke intending to major in Civil Engineering with a certificate in Global Development. Outside of academics, I am a James. A Clark Scholar, member of Duke Engineer's for International Development Executive Team, and an enthusiast for everything outdoors.
Isaiah Mason
Isaiah is a rising senior from Norfolk, Virginia majoring in International Comparative Studies, with a concentration in Europe, and double minoring in Medical Sociology and Global Health.  Additionally, Isaiah has a passion for Italian language and culture, having studied Italian throughout his time at Duke and participated in the Duke in Bologna (Summer '19) study abroad program. At Duke, Isaiah is a David M. Rubenstein Scholar (DMRS) and Gates Scholarship Scholar, both merit scholarships for FGLI students. Beyond campus involvements, Isaiah enjoys cooking, listening to music, and playing video games.
Huiyin Zhou 周徽音 (she/they)
Huiyin (she/they) is a rising sophomore who grew up in the industrial hub of Dongguan, China. Passionate about the intersections of gender, ethnicity/race, class, and the environment, she has served in several community-based projects in China and beyond. In 2017-2018, she was a Youth for Understanding exchange student in Tuusula, Finland, where she developed deeper interests in cross-cultural exchange and global power structures. At Duke, she plans to major in International Comparative Studies and minor in Environmental Sciences & Policy, with an Ethics or Documentary Studies certificate. She hopes to provoke critical conversations, promote voices of the international community, and create a more inclusive environment at Duke as a Global Fellow.