Where do zombies come from? Are they only an invention of the imagination? Have there been real encounters with zombies? How do zombies play into Haitian culture specifically?
I am the scorn of all my adversaries,
a horror to my neighbors,
an object of dread to my acquaintances;
those who see me in the street flee from me
I have passed out of mind like one who is dead;
I have become like a broken vessel.
Yea, I hear the whispering of many –
Terror on every side!-
as they scheme together against me,
as they plot to take my life.
-Psalm 31:11-13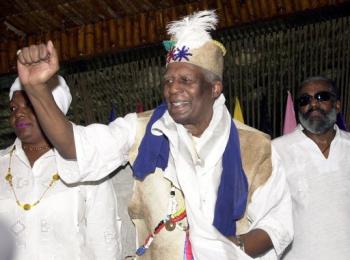 Like most other monsters and creatures, zombies (the "living dead") have their roots in folklore, feeding off the listeners' fears. They are particularly common in Haitian stories and tales, especially as a metaphor for a hard life without reward, a loss of control, or a loss of faith ("Zombies: Haiti & the Truth About Zombies"). However, the zombie is more than just a story; the majority of the Haitian population believes in the physical reality of zombies. The cultural aspects of zombification are especially significant when attempting to analyze the zombie character in Haiti. Zombification is a form of social sanction imposed by recognized bodies (the ancient secret society known as the Bizango and Sanpwel) as a means of maintaining order and control in local communities, and the secrets of the poisons are only known by this group. According to Max Beauvoir, the supreme chief of Haitian vodou, people who are criminals and have misbehaved are the ones that are turned into zombies. Since vodou doesn't believe in killing people, zombification removes the desire in these people to commit bad deeds.
Haitian culture believes that zombies are mindless slaves that are brought back to life by bokor, or sorcerers. The term "zombie" may have several possible origins with similar meanings. The Kongo term nzambi (meaning "spirit of a dead person") and the West Indian word jumbie (meaning "ghost") are two possible origins of the word zombie. Haitian culture reveals a strong association between the zombie and Haitian vodou since only the bokor knows the secrets to bringing the dead back to life.
However, are zombies strictly figures told in folklore tales? There have been several instances of real life documented stories describing the encounter of zombies in Haiti. The following four documented zombies sparked scientific interest in the zombi poison and phenomenon.
One of the first recorded examples of zombies came in 1937 when a family claimed that a woman who appeared in the village was Felicia Felix-Mentor, their relative who died and was buried in 1907 at the age of 29 (Mars). The rumors about this woman claimed that she had been given powerful drugs  that turned her into a zombie, but researchers like Zora Neale Hurston found it difficult to locate individuals who would expand on these rumors. Without much evidence, researchers struggled to prove this as a case for zombies.
Then in 1979, a woman named Natagete Joseph was recognized (by the police officer who announced her dead since there wasn't a doctor to do so) wandering about her home village. She had allegedly died in 1966 over a land dispute. Thirteen years later, aged about sixty years old, she returned to her village (reportedly as a zombie) ("The Ethnobiology of the Haitian Zombi" 87).
A third case appeared in 1979 when a younger woman named Francina was found in a catatonic state by her girlfriend. Francina was supposedly buried in 1976 after her jealous husband killed her. There were two features in this case that specifically stood out. One was that Francina's mother recognized her by a childhood scar on her temple. Second, when her grave was dug up, her coffin was found to be full of rocks ("The Ethnobiology of the Haitian Zombi" 87).
One of the most interesting pieces of evidence for zombies appeared in 1981 when a man came to the rural Haitian village of l'Estère, approached a peasant woman, and claimed to be her brother Clairvius Narcisse who had died in Albert Schweitzer Hospital in Deschapelles, Haiti on May 2, 1962. Before his presumed death, Narcisse was sick with fever, body ache, and general malaise. He was then admitted to the hospital when he started to spit up blood and his condition continued to deteriorate quickly. His medical file stated that he suffered from digestive disorders, pulmonary edema, hypothermia, respiratory difficulties, and hypotension at the time of his death ("The Ethnobiology of the Haitian Zombi" 87-88). Of the two attending physicians that declared him dead, one was an American and both were American trained. He claimed that he was conscious during his presumed death and even saw the doctor cover his face with a sheet. Because he was paralyzed, he couldn't express this to the doctor, so they buried him in a small cemetery north of his village of Morbien, and then a bokor resurrected him to make him a zombie. He claimed that he was made a zombie by his brother because of a land dispute. From there, he was beaten with a sisal whip and brought to a sugar plantation in northern Haiti where he was forced to work as a slave along with other zombies. After two years, his zombie master had died and all the zombie slaves were able to escape. He was finally able to come back home now and approach his sister using his boyhood nickname (that only intimate family members knew) after eighteen years of wandering the countryside, fearful of his vengeful brother.
Short video of the Clairvius Narcisse case: Zombies: When the Dead Walk – Clairvius Narcisse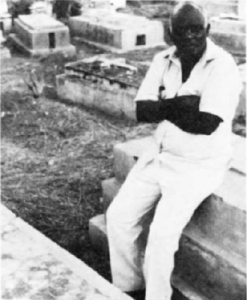 Upon further investigation, the hospital did have documented evidence of Narcisse's illness and death. When he was questioned about Clairvius Narcisse's childhood and family, he answered all questions correctly that not even a close friend could have known. A forensic examination by Scotland Yard of the fingerprints on his death certificate and the reasonable assumption that there was no social or economical incentive to stage a fraud further led Dr. Kline and his partner Lamarque Douyon to believe the case to be legitimate (Passage of Darkness 1-2). All this convinced his family and many outside observers that this man was Narcisse as a zombi brought back to life. Are these cases potential proof for Haitian zombies?
However, even after documenting these and numerous other stories and rumors, there is little solid proof to explain the phenomenon. In their attempts, researchers have trouble confirming the "zombie's" identity and eliminating the possibility of fraud. Nevertheless, these stories sparked the interest of the scientific community, especially Dr. Nathan Kline, and led to further investigation and research on zombies in Haiti.