Who is Nathan S. Kline? How did he impact the field of psychiatry and psychopharmacology? What drug research experiments did he lead?
American psychiatrist Dr. Nathan S. Kline (born in Philadelphia on March 22nd, 1916; died in New York on February 11th, 1983) was dedicated to influencing the treatment of mentally ill patients and was always open to new ideas. For four years, he worked as a physician at the Veterans Administration Hospital in Lyons, New York and then as research director at Worcester State Hospital in Worcester, Massachusetts for two years until 1952. He worked at Rockland State Hospital in Orangeburg, New York from 1952 until his death, and he was Research Director for the Research Center of the hospital from 1975 until his death. His work in psychopharmacology helped revolutionize the treatment of mental illnesses. He was particularly interested in the biochemical and endocrinological bases and social components of mental illnesses. His research included investigating the drugs reserpine as a sedative and iproniazid and lithium as antidepressants. Particularly, he began using tranquilizers and antidepressant drugs for mental illness, which significantly helped people whose conditions were considered untreatable in the past.
Kline was also interested in using natural substances for medical purposes. He kept up with literature from around the world and discovered a potential new product Rauwolfia serpentina (only 2,000 years old). The stories and professional papers from India and other countries used Rauwolfia for treating anything from snakebites to schizophrenia. It was commonly used in India for treatment of several somatic complaints. Of particular interest was the observation that the drug calmed agitated patients when it was used to treat high blood pressure. After reading these papers and stories, Kline decided to evaluate Rauwolfia's and reserpine's (one of the Rauwolfia alkaloids) effects on psychiatric patients.
When he received the grant to examine the sedative action of Rauwolfia and resperine as compared to a placebo, he actually had little idea what its effect on schizophrenia might be or how it would work in the brain. When the experiment began, they selected hundreds of schizophrenic patients without obtaining consent. In the end, the study revealed that Rauwolfia and reserpine tranquilized seventy percent of the mentally ill patients in the study without making them severely lethargic (Platt 23-31). Although the drugs did not cure anything, this was still a major improvement in reducing the schizophrenic symptoms. The patients dramatically improved and were cleared for discharge. They were no longer breaking windows, could better communicate with attendants, and could even participate in talk therapy. He eventually published his results in 1954 and began educating the public to change their view of insanity, while also influencing the medical world's reaction to future drug studies. The news of this finding travelled quickly and soon most state hospitals were introducing drug treatments. Dr. Kline was one of many to follow that investigated the use of chemical substances for treating mental illness.
After this success in working with reserpine as a tranquilizer, Kline and his colleagues started investigating the properties of iproniazid (a monoamine oxidase inhibitor) as an antidepressant. Originally, iproniazid was used to treat tuberculosis. However, this drug additionally seemed to increase the patients' mood, and that gave Kline the idea to test its effectiveness as an antidepressant. After his research, he was able to use iproniazid successfully to treat psychiatric patents with depression. After a year, psychiatric patients around the country started to receive antidepressant medication that allowed them to be discharged and rejoin society.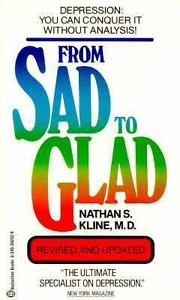 These discoveries came at a time when the national inpatient population in public hospitals was almost at half a million. After Dr. Kline's findings and other drugs treatment discoveries, the rapid introduction of drug treatment across the country resulted in increases in discharge rates. The discharge rate per state was nearly fifteen percent higher from 1955 to 1963 than it was from 1946 to 1954 (when the rate was almost seven percent) and this led to an overall drop in the mean yearly percentage change of patient population in the hospitals (Platt 38). Although more patients across the country were being discharged due to their improvement, the admission rates were still increasing faster.
Kline's research had a substantial impact on psychiatry during this time when many changes were being made in the field and in science in general. He was awarded the Albert Lasker Medical Research Award twice for his work with tranquilizers and antidepressants. In addition to his work with psychopharmacological drugs, he led the installation of a major computer center in 1968 at Rockland State Hospital, which was funded by the federal government, and the development of computerized medical systems that improved patient care quality. He believed that applying computer technology to psychiatry would be progressive for large scale epidemiological studies and would streamline the administration of complex health facilities (Cancro). Additionally, he served as an advisor to international health agencies including the World Health Organization (WHO) and CARE-Medco. As an advisor, he traveled a great deal and consequently was aware of the lack of medical treatments for mental disorders especially in developing countries. During his travels, he established and visited several mental health clinics and programs in various parts of the world. With this international mental health experience, Kline became founder and director of the International Committee Against Mental Illness (Cancro). Overall, Kline had a wide range of initiatives in research both nationally and internationally. His pioneering work led to major improvements in the treatment and lives of psychiatric patients.
Selection of Kline's works:
Handbook of Psychiatric Treatment in Medical Practice. Philadelphia 1962.
Psychopharmacology. Boston 1965.
Depression: Its Diagnosis and Treatment. Basel 1969.
From Sad to Glad: Kline on Depression. New York 1974.
Psychiatric Syndromes and Drug Treatment. New York 1979.