Opportunities at the Lab:
Monthly Game Nights
Community-building and fostering collaborative ideas.
Game Lab Fellows
Undergraduate and graduate students may propose projects related to games and gaming, from working and reading groups, game design sessions, building research and pedagogical tools, to independent and collaborative research topics.
ATTENTION STUDENTS IN THE HUMANITIES
We are delighted to announce that the Games & Cultures HUMANITIES LAB will be offering  FELLOWSHIPS in 2019-2020!
 Come be a part of an exciting community at Duke exploring the art, design, stories, politics, and business of games and gaming.
Taking advantage of this wonderful opportunity will enable you to:
Explore how games and gaming may be used as a creative tool to engage teaching, learning, research and community building, including involvement in ongoing lab projects.
Work closely and enjoy stimulating conversation with Duke faculty and graduate and undergraduate students outside of a traditional classroom setting.
Who is eligible?
Motivated undergraduates of all majors with a clear project related to games and gaming.
Graduate students at any stage interested in building a games-related project or working group in the humanities.
How to Apply:
In a document:

Describe the project that you imagine yourself working on over the 2019-20 academic year. Please limit yourself to ~300 words. Outcomes do not need to be in the traditional form of research papers but can include syllabi, game designs, storyboards, databases, digital projects, or other outcomes.

Email application and CV to Professor Nayoung Aimee Kwon (kwon@duke.edu).
Applications are due Oct 1, 2019.
Unsure about how to incorporate gaming to your projects? Come to our Open House Fri 13 September 6pm (Link Classroom 5 & 6) to brainstorm ideas.
Benefits:
Fellows will receive a one-time $1,000 fellowship payment after the completion of the terms of the fellowship.
Obligations for Fellows:
Present at a works-in-progress event early in spring semester 2020.
Graduate fellows will be paired with a faculty mentor.
Graduate fellows are required to attend at least two lab sponsored events and serve as a lab graduate mentor to a small group of undergraduate students.
Undergraduate fellows will be required to attend two mentoring sessions each semester.
Undergraduate fellows will be required to attend and write summaries of a games-related event on campus (talk, workshop, film screening, museum visit, game nights, etc. two times per semester (4/year) for possible publication on the lab's website.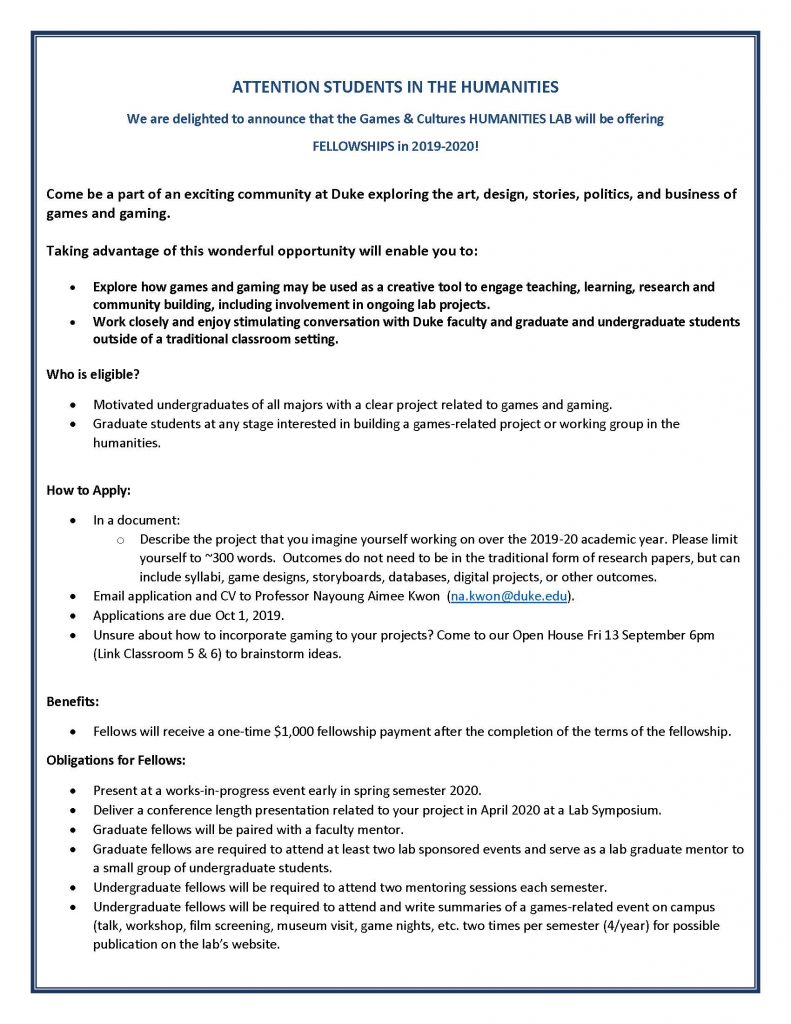 Write-Together with StoryLab.
Join us for a weekly writing boot camp.