Hosted by Duke University and North Carolina Central University
October 24-25, 2023, Durham, NC
About
"From Slavery to Freedom, From Durham to the World: Commemorating More than Three-Quarters of a Century of Publication," will honor the legacy of historian John Hope Franklin (1915-2009) and his  seminal work, From Slavery to Freedom: A History of African Americans, still in print and still relevant more than 75 years after it was written.
The two-day event, which is free and open to the public, will take place October 24-25, featuring panel discussions and receptions on both campuses.
For info about the symposium's speakers, click here. For more info about John Hope Franklin, click here.
View Online
The From Slavery to Freedom symposium can viewed online on YouTube.  Please use the links below for the videos –
All Panels (Day One and Day Two) Playlist
Registration
Registration is now closed
In-Person Locations
Day One – October 24, 2023
Morning/Afternoon Panels (10am-4:00pm)
North Carolina Central University Student Center
500 Nelson Street, Durham, NC 27707
Evening Reception/Panel (6:30pm-9:00pm)
H.M Michaux Jr. School of Education Building Auditorium
700 Cecil Street, Durham, NC 27707
Day Two – October 25, 2023
All-Day Panels and Reception (9am-7:00pm)
Rubenstein Library, Duke University West Campus
Gothic Reading Room, 2nd Floor (RL 250)
411 Chapel Drive, Durham, NC 27708
Directions and Parking
Maps
North Carolina Central University Campus Map
(Morning/Afternoon) New Student Center (#6), (Evening) H.M Michaux Jr. School of Education Building (#29)
Duke University Library, West Campus
Parking 
October 24 at North Carolina Central University –
ADA Parking will be given preference at the New Student Center surface lot
General Parking will accommodated at the following lots –

New Student Center surface lot
Albert N. Whiting Criminal Justice Building lot
H.N. Michaux Jr. School of Education Building lot
October 25 at Duke University  –
ADA Parking will be accommodated at the Bryan Center Garage. Please follow direction signs to reach Duke Rubenstein Library upon exiting the garage.
General Parking will be accommodated at the Science Center Drive Garage, 3100 Cameron Blvd, Durham, NC 27705. Shuttles will be provided to pickup guests outside the parking garage on Science Drive to transport to Duke Rubenstein Library.
Registrants will receive parking vouchers via email by 10/20
Lodging
Suggestions for local accommodations include:
Washington Duke Inn
JB Duke Hotel
The Lodge at Duke Medical Center
Hilton Garden Inn Durham/University Medical Center
Residence Inn Durham McPherson/Duke University Medical Center
*Please be advised there is no formal rate or code for symposium guests, room rates and availability will be based on hotel occupancy*
Sponsors and Supporters
Sponsors –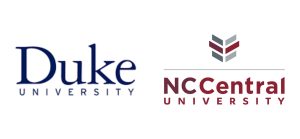 Supporters –
North Carolina Central University Office of the Chancellor
North Carolina Central University Office of the Provost
North Carolina Central University College of Arts, Social Sciences & Humanities
North Carolina Central University Department of History
North Carolina Central University Archives
James E. Shepard Memorial Library, North Carolina Central University
North Carolina Central University Office of Student Affairs
North Carolina Central University Office of Marketing
Duke University Office of the President
Duke university Office of the Provost
Duke University Libraries
John Hope Franklin Research Center for African and African American History & Culture
Duke University Department of African and African American Studies
Duke University Department of History
Duke University School of Law
Franklin Humanities Institute
John Hope Franklin Young Scholars Program
Samuel DuBois Cook Center on Social Equity
Questions
Please email franklin-collection@duke.edu if you have questions about the symposium events