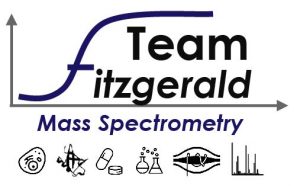 The Fitzgerald Team utilizes a combination of covalent labelling strategies (e.g., methionine oxidation) and mass spectrometry techniques to investigate the thermodynamic properties of protein folding and ligand binding reactions. Current research efforts involve: (1) the development of new biophysical methods that enable protein folding and stability measurements to be performed on the proteomic scale; and (2) the application of these new methods in areas of disease detection, diagnosis, and drug discovery.
The Fitzgerald Lab
Aurora and Baiyi prepping for a SPROX experiment!

The Fitzgerald Lab
Quarantined, but still smiling!

The Fitzgerald Lab
Enjoying their new state-of-the-art mass spectrometer!