Elza Bouhassira, President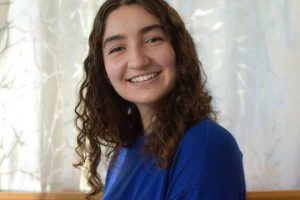 Elza Bouhassira is a 2L JD candidate and President of the Environmental Law Society. Elza grew up along New York's Hudson River. She graduated from the Columbia University-Sciences Po Dual BA Program. While in the program she studied sustainable development and the social sciences. Before coming to law school, Elza worked in climate journalism, interned with environmental nonprofits, and volunteered on a local climate change task force. During her 1L summer, she interned at the Sabin Center for Climate Change Law.
Andrew Kelbley, Vice President of Finance
Andrew Kelbley is a 2L at Duke Law School and ELS's Director of Finance. He is excited to help facilitate ELS's excited events this year! He grew up in Connecticut and graduated from Boston University in 2021, where he majored in Economics and Environmental Analysis & Policy. In Boston, he worked at a startup facilitating energy efficiency projects and also at an energy-buying consortium of nonprofits. Andrew spent his 1L summer with the Duke Environmental Law & Policy Clinic, and he is most interested in energy, land-use, and climate solutions. In his spare time, he enjoys yoga, hiking, gardening, swimming, and playing the French Horn with the Duke Symphony Orchestra.
Melissa Skarjune, Vice President of Communications
Melissa Skarjune (she/her) is a 2L at Duke Law School and ELS's Vice President of Communications. She grew up in Dallas, Texas, and graduated from Cornell University in December 2019, where she majored in Biology and Society with a concentration in Environment and Society. After graduation, she worked as a healthcare paralegal in Washington, D.C. Melissa spent her 1L summer with the North Carolina Conservation Network researching environmental justice opportunities in the Bipartisan Infrastructure Law. In her spare time, she enjoys sand volleyball, sketching, running, listening to podcasts, and playing with her dog. She is very excited to connect with other Duke Law students who are interested in environmental law!
Marianne Salas, Vice President of Pro-Bono and Volunteer Services
Marianne Salas (she/they) is a 2L from El Paso, Texas/Anthony, New Mexico. She graduated from New Mexico State University in 2020 with a Bachelor's in English. For her 1L summer, Marianne interned at the Environmental Defense Fund in Washington, D.C., focusing on environmental litigation and regulatory work. After graduation, she plans to pursue similar work in the federal government or public interest sector. At Duke Law, they are also involved in the Environmental Law and Policy Clinic, the Latin American Law Students Association, Government and Public Service Society, and OutLaw. In her free time, Marianne enjoys hiking, spending time with friends, and playing with her cat.
Emma Shahabi, Vice President of Environmental Justice Initiatives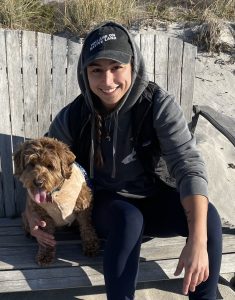 Emma Shahabi is a 2L JD candidate and ELS's Vice President of Environmental Justice. She's from Boston, MA and is an avid New England sports fan. For undergrad she attended UCLA where she played lacrosse and studied marine biology and political science. In her final quarter at UCLA Emma conducted research on the effects of rising water temperatures on the aerobic capabilities of intertidal fish. After graduating in 2020, she spent a year working in marine conservation policy before starting law school at Duke. Emma spent her 1L summer working on the Environmental Crimes Strike Force at the Massachusetts Attorney General's office and hopes to practice public interest environmental litigation upon graduating. In her free time, Emma enjoys playing pick-up sports, getting thai food, and making new friends with dogs in the area. She is incredibly excited for the new environmental justice events we have planned for this year!
Max López, Vice President of Climate Initiatives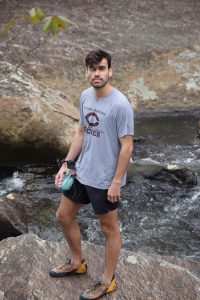 Max López is a 2L and ELS's Vice President of Climate Initiatives. He grew up in Tulsa, Oklahoma and graduated from UChicago in 2019 and then completed an LLM in International Climate Change Law at The University of Edinburgh in 2020. He is hoping to pursue a career in environmental law and is particularly passionate about the intersection of clean air and environmental justice. Max has been in both non-profit and governmental roles surrounding environmental law but has most recently worked at NRDC on clean air issues. Outside of school he likes to rock climb, play guitar, and the occasional mario kart session.
Steven Gaston, Vice President of Sustainability
Steven Gaston is a 2L JD/LLM candidate in International and Comparative Law. Steven grew up in rural Michigan. He graduated from Duke University in 2020, majoring in Biology and Environmental Sciences and Policy. Steven researched lemur fossils while at Duke and living lemurs while studying abroad in Madagascar. His 1L summer was spent analyzing the human rights implications of transitioning to a low carbon economy in American and Caribbean countries with the Institute for Human Rights and Business. In his spare time, Steven enjoys birdwatching, board games, and anime.