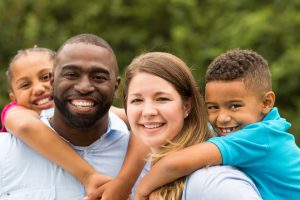 The mixed-race population has increased by 32% over the last ten years, yet the bulk of psychology research has not studied this population and how they may differ in their behavior and racial perceptions from their monoracial counterparts. In fact, as of the year 2000, 1 in 40 Americans identified themselves as multiracial (Lee & Bean, 2004), with 70% of the multiracial population being under 35 (U.S. Census Bureau, 2001). It is anticipated that this multiracial population will increase to around 21% of the general population by the year 2050 (Smith & Edmonston, 1997), demonstrating how important it is for people in today's society and in research to begin focusing on not only how people from multiracial backgrounds develop and feel, but how others perceive them as well.
To address this problem, the Identity & Diversity Lab explores the experiences of both monoracial and biracial/multiracial individuals as a way to pinpoint how long-term vs. short-term contact may affect our various social behaviors, perceptions and expectations of others.  We plan to examine the fluid like nature of biracial or multiracial people's racial identities and how having flexible racial identities may be a benefit for this growing population. In the future, we will compare having multiple racial identities to having multiple social identities more broadly as an avenue for comparing monoracial and mixed-race populations.
Publications
Pauker, K., Meyers, C., Sanchez, D.T., Gaither, S.E., & Young, D.M. (2018).  A review of the multiracial malleability: Identity, categorization, and shifting racial attitudes. Social and Personality Psychology Compass, 1-15. doi: 10.1111/spc3.12392
Albuja, A.F., Sanchez, D.T., & Gaither, S.E. (2018). Fluid racial presentation: Perceptions of contextual "passing" among biracial people. Journal of Experimental Social Psychology, 77, 132-142. doi: 10.1016/j.jesp.2018.04.010
Gaither, S.E. (in press). Belonging to multiple groups: Pushing identity research beyond binary thinking. Self & Identity, Special Issue: New Directions in the Study of Self and Identity.
Gaither, S.E., Goldberg, A., Gidney, C, & Maddox, K.B. (2015). Sounding Black or White: Priming identity and biracial speech. Frontiers in Personality and Social Psychology, 6:457. doi: 10.3389/fpsyg.2015.00457
Gaither, S.E. (2015). "Mixed" results: Multiracial research and identity explorations. Current Directions in Psychological Science, 24, 144-119. doi: 10.1177/0963721414558115
Gaither, S.E., Remedios, J.D., Sanchez, D., & Sommers, S.R. (2015). Thinking outside the box: Multiple identity mindsets affect creative problem solving. Social Psychological and Personality Science, 6, 596-603. doi: 10.1177/1948550614568866SPPS.2015
Gaither, S.E., Remedios, J.D., Schultz, J.R., & Sommers, S.R. (2015). Priming White identity elicits stereotype boost for biracial Black/White individuals. Group Processes and Intergroup Relations, 18, 778-787. doi: 10.1177/1368430215570504
Howell, J., Gaither, S.E., Ratliff, K.A. (2014). Caught in the middle: Defensive responses to IAT feedback among Whites, Blacks, and Biracial Black/Whites. Social Psychological and Personality Science, 6, 373-381. doi:10.1177/1948550614561127
Gaither, S.E., Chen, E., Corriveau, K., Harris, P., Ambady, N., & Sommers, S.R. (2014). Monoracial and biracial children: Effects of racial identity saliency on social learning and social preferences. Child Development, 85, 2299-2316. doi:10.1111/cdev.12266
Gaither, S.E., Wilton, L., Young, D. (2013). Perceiving a presidency in Black (and White): Four years later. Analyses of Social Issues and Public Policy, Special Issue: The Social Psychology of the 2012 US Presidential Election, 14, 7-21. doi: 10.1111/asap.12018