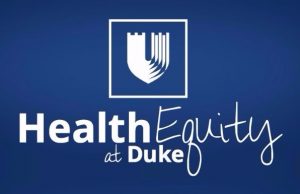 DukeHealth has been featured in a Health Equity Virtual Site Visit (VSV), an initiative of the Association of American Medical Colleges (AAMC). The AAMC developed the VSV in 2014 to highlight the outstanding health equity research portfolio at its member institutions. Each VSV incorporates videos, webinars, presentations, journal articles, and other resources that reflect the innovative research, curricula, and care delivery at the featured institution.
Duke addresses health equity through clinical service, research, education, and community engagement, and established the Duke Center for Community and Population Health Improvement, led by GIM Chief Dr. Ebony Boulware, to facilitate and coordinate these efforts. Improving health equity and eliminating disparities in health are a major focus of the center's activities. The center leverages academic, health system, and multi-sector community partnerships to improve community and population health, and through research and programs seeks to understand and address key biomedical, behavioral, and contextual health determinants to improve community and population health. GIM Communications Strategist, Clare Il'Giovine, produced each of these videos.
Previous VSV collections have featured NYU School of Medicine/NYU Langone Medical Center, University of Massachusetts Medical School (UMMS), and UC Davis School of Medicine. For more information about the AAMC's VSV initiative, send an email to healthequityresearch@aamc.org.