Opportunities & Mentorship
Duke F1RSTS runs a mentorship program for first-generation undergraduates in collaboration with DukeLIFE.
Share some pennies of wisdom on applying to graduate school, studies, budgeting, writing skills, and communication with our undergrads. How much time you dedicate to mentoring is entirely up to you and your mentee.
To become a mentor, please fill out the following Qualtrics survey: https://duke.is/y/bbcx
Present:
Coming soon!
Past:
Spring 2023: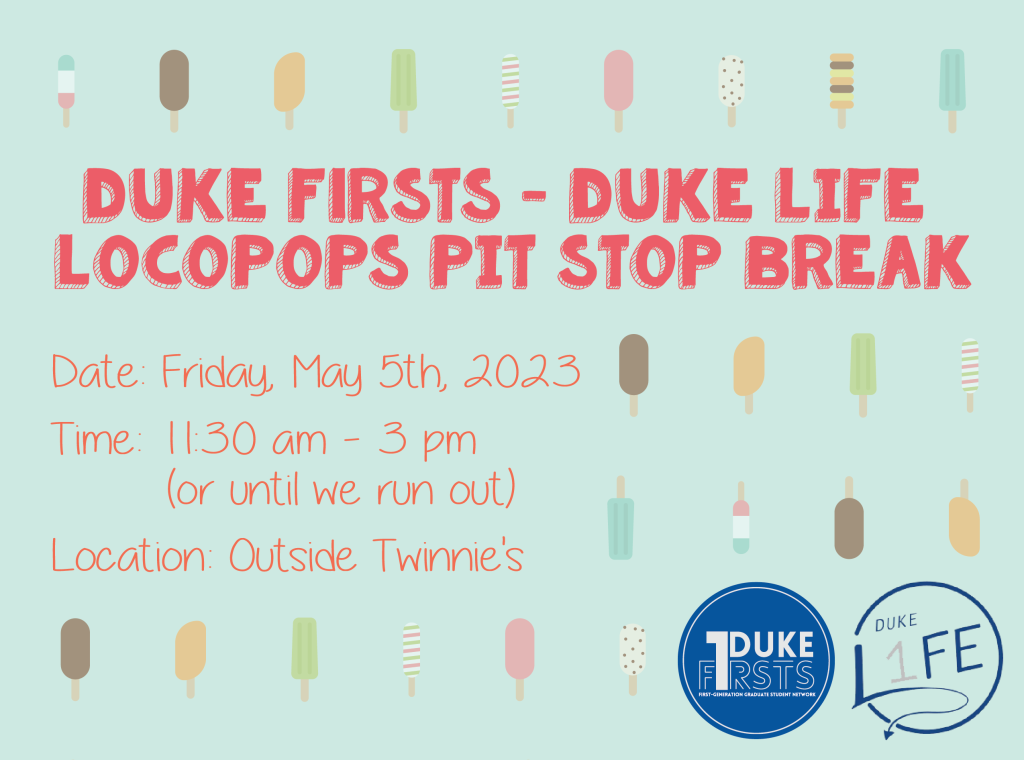 Fall 2021-Spring 2022: If you are interested in being a mentor for the Duke F1RSTS-Duke L1FE mentorship program this year, please fill out the Google form by Friday, 9/17 at 5 PM. Feel free to reach out to our Outreach Coordinator Kayla Fernando at kayla.fernando@duke.edu if you have any questions—thanks!
April 2019:
OPPORTUNITY: Grad Milestones – provide feedback on what you would like the Career Center to offer you and how the materials can better meet the needs of students:
"Graduate students at Duke have told the Career Center that they want more guidance on how to conduct their professional and career development throughout graduate school. Based on this feedback, we have created Grad Milestones, a new, structured approach specifically for the needs of Master's and Doctoral students

. By breaking up the process into smaller, tangible steps, grad students will be able to gain valuable skills needed in graduate school, make more steady progress, and have more clarity on where they're going.

During these interactive sessions, the Career Center is convening graduate students, staff, and faculty from a range of disciplines to get the first look at Grad Milestones. Attendees will work in collaborative groups to explore the proposed process and provide feedback on how the materials can better meet the needs of students, both during grad school and in preparation for life after grad school. Based on the results of these conversations, the Career Center is planning to launch Grad Milestones in the next academic year for all Master's and Doctoral students that we serve."

Please sign up for one of these upcoming sessions
Humanities, Social Sciences and Policy
Fri, Apr 12, 1:30pm-3:30pm, Sociology Psychology Bldg, Room 128
Register: http://bit.ly/2usPQh6

Physical Sciences and Engineering
Wed, Apr 17, 1pm-3pm, Brodhead Center, Room 067
Register: http://bit.ly/2HEA3UT

Biomedical and Environmental Sciences
Tues, Apr 30, 9am-11am, Brodhead Center, Room 067
Register: http://bit.ly/2TzUWSE

APPRECIATION WEEK: Are you a first-gen graduate student on the academic job market? Would they be willing to share their stories? We are looking for people to join our panel, coming up on April 3, 10 am-12 pm, about navigating the job market as a first-gen graduate student.  If you would like to share your experiences, or know someone who might, please contact Natalie at natalie.gasparowicz@duke.edu, Sinja at Sinja.kuppers@duke.edu or Brandon at brandon.m.le@duke.edu.
March 2019:
Duke LIFE (our undergrad partners) are hosting the National Conference for 1g undergrads from Ivy and Ivy+ universities on March 2-3 at Duke on West Campus. They have asked us 1G grads to support them on> Saturday (3/2) for a Breakout session from 4-5:30pm on Duke West Campus, (2 panels with 3 grads each from different disciplines)and
> Sunday (3/3) for a graduate/undergraduate lunch at the Brodhead Center from 11:30-1pm in The Bolton Family Tower Room, Brodhead Center (as many 1g grads as possible)
If you want to take the opportunity to meet 1G undergrads from across the US and help them navigate their university path, sign up for both or either day here:
http://bit.ly/gradsforDukeLIFE
For Sunday (3/3) your registration is binding, for Saturday (3/2) you will receive an e-mail from us in case you have been selected. Thank you for volunteering!
October 2018: Invitation to interview for the Duke library magazine and blog – a series with first-gen students:
Share your first-generation experiences with using library resources during your undergrad
Get a professional photograph

Improve library resources and service at Duke

Free coffee and snacks
If this has raised your interest, please get in touch with Emily Daly (emily.daly@duke.edu), Head, Assessment & User Experience Department!