(Virtual) Duke F1RSTS & Carolina Grad Student F1RSTS Social
Thursday, June 4 @ 4:30 pm – 5:30 pm (Eastern Standard Time)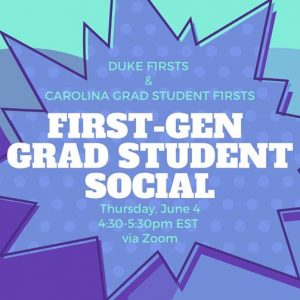 Join the Duke F1RSTS and Carolina Grad F1RSTS for our first-ever virtual social hour.  Bring your favorite snacks and beverages and be ready for some fun games and conversation!  
REGISTRATION
 is required.  The Zoom link will be emailed to you on the day of the social.
If you have any difficulty registering for the social through the UNC event registration system, please email Maria directly at Maria.Erb@unc.edu.