Spring 2019 Service Statistics for Duke APO
Weekly/Regular
Book Harvest
Book Harvest provides books to children who need them and encourages families and communities to promote children's lifelong literacy and academic success. They host open book sorting events monthly where volunteers can drop in.
CHANCE Tutoring
CHANCE offers free tutoring services to local Durham students in middle school and high school. The group does this through special pairing of pre-collegiate students having particular academic needs with Duke students who have experience in those academic areas. All student tutors seek to share a knowledge that the tutees will retain long after each session. This knowledge goes beyond simple problems and is targeted towards understanding underlying concepts as much as possible. CHANCE tutors form relationships with tutees.  This relationship often fosters a growing passion to learn and eventually the middle school and high school students gain a higher awareness of their scholastic endeavors through our efforts.
Duke Campus Farm
 The Duke Campus Farm is a one-acre, working farm that provides sustainably grown produce and food systems education for Duke and its surrounding communities. In collaboration with an undergraduate and graduate student farm crew, academic courses and research, they grow and harvest for Duke's food purveyors, local restaurants, and their Community Supported Agriculture program. More important than the thousands of pounds of food they grow, however, are the opportunities the farm provides for engaging and reimagining the ways we cultivate, access, value, and think about food. Their mission is to cultivate positive change in food.
Duke-Durham Tennis Project
Their mission is to increase cooperation between Duke and Durham by providing tennis lessons to underprivileged school children to increase opportunities for child mentorship and personal development. These lessons are conducted after school hours at local elementary schools. By participating, DDTP members gain insight into life of citizens away from Duke and valuable experiences interacting with children in a supporting and mentoring role.
Durham Scrap Exchange
The Scrap Exchange's mission is to promote creativity, environmental awareness, and community through reuse. Since 1991, they have been collecting materials from local businesses and residents and distributing these reclaimed materials through a variety of programming.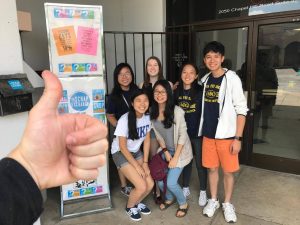 Harmonies for Health
Harmonies for Health is a student-run nonprofit at Duke University in Durham, NC. They aim to bring empathy and kindness to the local healthcare community through musical volunteering through two programs: a musical instrument exploration program at the Durham Ronald McDonald House and a performance-based program at the Durham Nursing and Rehabilitation Center.
Root Causes
Root Causes is an organization formed by students of the Duke Medical School. Their purpose is to help food insecure patients in the Durham community. They organize Fresh Produce Giveaway events every other Friday at the Duke Outpatient Clinic.
ScienceDays
ScienceDays is a mentoring program to foster scientific curiosity in elementary school students by engaging them in hands-on learning opportunities beyond the ordinary classroom experience. The program aims to create a national network of enthusiastic high school and college mentors who are dedicated to making a difference in their communities through promoting science education. The Duke/Durham chapter interacts weekly with two local elementary schools, George Watts and E.K. Powe. Volunteers travel to one or both schools each week, teaching hands-on, interactive science lessons pertaining to a variety of themes, from geology and earth science to chemistry and physics.
Service for the Nation
Carolina Tiger Rescue
Carolina Tiger Rescue is a 501(c)3 nonprofit wildlife sanctuary whose mission is saving and protecting wild cats in captivity and in the wild. 
Servants with a Heart Meal Packing
Servants with a Heart organizes meal packing events at Duke to pack food for people in Charlotte, NC, and Nicaragua.
Service for the Community
Adopt-a-Highway
The Durham department of transportation outsources clean-up projects to community organizations. APO has adopted a section of Sparger Road (South of Colemill Rd interception and North of US70 intersection).
Boy Scouts
APO Brothers typically help local Boy Scout troops organize and run their Merit Badge College. Sometimes members teach classes or help ensure everyone knows where to go for their next class.
Girl Scouts
APO Brothers help local Girl Scout troops. Past events include helping them organize cookie selling on the BC Plaza and giving them advice about college life and college admissions.
Great Human Race (SwingPals)
APO Brothers oftentimes walk or run this 5K in order to help raise money for SwingPals.
Keep Durham Beautiful
Keep Durham Beautiful is an environmental nonprofit in Durham focused on waste reduction, litter prevention, and community greening in all communities. APO has helped with several tree planting events.
Service for the Campus
Asian Students Association
APO does ushering for their Lunar New Year performance every year.
Blue Devils Day
APO Brothers become Admissions Ambassadors that introduce potential Duke students and their parents to our school.
Duke Gardens
Duke Gardens has an ongoing need for volunteers to help maintain the Children's Discovery Garden, a small area used by children and school groups for planting fruits and vegetables. Volunteers weed, water and maintain this garden area. Volunteers are also needed to help run Plant Sales and other special events.
Duke Red Cross
The American Red Cross of Duke University is an organization consisting primarily of undergraduate students at Duke University. They promote the ideals of the American Red Cross through volunteer efforts on campus, in the local community, and internationally. APO Brothers have helped with blood drives and tabling events.
Duke Forest
APO Brothers help Duke Forest personnel with trail maintenance service events.
Duke Lemur Center
APO Brothers help Duke Lemur Center staff by helping with things like pulling weeds.
Duke Splash
Duke Splash is a one-day-long event in which middle and high school students (7th through 12th graders) have the opportunity to take classes taught by Duke students, with topics ranging from dancing to engineering to art history to organic chemistry! They aim to foster a love of learning, independence, and creativity in all people. 
HackDuke & Ideate
HackDuke is the nation's premier hackathon for tech and social good. They unite students that are passionate about changing the intention and narrative behind how technology is used today to create meaningful hacks in a 24-hour sprint. APO Brothers help with the HackDuke hackathon in the fall and the Ideate design conference in the Spring.
MLK Meal Packaging Event
Every year on Martin Luther King, Jr., Day, APO members help with a meal packaging event in Durham organized by Durham Tech, Rotary Club of Durham, and Duke School.
Nasher Family Days
The Nasher hosts free family days where families visiting the museum can enjoy live entertainment, create hands-on projects and explore exhibitions with a gallery hunt. APO Brothers help run the activities.
Ronald McDonald House
Many families travel far from home and spend several weeks or months to get treatment for their seriously ill or injured children – a long time to be away or to divide a family. And, for children facing a serious medical crisis, nothing seems scarier than not having mom and dad close by for love and support. Ronald McDonald House provides a place for families to call home so they can stay close by their hospitalized child at little to no cost. 
Ushering
APO helps with ushering for various events run by groups like NeuroCare, ASA Lunar New Year, WorlDuke (International Association), dance groups, Hoof 'n' Horn, and Devilish Keys.
Service to the Fraternity
Activities Fair Tabling
APO members table at various events in order to recruit potential Brothers.
Fundraising
APO members help with various fundraising activities in order to gain money for the nonprofit that APO chooses every semester. Activities include donut sales and Panda Express fundraising nights.
Event Set-up and Clean-up
APO members volunteer to set up and clean up complicated events like Semi and our Christmas party.