THE LAMBDA NU CHAPTER of Alpha Phi Omega was founded at Duke University in 1955 by Thomas R. Neese.  Encouraged by area Boy Scout representative Bill Roth, Neese recruited Robert M. Graper and Joseph Griffin, fellow brothers of the Phi Kappa Sigma fraternity.  Together, they organized the first pledge class with assistance from Rho Chapter of UNC-Chapel Hill.  Sixteen men comprised this initial group, which first met in February of 1955.  Potential service projects were discussed at this meeting, and the future brothers chose a project blazing a nature trail at the Durham Children's Museum (now the Museum of Life and Science).  This first project, which preceded the chartering of Lambda Nu, became a regular project of the Chapter.
The Chapter grew in prestige during the 1960s, despite a membership that hovered around twenty men during most of this period, but it needed to establish itself among larger service organizations at Duke.  APO appeared successful, expanding its service program to include a diverse range of projects.
In 1974, Lambda Nu began accepting women, a full two years before the National fraternity went co-ed.  The Chapter was able to do this by submitting membership lists to the National office that included only first initials and last names.  Soon afterward, however, the Chapter began to drift apart, with its last active member deactivating around 1978.
In the Spring of 1979, Duke sophomore Bob McMahan learned about APO from friends who were Brothers at the Iota Lambda Chapter at North Carolina State University.  McMahan spent the fall 1979 semester researching the history of Lambda Nu and recruiting interested people.  By April of 1980, Lambda Nu was reborn, initiating nineteen pledges.
As Duke grew during the 1980s, so did Lambda Nu.  Alpha Phi Omega celebrated the opening of the Bryan Center in 1982 by helping the Duke University Union raise money to buy the baby grand piano that once sat in the Bryan Center's Schaefer Mall.  By the end of the 1980s, the Chapter was annually performing thousands of hours of service for the Durham community, working for groups like the Eno River State Park, Lenox Baker Children's Hospital, Genesis Home, Duke Rescue Mission, and many local hospitals, schools, and shelters.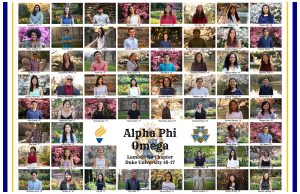 THIS BRIEF HISTORY is part of the Chapter Record, a 100-page comprehensive history of Lambda Nu's Many Years of Service to Duke and Durham.
APO has grown immensely since the 1980s, continuing to do service in our local community.
Click the images below to see photo albums from past APO semesters.
If you are an APO alum with comments and/or additional images, we would love for you to contact us!