In the XR Studio we are experimenting with a wide range of XR (extended reality) technologies for teaching, research, and outreach. IT Analyst David J. Zielinski coordinates our efforts in this area, teaching the Unity3D class and consulting with faculty, staff, and students on their projects.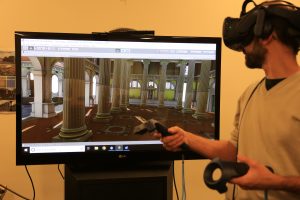 We are working on developing workflows for bringing content into the new HTC Vive Pro (a high end VR headset). The Vive is setup in a dedicated 15 ft x 15 ft tracked space. The Vive is attached to a high end Alienware gaming computer (NVIDIA GTX 2080Ti). Currently collaborating with the Dig@Lab on archaeological experiences in VR.
We are also exploring lower end (consumer all-in-one) VR headsets which hold great promise for classroom and installation type experiences. The XR Studio currently has several Oculus Quest headsets.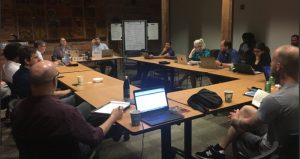 The National Endowment for the Humanities funded the Virtual and Augmented Reality Digital Humanities Institute V/AR-DHI. The 2 week institute was led by Professors Victoria Szabo and Phil Stern and includes partners from around campus, as well as participants from around the country, and internationally.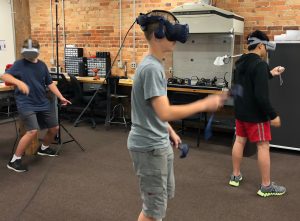 Recent outreach activities include hosting a TIP Scholar Weekend for 8th-11th graders on the topic of Virtual Reality and 360 Video. (October 2018)