Resources
Video Presentation
Providing Quality Primary Care for our LGBTQ+ Patients
Presentation by Dr. Tiffany Covas, Virtual Primary Care Grand Rounds 2/24/21
https://duke.zoom.us/rec/share/2Bq98YNpA1vKQgaMYdfPS4esMXT0m8DYw_Ze7vvgo4Te-iUEzcaxFl4Mzp2KqOpA.__ls2bBTa7GMKx-4
Articles
Care of the Transgender Patient
Annals of Internal Medicine July 2019
https://pubmed.ncbi.nlm.nih.gov/?myncbishare=dukemlib&dr=abstract&otool=dukemlib&term=31261405
Caring for the Transgender Patient: Grand Rounds Discussion From Beth Israel
Annals of Internal Medicine
https://pubmed.ncbi.nlm.nih.gov/?myncbishare=dukemlib&dr=abstract&otool=dukemlib&term=32016334
Health Coverage and Care for Transgender People- Threats and Opportunities
NEJM
https://pubmed.ncbi.nlm.nih.gov/?myncbishare=dukemlib&dr=abstract&otool=dukemlib&term=33314870
The Power and Limits of Classification- A 32-year-old Man with Abdominal Pain
NEJM May 16, 2019
https://pubmed.ncbi.nlm.nih.gov/?myncbishare=dukemlib&dr=abstract&otool=dukemlib&term=31091369
Informational Website
Website detailing medical therapies for transitioning for adult patients
From UCSF
https://transcare.ucsf.edu/guidelines
Learning Modules at Duke
Connect to the modules here:
https://hr.duke.edu/training/learning-management-system
Search for these 3 Topics:
Collecting Sexual Orientation and Gender Identity Information on our Patients
Documenting Sexual Orientation & Gender Identity (SOGI) in Maestro Care
Duke LGBTQ+ in-person training- Improving care for the LGBTQ+ community
Sites at Duke where patients can be referred to
LGBTQ PCMH@ Duke Family Medicine
https://fmch.duke.edu/patient-care-community-health/lgbtq-patient-centered-medical-home 
Duke pediatric and adolescent gender care
https://www.dukehealth.org/locations/duke-child-and-adolescent-gender-care
Duke adult gender medicine
https://www.dukehealth.org/treatments/adult-gender-medicine
Maestro Care Quick Tips
Updating demographics
QUICK TIP
Updating demographics and adding a preferred name there are times when a provider receives demographic information from a patient or family that has not been documented by the front desk or scheduling team. Providers have the ability to update certain parts of the patient demographics. Here are the basic functions and some cautions:Providers should update only patient phone numbers, patient email addresses, emergency contact, and family contact information, and the patient's preferred name (or nickname)Accessing: The Demographics function can be accessed from several places, but the easiest is by clicking on the patient's name in Storyboard. This opens the Demographics Activity.Updating: There are 4 sections that providers may update:
Patient phone numbers
Patient email address
Patient emergency contact/family contact information
Patient preferred name (Nickname)
How to Add Sexual Orientation and Gender Identity in Maestro
To find the Sexual Orientation and Gender Identity form in Maestro, go to the Storyboard on the left side of the patient's record and click on the line that identifies their sex and DOB. That will open the form. It works best to complete this with a patient.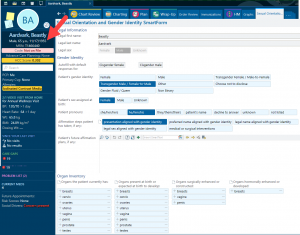 Once you have completed the form, the header will update and include the patient's sexual identity and preferred pronouns. If there is some additional information available, you will see this designation,

which tells you additional information is available. At that point, hovering will provide all of the information.