Step One:
You will receive an email that you have been assigned to review a case. This is done by your peer review champion and will have a deadline date
DO NOT ACCESS THE CASE FROM THE LINK IN THE EMAIL!
Log into RL6 and under the clipboard click on the assigned case.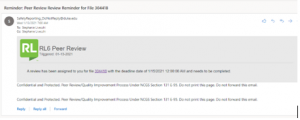 Step Two:
Click on

Highlight and copy MRN. (Paste in EPIC Patient Station to open chart and review encounter).
Review NOTES submitted by providers regarding items they would like to have reviewed regarding the case.
Step Three
Click on the   tab

Located in the same toolbar as Preliminary Investigation.
Will have to click on the arrow to reveal the Review/Analysis tab.

case (left top corner) prior to starting case review.
Under Person's Involved click both Provider and Reviewer
Complete Ratings and Review Sections.
Under Additional Questions

Even if None or Not Application, still click on ADD/Modify Button to add None or N/A.

Under Details please take the time to briefly describe/summarize your findings and anything else you would like to address about the case.

Step Four
Once all required fields are completed, click   button (left top corner).
YOU ARE DONE!
Inform Peer Review Champion who will escalate your complaints to either a Peer Review Superuser or IT.
Complete a hard copy of the Peer Review Form.
Email Peer Review Form to Peer Review Champion. (This will allow you to be able to still participate in Peer Review for the quarter.)
Once technical issues are resolved, please complete the assigned case on the RL6 platform. This has to be completed before the end of the quarter.
**Your Peer Review Champion is not responsible for entering your case into the RL6 platform.**