Kathleen Donohue
Professor
Office:  Biological Sciences 226
Duke faculty bio
email:  k.donohue@duke.edu
Mariano Alvarez
Postdoctoral Research Associate
email:  mariano.alvarez@duke.edu
webpage: here
I'm interested in understanding the genetic basis of phenotypic plasticity and adaptation, and I'm exploring these processes by integrating genomics, transcriptomics, and epigenomics to identify the loci and networks that underlie environmentally-labile phenotypes..
Michelle D'Aguillo

Ph.D. Candidate, Biology
email:  michelle.d.aguillo@duke.edu
I'm interested in ontogenetic niche shifts: how do the environments experienced by an organism, and forces of selection, vary across the lifecycle? For my dissertation I plan to investigate how natural selection during early life history stages in particular (e.g., seeds, seedlings) alters ecological and evolutionary processes, including the ability to colonize new habitats, and the limits of ecological and geographic ranges. I plan to study this topic across multiple scales—from a small scale, comparing the ecological niche of populations within a single species, to a very broad scale, through a comparative phylogenetic approach using multiple clades of seed plants. In my former marine biologist life, I studied an ontogenetic diet shift in an estuarine fish. I'm also very interested in natural history of the southeast.
Britany
Morgan
Ph.D. Candidate, Ecology
email:  blm42@duke.edu
I am an evolutionary ecology who thinks about connections between living things through transgenerational plasticity and community biotic interactions. I focus my research on parental effects, regulation of this form of transgenerational plasticity through epigenetic mechanisms, and the effect of neighboring community on individuals. I enjoy the combination of field and laboratory experiments to balance controlled manipulations with natural observations. I routinely think about the effect of the environment on things like phenotype and fitness, the influence of parents on offspring, and the effect of community interactions on traits of individuals. I also just really love plants and birds.
Brandie Quarles
Ph.D. Candidate, Ecology
email: brandie.quarles@duke.edu
I am broadly interested in how stressful and/or variable environments influence plant physiology, phenology, survival, and reproduction. As habitat fragmentation and changing climatic conditions pose mounting threats to plant populations, it is important to learn more about the traits that may ensure survival of individual plants and the population-level effects of those traits. For my dissertation, I plan to investigate how spatial and temporal dispersal influence plant population demography and adaptation. I will use a combination of large-scale field experiments, greenhouse common gardens, phytotron experiments, genetics, and mathematical modeling. Prior to coming to Duke, I did some work with self-incompatibility, polyploidy, plant aging, and demography.
Andrew Bleich

Lab Manager
email:  andrew.bleich@duke.edu
I started working with Kathleen as her Lab Manager in 2016. I received a B.S. in Plant Biology with a specialization in Molecular and Biochemical Physiology from SIUC. I love plants and am interested in how organisms interact with and are affected by changing environments. I am currently working on projects investigating the basis of phenotypic plasticity to further my understanding
Current Undergraduate Team:
Matthew Gallardo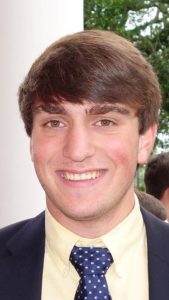 Shane Wilson
Sydney Hunt
Sibani Ram
Jonathan Eini
---
Lab alumni
Gabriela Auge: Senior Researcher, Leloir Institute, Buenos Aires, Argentina
Catherine Martel: Postoctoral Research Associate London, Ontario, Canada
Rafael Rubio de Casas
:
Postdoctoral Research Associate Grenada, Spain
Deepak 
Barua
: Assistant Professor, Indian Institute of Science 
and Education Research
Converse Griffith
: US Forest Service
Jocelyn 
Hall
 : Associate Professor, University of Alberta
Shane 
Heschel
: Associate Professor, Colorado College
Lindsay Leverett: Academic Editor, Research Square
Charlie Willis
: 
Post-Doctoral Research Associate, Harvard University
Lauren Ruane
: 
Assistant Professor Christopher Newport University
George Chiang
: Post-Doctoral Research Associate 
UCLA
Lab Managers
Katie Kovach
: 
Instructor/Counselor, Schoolhouse of Wonder, Durham, NC
Bri Edwards: Lab manager, NC State University, Raleigh, NC
Technicians
Logan K. Blair: Graduate Student, University of California at Davis
Elizabeth Boyd
: Graduate Student, University 
of Illinois, Chicago Circle
Colleen Butler
: Graduate Student, Tufts University
Emily Dittmar: 
Graduate Student, Michigan 
State University
Tracy Tisdal
e: Technician, Broad Institute
Andrew Wheeler
: Graduate student, Claremont 
Graduate University, Rancho Santa Ana
Zhiqiong Zhou: Visiting Scholar
Xiaowen Hu: Postdoctoral Research Associate
Paulo Souza-Filho:
 Graduate student/Fulbright 
Scholar
Chunhui Zhang: Postdoctoral Research Associate
Rafiq Majolagbe
Nicholas Cheung
Emily Thayer
Jim Liu
Michael Wen
Cindy Li
Lucy Houttujin Blomendaal
Aleena Karediya
Katherine Vayda
George Schieder IV
Eden Ashebir
Dan Moore
Emily Woska
Mae Lewis
Stella Arndorfer
Jennifer Zou
Hannah Neville
Gopi Neppala
Becky Li
Charlotte Harrington
Shengnan Xu
Tommy Meister
Nick Jerles
Eli Hornstein