Humanities Fall Conference
The Humanities Research Center is pleased to announce its fall conference: The Future of Work and Labor 劳动的未来 / 未来的劳动. The conference features three renowned keynote speakers: multimedia artist Cao Fei; science fiction author Chen Qiufan; and professor of philosophy and business, Wang Jianbao. In addition to the keynote speeches, DKU faculty from a range of disciplines will introduce their research, and various labs from the Humanities Research Center will make presentations about their research over the past year. DKU students may register for the conference by filling in this registration form or scanning the QR code. Those who register after October 29 are welcome to attend the sessions, but will not be eligible to attend the dinners.
Keynote Speakers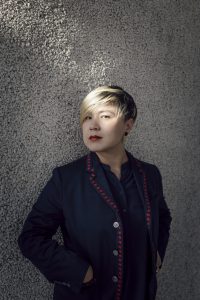 CAO Fei (b. 1978, Guangzhou) is an internationally-renowned Chinese contemporary artist. Currently living in Beijing, she mixes social commentary, popular aesthetics, references to Surrealism, and documentary conventions in her films and installations. Her works reflect on the rapid and developmental changes that are occurring in Chinese society today.
Cao Fei's works have been exhibited at a number of international biennales, triennales and art institutions. Cao Fei's major projects in recent years include a solo exhibition at MoMA PS1, New York (2016), the BMW  Art Car Project (2017), the Robert H. N. Ho Family Foundation Chinese Art Initiative at the Guggenheim Museum in New York (2018), a solo show at the Tai Kwun Contemporary, Hong Kong (2018), a retrospective at K21 Düsseldorf (2018), a solo exhibition at the Centre Pompidou, Paris (2019), an Augmented Reality Art Project by APPLE and the New Museum, New York (2019), a solo exhibition Blueprints at the Serpentine Galleries, London (2020). Cao Fei's recent projects include a major retrospective Staging the Era at the UCCA Center for Contemporary Art, Beijing (2021), and a solo exhibition at the MAXXI, the National Museum of 21st Century Arts, Rome (2021).
Cao Fei is a professor and a master advisor of the School of Experimental Art at the Central Academy of Fine Arts. She was also on the jury of The Selection Committee for the Curatorship of the 8th Berlin Biennale (2014), the jury of The Bonnefanten Award for Contemporary (2016), and the jury of Hugo Boss Asia Art Prize (2019). Cao Fei is the nominator of the Rolls-Royce Art Program Muse (2019) and the winner of the Deutsche Börse Photography Foundation Prize (2021).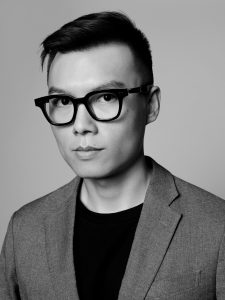 CHEN Qiufan 
Chen Qiufan (a.k.a. Stanley Chan) is an award-winning Chinese speculative fiction author, translator, creative producer, and curator. He is honorary president of the Chinese Science Fiction Writers Association, and has a seat on the Xprize Foundation Science Fiction Advisory Council. His works include the novel Waste Tide and, co-authored with Kai-Fu Lee, the book AI 2041: Ten Visions for Our Future. He currently lives in Shanghai and is the founder of Thema Mundi Studio.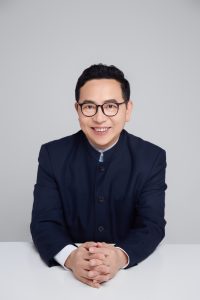 WANG Jianbao is the Director of the Center for the Humanities and Business Ethics at Cheung Kong Graduate School of Business (CKGSB),  since 2017. He is also a Research Fellow at CKGSB and Associate Researcher at Peking University.
His research focuses on Confucianism as well as developing new business models. Most of his research papers and articles were published in Chinanews, Chuanshan Journal (CSSCI), Legein Society, Financial Times Chinese Edition, Global Times, Caijing, China Minutes and People's Daily. His article, On Shengyi (Business), was accepted by the 24th WCP and was published in the book Humanistic Spirit in the Third Age of Confucianism: Essays in Honor of Tu Weiming's 80th Birthday.
With his expertise in the areas of philosophy and business, Dr. Wang is the leader of curriculum design for Humanities and Business Ethics. His courses include The First Class on Humanities, Who Are Confucian Entrepreneurs and What Can Confucian Entrepreneurs Do?, Entrepreneurial Spirit, New Era, New Business, New Civilization, Cultural Identity and Dialogue among Civilizations, On Business: Belief, Behaviour and Business etc.
Prior to joining CKGSB, Dr. Wang had a long career in corporate group management, public company management, and supply chain management. He was the Chief Representative at Pakistan Railway (1999-2000). He also successfully built a National R&D Center (2011). Dr. Wang received his baccalaureate degree in mechanical engineering from Xi'an Jiaotong University, EMBA from Cheung Kong Graduate School of Business, and his doctoral degree in Philosophy from Peking University. His dissertation, Wealth and the Way: A Mencian Perspective, pioneered the understanding of Confucian Entrepreneurs, under the supervision of Prof. TU Weiming, fellow of American Academy of Arts and Sciences and Academia Sinica.  
Program
All plenary events take place in the IB Auditorium. Parallel sessions take place in rooms as noted below. An asterisk indicates an online or prerecorded presentation. All other presentations will take place live.
Thursday, November 11
Pre-Conference  Film Screening, introduced by Zairong Xiang, 1900-2120.
The HRC will show two of Cao Fei's films about the future of work and labor,  which were partially shot in Kunshan.
1900-2010 11.11 (2018)
11.11 is a documentary that records the work overload of the entire JD.com logistics system before and after the "double eleven" shopping day in China (the equivalence of America's Black Friday). From goods being sorted at JD.com's gigantic sorting centre in the outskirts of Beijing and the double eleven national command centre at JD.com's headquarter, to the numerous delivery points spread across Beijing's entire commercial and traditional districts, and the mission and individual existence of the couriers working at online shopping terminals. All of the above sketch out the landscape of a system of consumption driven by the powerful Internet economy (JD alone achieved 120 million rmb total sales on that single day). How will this situation lead us into a future social ecosystem?
2010-2015 Intermission
2015-2120 Asia One (2018)
Asia One envisions a scene in 2021, when a young female worker, a male worker and a cute AI robot (who is the daily companion of the female worker) are working in a large automated logistics centre "Asia One Unmanned Warehouse." After long periods of loneliness and repetitious labour in the factory, the young workers start to have a special feeling for each other. In a humdrum day-to-day work-life, they seem to have fallen in an emotional entanglement between the "unmanned" (intelligentised production), "human" and "non-human" (robot).
Friday, November 12
0930 Opening Ceremony
1000 Keynote Lecture: CHEN Qiufan
From Prophecy to Pharmakon: AI Trends in Chinese Science Fiction
AI as a theme has been developed rapidly in Chinese science fiction narratives in recent years. It reflects the dynamic changes of the state on encouraging the tech innovation and the anxiety of being strangled by the west. However, the genre and the theme itself was imported from the west and remarkably leaving the traces of imitation and thought heritage. From the varying attitudes towards AI in different period of time, science fiction as an imaginary narrative allows us to reflexively discuss the relationship between humans and technologies and go beyond the binary thinking of "favor or fear."
1130 Lunch
1300 Faculty Panel 1A: Philosophy, Politics and Ethics | IB1050
Quinlan Bowman: 

Governing the Barbarians: Considerations on Mill's Defense of Despotism

Nathan Hauthaler: 

Practical Metaphysics

Nisa Claudia*: 

Moving toward a Cruelty-free China
1300 Faculty Panel 1B: Literary and Virtual Realities | IB1051
Ben Van Overmiere: 

Zen and the Art of Detective Fiction: the Case of Janwillem van de Wetering (1931-2008)

Stephanie Anderson: 

Slip Ups and Smallnesses: Daisy Aldan and the Forgotten Legacy of Folder

Xin Tong: Virtual Reality as an Empathy Machine for Vulnerable Populations
1430 Faculty Panel 2A: Global China | IB1050
Nellie Chu: From the Runway to the Platform (and Back): The Politics of In-Authenticity in an Era of Global Fast Fashion and China's E-Vendor Economy
Andrew Field: Jazz Communities in Shanghai, 1920s-2020s
Jinyu Liu: 

Discovering Buddha

Megan Rogers: 

Social Risk and Religious Identity Formation in a Non-Religious Environment: Gender and Religious Conversion among China's Urban Professionals
1430 Faculty Panel 2B: Politics, Policies and Environments | IB1051
Jason Douglas Todd: 

Electoral Timing or Districted Elections? Maximizing Black Descriptive Representation in County Legislatures

Irina Soboleva*:  

Personality Origins of Pandemic Policy Compliance

Wanggi Jaung: 

Urban green space and environmental injustice in popular culture: a machine learning approach

Joseph Giacomelli: 

Climate and capitalism in the late 1800s American West
1430 Student Seminar with CHEN Qiufan (pre-registration required) | IB1055
1600 Tea Break
1630 Humanities Research Center Labs and Student Research Projects
Student members of HRC labs and projects present short reports on their research accomplishments over the past year.
Third Space Lab:  Chunyuan Sheng & Aya Lahlou* and Hong Pham*
Shanghai Refugee Project: Shuhuai Zhang
Health Humanities Lab: Mia Mamo; and Yijia Liu with  Zhujun Yao, Meichen Yap, and Reika Shimomura
Knowledge Networks: Xiaoliang Yang and Wanying He
PETAL – Planet X Project: Leiyuan Tian

Bird Collision Prevention Project: Tianyu Zhang, Nancy Zhu, Shuyuan Zhou, Xin Xiong, and Jessica Song
1800 Onsite Dinner
Saturday, November 13
1000 Keynote Lecture: WANG Jianbao
The Confucian Entrepreneur: Past, Present, Future
My lecture focuses on the figure of the "Confucian entrepreneur" (rushang 儒商) as a real-world embodiment of the Confucian ideal of self-cultivation. On one hand, the Confucian sagely ideal, however, is a transcendental one, which few (if any) individuals truly attain; moreover, exemplary entrepreneurs who might be thought to qualify as rushang have typically refrained from self-identifying as such. On the other hand, Wang Yangming's famous dictum that "scholars, farmers, artisans and merchants pursue different occupations, but share a common Dao" (yiye er tongdao 異業而同道) reminds us that the Confucian Way is open to all, businesspeople and non-businesspeople alike. In this talk I investigate some models of Confucian entrepreneurs from axial age to the second millennium and now with an outlook for more ethical and more effective new business civilization in the future by rediscovering the core value of Confucius i.e. humanity (ren 仁) with a perspective of spiritual humanism rather than secular humanism.
1130 Lunch
1300 Student Seminar with CAO Fei (pre-registration required) | IB1050
1300 Student Seminar with WANG Jianbao (pre-registration required) | IB1051
1430 Freedom Lab Plenary Panel on Scholarship in COVID Era
Initiated in 2020, The Freedom Lab has always worked under the restrictions created by the Covid 19 Pandemic. In this panel, we will discuss the work and research projects conducted by the freedom lab during the pandemic. We will further discuss the implications of the pandemic for research. With archives closed and travel for fieldwork limited, students and researchers must find innovative new ways to conduct research, that is to create new forms of intellectual "freedom," in the midst of the "unfreedoms" created by Covid.
1530 Launch of Doc Lab
Professors Kolleen Guy, Seth Henderson and Kaley Clements introduce the Humanities Research Center's newest lab focusing on documentary.
1600 Tea Break
1630 Keynote Lecture: CAO Fei
Behind the Scenes: Cao Fei in conversation with Zairong Xiang. NB this conversation will take place in Chinese. An English interpretation will be available via Zoom.
Winner of the Deutsche Börse Photography Foundation Prize (2021) among other prestigious awards, Cao Fei  is an internationally-renowned Chinese contemporary artist. Her works reflect on the rapid and developmental changes that are occurring in Chinese society today and consistently focus on the question of labor in them through film, video, photography, and other media. The keynote conversation between artist Cao Fei and DKU professor Zairong Xiang, will discuss the questions raised in her art and take us on a journey "behind the scenes" of her artistic practice to her filming in the "world factories" of the Pearl River Delta area for her film Whose Utopia (2006); and to the intricate world of logistics that recent Sci-Fi film Asia One and documentary 11.11 focuse on. These two 2018 films were filmed in Kunshan itself and will be shown on Thursday, November 11th 2021 on campus (IB Auditorium).
1800 Onsite Dinner
1930 Post-Conference Film and Discussion: That's Not How I Remember It

That's Not How I Remember It is a one-night event celebrating Akira Kurosawa's 1951 film Rashomon, which is widely credited for "introducing Japanese cinema to the West." On the occasion of the seventieth anniversary of its release, join us for a discussion of Rashomon's outsized impact on global filmmaking norms and foreign perceptions of Japanese culture. That's Not How I Remember It will involve a public screening of Rashomon (in Japanese with English subtitles), followed by a roundtable discussion with scholars Yan Ni (Japan Institute of the Moving Image), Paul Anderer (Columbia University), and Richard Davis (DKU).