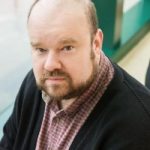 An interactive talk by Elijah Siegler, Professor and Chair, Department of Religious Studies, College of Charleston.
Tuesday, March 17, 9am Eastern, 9pm China Time
Note that because of the current health situation everyone will be participating via Zoom.
America is known as one of the most religious, and most religiously diverse countries in the world. But how do we make sense of religion in the United States of America in 2020? This talk will argue that to do this, we must understand the following four issues:
the US constitution;
regional differences in the US (i.e. why the South, including North and South Carolina, is such a distinct region);
US immigration history;
how we define religion in the first place.
This talk is ideal for anyone interested in knowing more about the unique American perspective on religion, and for DKU students who will be coming to Duke University in the fall. The audience is encouraged to ask questions during the talk via Zoom chat, or to submit them in advance via email to Professor James Miller.
Dr. Siegler has degrees in Religious Studies from Harvard University and the University of California, Santa Barbara. He regularly teaches courses in religions in America, religion and popular culture in America, Asian religions in America, and Evangelicalism in American society. He has written books on global Daoism, on New Religious Movements, and on religious themes in American film and television.