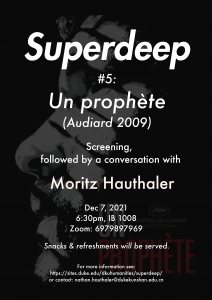 Join us for our next Superdeep workshop session this Tue, Dec 7, 6:30pm: continuing to explore themes from Superdeep #4 ("Dreams in Philosophy & in Film", with Weifan Mo) we are going to have a streaming of Jacques Audiard's acclaimed Un prophète (2009). Following the streaming we will have a brief conversation about the film with Moritz Hauthaler (independent filmmaker, theater director, curator based in Berlin & Salzburg; artistic production manager at Salzburg Festival).
The in-person screening will begin at 6:30pm in IB Auditorium (IB 1008); due to current Covid-19 campus regulations attendance will be limited to 20 participants max. The following conversation with Moritz Hauthaler will be held via Zoom (ID 69 79 89 79 69).
As always, everyone is welcome to join; no prior knowledge of philosophy (or film) is required.
And, as always, snacks and refreshments will be served at the meeting.