Reported by Shuyuan Zhou
Studies have shown that bird strikes on buildings are considered to be the second leading cause of bird deaths caused by humans. Birds may perish during the day without realizing the glass is there due to its reflectivity and permeability; at night, they may be attracted to the light and thus hit the glass. At Duke Kunshan University, most of the buildings have fully transparent glass structures, and many birds die as a result of collisions with the glass.
The Bird Collision Prevention Project, an interdisciplinary art and research project aims to have a comprehensive look at the bird collision problem at DKU, starting with its landmark, the Water Pavilion.
We use artistic intervention on the glass architecture itself to create a colorful and warm barrier.  In Spring 2021, we've "turn the cage into a bird" by hanging a mixture of twines and yarns to divide the outer area of the Water Pavilion into 5x10cm intervals, which could effectively create a friendly alert to the avian visitation.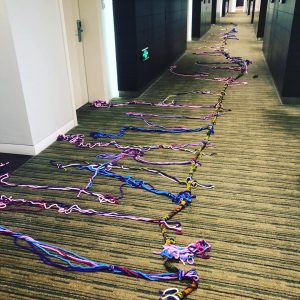 The latent fluidity of the drooping yarns echoes the near-water position of the Water Pavilion, which might make the architecture and its natural surrounding a unity not by transparency but interference.
The ongoing artistic research project aims not only to alleviate the problems of bird collision near the Water Pavilion, but also to foster contemplative opacity that calls for reflection from the DKU community and visitors on the broader meaning of a built environment based on glass structure and architectonic transparency. Besides onsite interventions, the project consists of eight actions that unfold through the year. (Some events postponed due to the pandemic).
The Bird Collision Prevention Project is funded by the Humanities Research Center, led by DKU students ZHOU Shuyuan, XIONG Xin, SONG Yanzhang, ZHANG Tianyu, ZHU Dongcheng, and Associate Director of Art, Professor XIANG Zairong, in collaboration with the "DKU Enviromentalists" and is made possible by the generous help of the workers of DKU's Operation and Construction Team, and Professor LIU Jinyu. 
原文链接 https://mp.weixin.qq.com/s/1LC7exOXUFZdVK-vtGRsAA
引言
研究表明,鸟撞建筑被认为是由人类造成的鸟类死亡的第二大原因。鸟类在白天可能由于玻璃的反光及可透过性,没有意识到玻璃的存在而殒命;在夜间,它们则可能受灯光吸引从而撞上玻璃。在昆山杜克大学(DKU),多数建筑采用的是全透明玻璃结构,许多鸟类会因此与玻璃相撞而死亡。昆山杜克大学的李彬彬教授2017年就注意到了校园内的鸟撞,从18年开始,依靠着校内关心鸟类保护的同学们,他们开始系统性的研究校园内的鸟撞。截至2021年秋季,它们共进行四个迁徙季节的系统性调查,发现19只在校园内因鸟撞而死亡的鸟类,包括极北柳莺、珠颈斑鸠、乌鸫、普通翠鸟、小太平鸟等。除此之外,还有系统性调研外发现的47只鸟类。在2021年春季,李彬彬教授带领DKU鸟撞项目组的学生们作为发起方之一,开始开展覆盖全国的系统性鸟撞调查。
随着鸟撞项目在校内的推进,更多来自不同专业和背景的同学教授们开始关心起了鸟撞问题。"喂?鸟"防鸟撞项目由DKU人文研究中心资助,由DKU学生周书苑、熊欣、宋雁章、张天愈、朱东辰组成,由艺术副主任向在荣教授指导,并与DKU鸟撞项目组、DKU Environmentalists社团合作。
"喂?鸟"防鸟撞项目是一个跨学科的艺术研究项目,旨在从DKU的标志性建筑物——湖心亭出发,全面审视校内鸟撞问题。在这个项目之前,DKU鸟撞项目组的成员已在其他的鸟撞热点玻璃处贴上防鸟撞贴纸——这已被证明是有效的。对于未经改造的湖心亭,鸟撞的事故仍频频发生,因此我们需要在此基础上采取进一步的行动。作为跨学科的艺术研究项目,我们的"行动"不仅仅是对建筑物本身的干预,更是全面,发散式地思考"鸟撞"这一现象背后的社会运作机理和艺术再现的蛛丝马迹。
行动一 
THE BIRDS-电影放映:阿尔弗雷德·希区柯克《群鸟》(1963)
为了研究人类活动给鸟类带来的劫难,我们通过希区柯克奇怪的经典了解一下群鸟是怎么杀人的。
行动二 
SPRING SPRING! 
电影放映: 谢尔盖·爱森斯坦《October: Ten Days that Shook the World(十月:震撼世界的十天)》(1927)
嘉宾讲座:The Mise-en-scène of Disenchantment: Eisenstein's Glass House, and the Dream of Transparency
迷你展览: 谢尔盖·爱森斯坦 Capital Project
第二组系列活动SPRING SPRING围绕爱森斯坦及其未完成的"The Glass House(玻璃屋)"项目展开,包括电影放映,嘉宾讲座与小型展览。湖心亭举行的电影《October: Ten Days that Shook the World(十月:震撼世界的十天)》展现了爱森斯坦对于资产阶级社会的讽刺。
从电影中的蒙太奇视觉元素出发,Elena Vogman教授在讲座中介绍了爱森斯坦未完成的"玻璃屋(The Glass House)" 项目并分享了她最近的研究,对于透明与不透明之间的意识形态张力及其在玻璃材料中的体现进行深度讨论,拓宽了对于玻璃建筑与透明性多层解读。与讲座同期举行的小型展览展示了"玻璃屋"项目的时间线与部分手稿,在第二组活动中创造了艺术与反思的氛围。
行动三 
"LA JAULA SE HA VUELTO PÁJARO" *
–位于湖心亭的装置艺术作品 
*"The cage has turned into a bird"
– by Alejandra Pizarnik
"喂?鸟"项目组对玻璃建筑进行艺术干预,创造出了一个多彩而温暖的屏障。2021年春天,我们"化笼为鸟",通过悬挂麻绳和毛线制成的编织物,将湖心亭的外部空间划分成5-10厘米的空间,这样可以有效地对鸟类形成友好的提醒。毛线下垂的潜在流动性与湖心亭的近水位置交相呼应,以介入而非共通透明让建筑与自然浑然一体。
行动四 
PASSAGE(由于疫情延期 – postponed)
观鸟活动:介绍昆山本地的鸟类。Richard Davis教授与特别嘉宾小黑嘴将为参与者带来一场昆山城市森林公园的观鸟活动。
电影放映:若昂·佩德罗·罗德里格斯《鸟类学家》(2016)
行动五 
AAAAAAAAhhhhhhh
–关于建筑、动物和(非)杀戮艺术的讲座和讨论(由于疫情延期 – postponed) 
讲座嘉宾:李彬彬(昆山杜克大学环境科学助理教授)、王青  (曾任香港大学建筑系助理教授)
NO TRACES!
–
有关于瓦尔特
·
本雅明和玻璃建筑的读书会
行动七 
FAKE FEATHER-编织工作坊(由于疫情延期)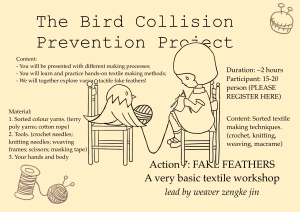 "喂?鸟"鸟撞预防项目筹备中的第七项艺术活动是"Fake Feathers假羽毛"。我们计划邀请编织艺术家金曾可老师来到DKU校园,开展一次基础的纺织工作坊。在金老师的指导下,参与者有机会了解并尝试不同的编织方法,并运用不同的织体探索假羽毛的塑造。我们希望通过编织的动作和假羽毛的创造,思考对人与自然的二元对立的跨越,进入对羽毛的想象,与织体共融,与鸟以新的姿态共生。
行动八
AVIAN WORDS鳥語-翻译工作坊和出版物
DKU人文艺术大会 
专题报告
2021年11月, "喂?鸟"防鸟撞项目成员在DKU人文艺术大会上做专题报告,和观众分享项目目前的进展和成果。在报告的过程中,宋雁章同学在现场表演了一场行为艺术。在这场表演中,她扮演了一位在玻璃建筑前等待孩子回家的鸟妈妈,对于孩子的等待与人类对于主导自然的模糊祈盼互文,而玻璃建筑暗示了这种等待的无果。竹针与毛线缠绕,书写着杂糅着希望的悲歌。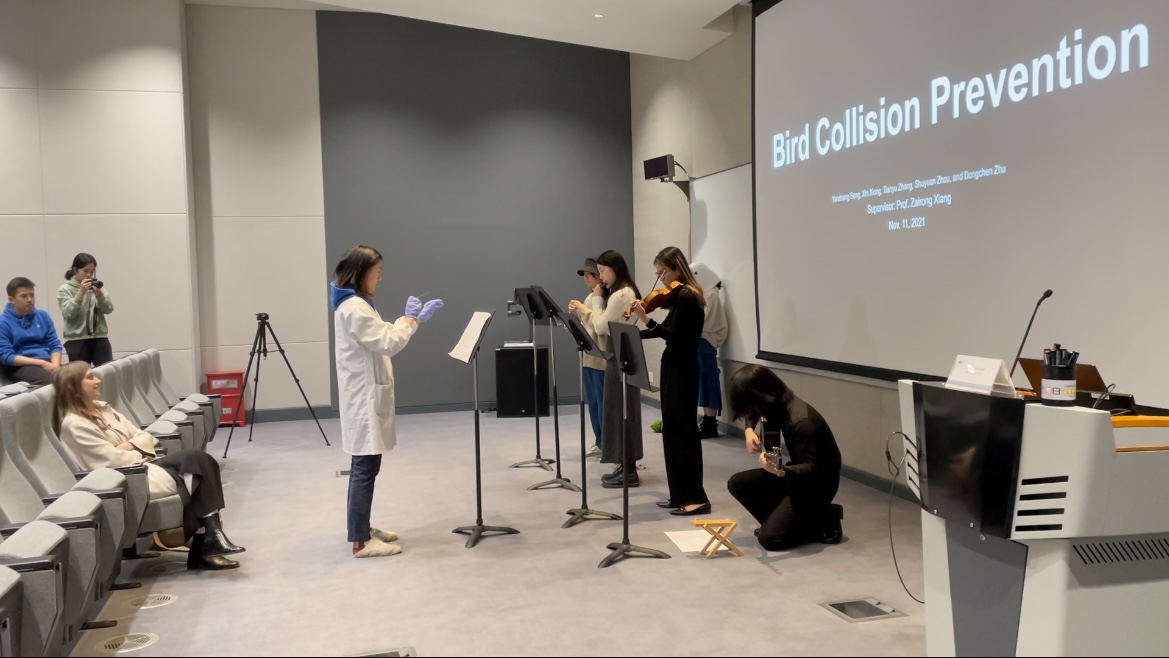 Click for Performance Video – Bird Collision Project Performance at the 2021 Fall Conference
"喂?鸟"防鸟撞项目由DKU人文研究中心资助,由DKU学生周书苑、熊欣、宋雁章、张天愈、朱东辰组成,由艺术副主任向在荣教授指导,并与DKU鸟撞项目组、DKU Environmentalists社团合作。在此对DKU运营部门工作人员和刘金宇教授的大力支持表示衷心感谢。