Reported by Cody Schmidt, Class of 2025
This talk is part of HRC's Freedom Lab with Professor Jesse Olsavsky, a series of events and lectures exploring the relationship between freedom and un-freedom in the modern world. Freedom Lab focuses on topics such as abolitionism, feminism, colonialism, and more.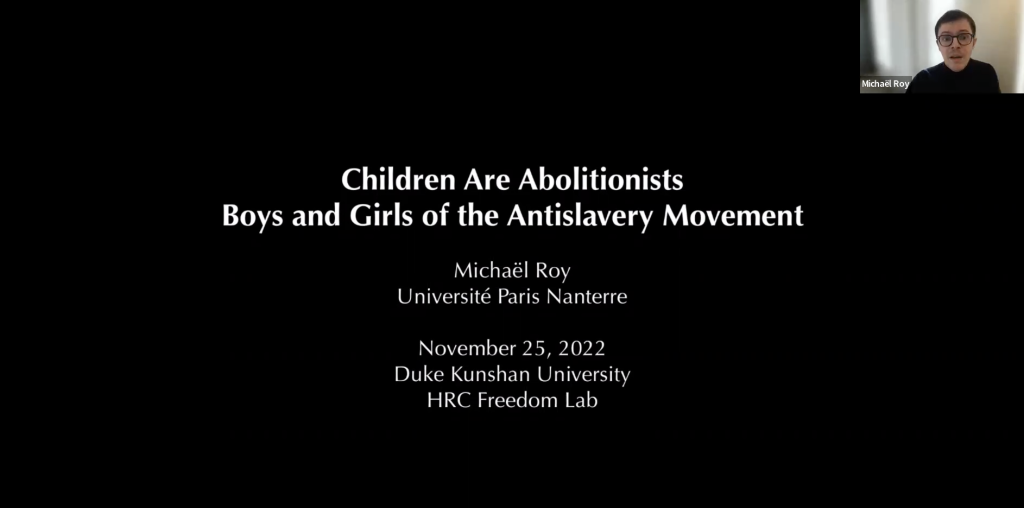 Michaël Roy, professor of American Studies at Université Paris Nanterre, joined Duke Kunshan's Jesse Olsavsky, professor of History, to discuss the key role children played in the abolitionist movement. Professor Roy is currently working on a book on the topic of children and abolitionism, with this lecture serving as an introduction to his first draft. Referred to as "juvenile abolitionism," Roy focuses on the rationale of this phenomenon in the first chapter of his book.
Professor Roy points to how slave narratives were often recommended to go into the hands of young readers, with reviewers claiming that slave narratives "belong in the hands of young readers." Young children did read these narratives, with anti-slavery magazines and books, such as Slave's Friend and Anti-Slavery Alphabet created specifically for this demographic. Moreover, children were often apart of anti-slavery meetings, anti-slavery fundraisers, and certain schools included anti-slavery writing in their curriculum.
There remains a debate about how much agency these children had over their own actions. Professor Roy believes that any child who expressed disdain for slavery, "no matter how rudimentary," was a juvenile abolitionist. "Juvenile abolitionists took many different forms depending on the race, age, and gender of the child," he explains.
Enslaved children are recognized as the first juvenile abolitionists. Frederick Douglass is one such juvenile abolitionist, with the abolitionist claiming that he was as aware of the unjustness of slavery at age 9 as he was as an adult. Professor Roy describes how once enslaved children reached this age of understanding of slavery, they begin "[the] fight against their bondage." He shared a quote from Henry Clarke Wright, describing children as symbols of purity and natural human goodness, saying "children shrink back instinctively to all forms of cruelty, till taught it by examples of violence in others." Thus, children became the torchbearers for aspects of the abolitionist movement.
Children, as individuals with limited options for political involvement and action, helped immensely in anti-slavery petitioning. In response to worries of "artificially inflating" such petitions, the abolitionist groups would include the ages of the children signing.
Meanwhile, the children of slaveholders, Professor Roy explains, showed the opposite side of this, being indoctrinated and taught to be in favor of slavery. The "tyrants in miniature," as Roy describes them, learned violence, the treatment of slaves, and how to use the slave system.
"In a world where slavery was the norm, there was no need to raise a pro-slavery child… the slave system contained the seed of its own perpetuation across generations."
Professor Roy ended his lecture by saying that the juvenile abolitionists serve as the change for this generation and are "the protagonists of [his] story."