Reported by Mateja Bokan, Class of 2025.
This Documentary Screening of "I am Not Your Negro" is sponsored by HRC Freedom Lab on October 25, 2022.
Based on James Baldwin's unfinished manuscript Remember This House, I am Not Your Negro by Raoul Peck is a Documentary nominated for an Academy Award that raises urgent ideas regarding racism in the United States of America. The narrative of the movie relies solely on the manuscript and other pieces of writing by James Baldwin, a writer with an arsenal of artistic talent and moral imagination pertaining to racism and identity, thereby highlighting his eloquent writing style forming portraits of his friends and America's most prominent civil-rights leaders Medgar Evers, Malcolm X, and Martin Luther King Jr.
The documentary opens with Baldwin returning from France in 1957, after living there for ten years – a return prompted by seeing a photograph of 15-year-old Dorothy Counts and the violent white mob that surrounded her as she entered and desegregated Harding High School in Charlotte, North Carolina. It is upon his return that Baldwin understood that he had to actively involve himself in the civil-rights movement, or as he says, "it was time I went home and paid mine [dues]".
Throughout the documentary, Baldwin exposes mid-twentieth century Hollywood for its stereotypes of black menace and subservience as foils for white purity and innocence. Clips illustrate the impact of racism on popular culture in The Defiant Ones; Imitation of Life, King Kong, Dance, Fool, Dance; and Guess Who's Coming to Dinner? As such, Peck's work transcends its documentary nature, and becomes commentary on a U.S. movie industry that was bent on reifying racial stereotypes and on perpetuating a fiction of America as the greatest purveyor of freedom, democracy, and happiness.
However, even though the documentary is set in 1960s America, Peck uses Baldwin's words to connect the past and present in order to highlight that even though some changes were made, the racism in the United States is still present and scarring for black communities. The documentary's most riveting scenes consist of intercut footage of police violence directed against black people in the '60s during the Civil-Rights movement and shots of similar violence enacted today as a response to the #BlackLivesMatter movement. This juxtaposition exposes striking similarities between the series of black deaths that punctuated Baldwin's life during the civil-rights era, and the series of deaths that mark our own calendar.
Overall, even though the documentary centers around lives and deaths of civil-rights leaders Medgar Evers, Malcolm X, and Martin Luther King, Jr, I am Not Your Negro acts as a beacon of warning to the contemporary society that its attitudes towards racism have made little progress from the time of Baldwin's writing and today. Watching the documentary today, Baldwin's realizations, contemplations, and prophetic visions carry an ominous undertone that United States of America has failed to heed at its continued peril.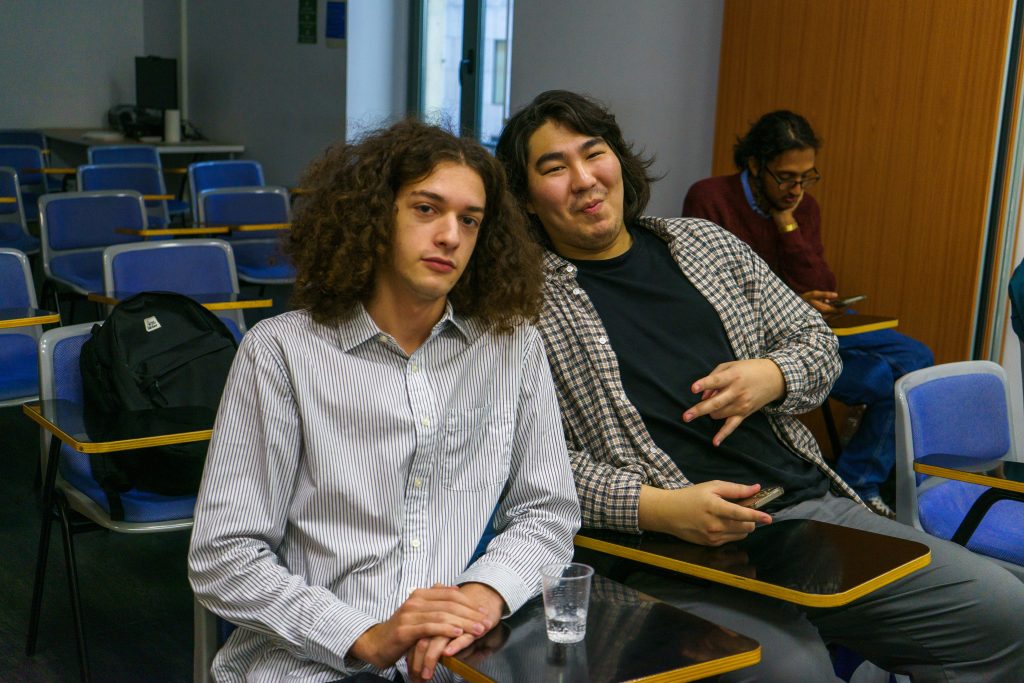 Following the screening, students engaged in a discussion on the state of racism in the United States and the world. As a result, the students explored how modern-day ignorance towards the present-day oppression with the disinterest in the past and foundations of the United States -namely from the white majority- coupled with the startling political divide in the United States doesn't allow its society to move forward in embracing and accepting non-white individuals as equal citizens of the nation. Further, students discussed the United States constitution as a protector of freedom for all citizens and its conflicting ideals highlighted through covert, but also overt racism. As a result, the students agreed that a change needs to be made, but also that it must come from within the white majority in order to have a chance of being a successful bearer of change for the better.