Friday September 18th at 7:00pm
Duke Kunshan University, Innovation Building Lecture Hall
Curated by Kaley Clements
The second annual DKU Student Film Festival is sponsored by the Humanities Research Center and is held in conjunction with the Humanities Research Center's fall conference: Hum/Animal.
The student film festival is not held in the spirit of competition, but rather as an event to gather student filmmakers from Mainland China and Hong Kong to broaden their understanding of what students at similar institutions in the region are working on. The intent is to foster relationships that  lead to future collaborations, networking in the film industry, etc. It is also a chance for faculty from these institutions to come together to discuss ways to make a stronger filmmaking culture in the Southern Jiangsu/Greater Shanghai Region.Participating Institutions & Program
Shanghai Vancouver Film School
Dog God– Chinh Zhang – 9:26
Individual – Vincal Liu – 10:50
NYU Shanghai
The Rest – Robin L – 2:35
Nature – Gabriel Chi – 2:34
Duke Kunshan University
B_U_R_I_E_D – Yinan Du – 3:16
乡Xiang – Emily Ru, Leiyuan Tian, Rachel Weng – 2:59
Xie Di Lou – Huang Bihui, Rachel Darius, Remington Gillis – 5:40
The Dream – Remington Gillis, Melody Lee – 3:30
Xi'an Jiaotong Liverpool University
Dance with Me – Ringo – 3:38
A Letter Home – Yang Kaili – 5:10
Digitalization, A New Way of Living – Linzhi He – 4:58
Novelist – Jill Chan – 6:27
Communication University of Zhejiang
Choice – Fan Xiaomen – 2:41
The Time in Amber – Ye Zexin –   1:00
Want to Feel You – Zhanbo Wang – 1:00
Duke University
False Chronology – Sarah Derris – 5:23
In Memory ­– Miranda Gershoni – 6:13
Participant Bios
* Duke Kunshan University
B_U_R_I_E_D – Yinan Du – 3:16
Hi, I am Yinan, a Media Arts student who is interested in experimenting with multi-media to deliver diverse messages. I started filmmaking in my freshman year after taking an exciting interdisciplinary course which encouraged students to visualize ideas in a creative way. The course discussed diverse societal issues and identified the medias that are documenting them. From many medias we encountered in class, I took particular interest in stop motion animation, which from my view brings static to life in a manipulative while meaning way. The power of stop motion is not only passively documenting the story but also enables viewers to actively engage in the production phase with the filmmaker him/herself by exposing the viewers to the textures of the objects and sounds used in stop-motion animation. Since then, I have been creating many animated works and some of them later got recognized by film festivals and won collaborative opportunities with other artists. I'd like to keep pursuing my career as an animator and also as a researcher who is eager to dig deep into many disciplines and use animation as a bridge to connect the ideas. Religion, philosophy, history and psychology are always my interest areas and I am seeking for an opportunity which would help me to better integrate the disciplinary knowledge with the visible presentation and recreation of animation.
乡Xiang – Emily Ru, Leiyuan Tian, Rachel Weng – 2:59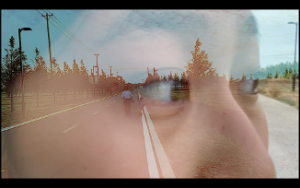 This team of three is composed of DKU students from Class of 2023.
Leiyuan is a prospective Media and Art student. She is interested in contemporary art practices, aesthetic studies, and creative curatorship. She enjoys filmmaking as a visual expression of self and a fun way to prompt interactions.
Yunyi's intended major is neuroscience. She took ARHU 102 in her freshmen year because she wanted to try film-making. Although she has chosen to study natural science in the future, she still holds a big interest in art and music.
Yiyang Weng hasn't decided her major yet but has a great interest in data science and global health. She believes major sharpens one's professional ability, but it can't impose restrictions on one's chance to explore other fields.
Xie Di Lou Yancheng Lake Hairy Crabs – Huang Bihui, Rachel Darius, Remington Gillis – 5:40
Huang Bihui, Rachel Darius, and Remington Gillis are Media and Art majors from the Class of 2022 whose passion for telling stories through a lens led them to create "Xie Di Lou – Yangcheng Lake Hairy Crabs". What began as a vague idea to improve video skills became so much more than that as they not only captured the daily routines of the workers, but also learned about them as people. Members of the team have various different goals for their filmmaking careers, from empowering and highlighting the uniqueness of BIPOC (Black, Indigenous, People of Color) students, athletes, and businesses through storytelling, to engaging in counter-hegemonic filmmaking practices, to learning about local culture through food and languages. Despite these differences, the group, as international students studying in China, desires to bridge the gap between cultures, countries, and languages through films such as Xie Di Lou.
The Dream – Remington Gillis, Melody Lee – 3:30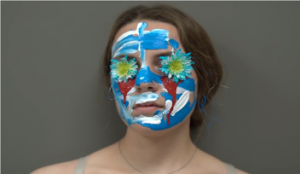 Melody Lee and Remington Gillis are Media and Arts majors from Duke Kunshan University's Class of 2022. 'The Dream' is a work originally created for a class called Art of Interpretation 102, the main idea being to see how far they could push their cinematography, storytelling, and editing within a limited time. Remington hopes to continue working on her storytelling and editing skills in the following years. Melody finds that story telling is not only limited to literature or story books. Even a single shot or a small sound indicates a behind story, and that's also the main reason why 'The Dream' was made. Melody hopes to continue story telling in all kinds of forms including film, music, and animation.
* Shanghai Vancouver Film School
Dog God – Chinh Zhang – 9:26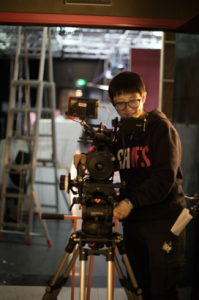 I'm Chinh Zhang, the director for Dog God. After graduation from the Sichuan Film and Television University Directing Department,I went to Shanghai Vancouver Film School for a more systematic study.
In the film, a normal dog suddenly appears on an altar, and the people from the village where this happened think the dog is a god. So they decide to worship it. A tramp wonders into this village and tells them there is a diamond in the dog's belly. The villagers find themselves tempted by the greed that lurks in man.
Individual – Vincal Liu – 10:50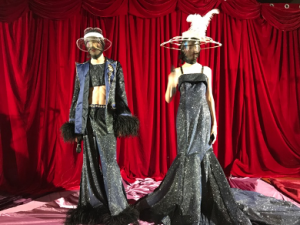 Humans always try to become better versions of themselves, but in trying fail to become their own true selves. My name is Vincal, when I was a child I always liked weird and strange things. So I was always perceived as non-normative. The first time I got in touch with cult-and experimental film, I was so amazed by its beauty. I can deeply feel the emotion through all the strange scenes. I know what they want to say, and I how they express it.
I had a rough time being myself, because especially in China this kind of style is a minoritized. My teachers, parents, and almost everyone can't understand me. They all try to persuade me to give up my passion. Film was the first time I was trying to fight for myself. And I'm glad I am myself right now.
This experience inspired me for my short film <individual>. In this society people are becoming more and more similar. We afraid to be different. We're losing ourselves. We become more and more mechanical. Until we can't remember our name. After acting for so long, the mask on your face becomes your real self. Now you are trying to take it off, it's painful, and you can feel your skin peeling off but you keep going, your face is covered in blood but you can still feel the joy of your true self. Nonetheless are you still you?
* Xi'an Jiaotang Liverpool University
Dance with Me – Ringo – 3:38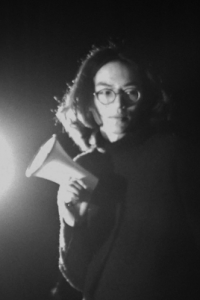 My name is Ringo. I am now studying Filmmaking at SoFTA, XJTLU. Although it was a charming accident that I entered the world of filmmaking, the beauty of film conquered every inch of my skin. Somehow, I can hear the whisper in my ear. I have a feeling that despite I am not born for film, I will die for it. It is the cave which my life will go deeply into. I am urgent to explore the secret behind the black curtain, hoping to develop this form of art before it dies young. But I know it must be accumulated step by step. Dance with Me is a documentary work shot in my first year of study with a low budget. I intend to discuss the complex roles that modern parents might play by observing an interesting case.
A Letter Home – Yang Kaili – 5:10
In my view, film can present social issues and while emoting touching stories. So I interested it and want to use film to solve some social issue. In my free time, I like to go to town or village to take a walk, and shoot. The fresh air makes me feel relaxed. I got fantastic footages during those trivial time. Some of these footages are about people, some are about landscape. l like to record, because the time will not come back. I'd like to record those charming moments.
I aimed to represent folk culture and social issue in my future works. I grow up in a small village in the south-east of China in Yunnan province. There are many minority nationalities lives here, these magnificent history and folk culture attracting me a lot. However, these treasures are gradually disappearing because the young people go out as migrant workers. the leave of young people also brings about the problem of leftover children. Therefore, I want to represent these issues in film, and let people of the world to realize about it. To bring the folk culture to the word and protecting the intangible culture heritage; and pushing the solution of the leftover children problem. In my view, film will be a powerful way. Because I think stories can touch person's heart.
Digitalization, A New Way of Living – Linzhi He – 4:58
As a young filmmaker in China, I grew up in a semi-collective society where my difference stood out so much that I have been forced to reflect on my loneliness. It became an unescapable theme for my creative life. Meanwhile as a girl growing up and a woman, I constantly share the experience of "being watched" just like many others. I am silent, even when I can present myself using multiple means online, I am still without a voice in front of the faceless audience. What I truly want to express is the sadness embedded in the power relation of "viewing" "processing" and "gaming", and hopefully inspire self-reflects among the audience.
Millions of videos were uploaded on to the internet on a daily bases. Reality is dismembered by fragments of these mummified pieces of lives. The line in-between games, videos and real life experience is getting thinner. Just like one of Vertov's credo when making the famous Kino Pravda says: Life caught unawares. Is the behavior while viewing also part of life provoked by not only the camera but also the message itself? When getting more and more acquainted to the digital part of our lives, are we getting used to viewing people as "they" and granted more power over them? Will that contribute to the distant human relation?
Novelist – Jill Chan – 6:27
As a director of this film, I'm glad to share part of my film production experience here. <Novelist> is the most remarkable project for me, because of the process of pure experimentation and group dynamics. It's an exploration of the future film, which is very rich in citations and references to admired filmmakers — Maya Deren, Wong Kar-Wai, and Bi Gan. Apart from those great filmmakers' inspiration, the group dynamics are also important. The controversies often happen, but they are good signs for experimentation. By channeling and merging those multiple ideas and experiments from actors and film crews, my original intentionality became very much a group intentionality, which is far beyond my expectation. <Novelist> intends to discuss the self-enclosure trap of migration people in urban life. And I hope you could enjoy it.
* Duke University
False Chronology – Sarah Derris – 5:23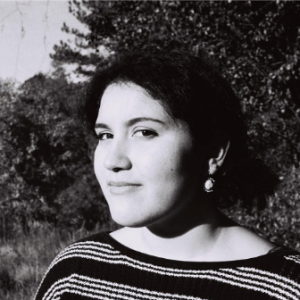 Sarah Derris is a filmmaker and writer in her final year at Duke University. Her true fascination with filmmaking began when she took a 16mm filmmaking course, allowing her the opportunity to observe and contemplate film's materiality and ability to capture and preserve life's most immaterial and fleeting moments. With a strong interest in local and family mythologies and the legacy of colonization in Algeria, she seeks to make those stories come to life on the page and screen. She is currently working on her distinction project entitled "Umrah," a spiritual passage where reality and unconscious; devotion and chaos blur and mesh.
In Memory ­– Miranda Gershoni – 6:13
Miranda Gershoni is junior at Duke majoring in Global Cultural Studies with a minor in Cinematic Arts and Documentary Studies certificate. Across media platforms, she is passionate about bolstering the stories of marginalized people in service of justice and cultural reckoning. She hopes to continue filmmaking and writing after she graduates — from investigative documentary to visual poetry to narrative to op-ed, she's excited to dig into it all!
* NYU Shanghai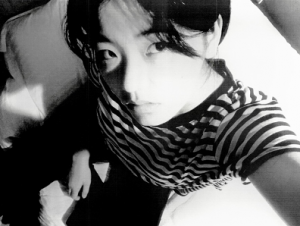 Robin L is a Chinese-American multidisciplinary artist and writer with a passion for STEM and the humanities. She is a third-year Computer Science major at New York University Shanghai. She is interested in interdisciplinary work and the implications of power, trauma, memory, and time.
The Rest is an experimental film that deals with the ongoing aftermath of an emotional trauma. Using footage found from old films and documentaries and the sound bites of Anne Sexton and Toni Morrison, the film arranges a figurative visual language to describe the experience. Before the title card, the film expresses the disorienting feeling of the trauma. After the title card, the film expresses the feeling and process of putting together the remains (or the "rest", synonymously) of oneself after the trauma, and the need for patience, nourishment, realization, and "rest."
Gabriel Chi is a multi-disciplinary artist hailing from Tokyo, Japan. Currently studying at NYU Shanghai, Gabriel is involved in varied fields of art, such as music production, visual art, and audio reactive performance.
"Internet Friends" was created as the final project for the Moving Images course in NYU Shanghai. Heavily lending from surrealism and post internet art, the compilation of random footage and audio throughout the short film serve to reflect our relationship with the internet and the rapid consumption of media.
* Communication University of Zhejiang
Choice – Fan Xiaoman – 5:00
Since I was young, I have been deeply concerned about and influenced by intimate relationships. Later I learned that there is no such thing as complete empathy. I gradually found that the "identity" that kept the relationship between people is the first consideration. A lot of times, someone is not interested in my personality. What matters to him is what my existence means to him and what reflects on him in me. I oscillate between satisfying other people's expectations of who I am in intimate relationships and becoming a more natural version of who I am. I want to maintain the relationship and not lose myself, so I want to deal with both parts separately. I want to fulfill what is expected of me in a relationship, and I want that part of me to be understood or valued. I find it the most balanced way to live my life. I express my complaint, expression and dark side in my own films, and solve this part of my confusion in the film. There are all kinds of stories in the movie. The more stories I read and the broader my perspective, the less I get stuck in my own little world and the less I obsess about intimacy. In addition, these stories always resonate with me, and I get strength when I realize that I'm not alone. From the initial idea to the final film, I put my own obsession and desire to express in the process to make me feel calm. One does not listen to others all the time, and there is no such thing as a perfect understanding, but a film can. My film is the best product of my expression, but also belongs to me. I put my heart into it, and it settled my emotions in the end.
The Time in Amber – Ye Zexin – 1:00
Ye Zexin, a student in the Directing Department of The Communication University of Zhejiang, has directed and participated in the creation of several short films. The short film Room was shortlisted in the main competition unit of Dalian 24 Frames International Youth Film Festival. Ye is good at the innovative creation of genre films, balancing the commercial and artistic styles of films, emphasizing on narration while lacking artistic expression, and conveying the views and inner emotions of the current era through films.
Want to Feel You – Zhanbo Wang – 1:00
Zhanbo Wango is an undergraduate student. In order to better understand the whole process of film production, I have held different positions in various short film creations, such as art, lighting, photography, editing, toning, DIT, sound, etc. He is good at narrative, and understanding the role of various film production positions in video narrative. His desire is to reflect life in movies, and the concern for the expression of time itself.