Time: 9/25, Friday 6-7pm
Location: IB1046
Zoom ID: 262-835-7204
The Media & Arts Speaker series at Duke Kunshan University is a bi-weekly event that invites leading practitioners in media and arts to speak about their work and practice and engage with our DKU community.
The second short series features Points Center for Contemporary Art (PCCA). Situated in the greater Kunshan region, PCCA is dedicated to building a cultural ecosystem that embraces the local community within Kunshan city. Through this series, we hope to provide students an introduction to the art center, its guiding philosophy, its programs and artists.
The lecture scheduled on Friday September 25th, 2020 at 6pm China Central time features Points 2020 spring resident artists Liao Fei and Zhao Qian where they will share with us their methodology and work. This series is organized and hosted by Prof. Vivian Xu and Prof. Benjamin Bacon, and supported by Arts and Humanities and the Humanities Research Center at Duke Kunshan University.
This event is open to the public.
Lecture Introduction
In the second talk of this series, Conversations with Liao Fei and Zhao Qian, the artist Liao Fei will share his contemplations on the cognitive process and how it relates to and informs his art practice and visual language. In his artist statement, he asserts:
"Today's understanding of the cognitive process relies heavily on scientific "positivism." Dualism dominates our conception of our external material world, in the sense that, material exist beyond in the objective domain beyond consciousness. Within this framework of reality, systems maintain a clear, concise, and mechanical beauty. While I have strong doubts towards dualism, at the same time, I am deeply interested in such systems. These motivations are the undercurrents that drive my art practice. I will discuss my interpretation of material and the types of systems I devise in my contemplation of different material worldviews."
Speaker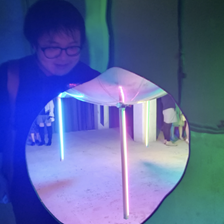 Liao Fei's practice originates from his doubt towards his surrounding reality and his perception. He attempts to approach "thing" through his practice, employing physical materials through the external forms of art to reveal the problems inherent within. Confronting his art with an attitude of instrumental rationality, he strives to produce a perceptive intensity through thinking, logic and abstract concepts. His work transforms the sense of balance intrinsic to mathematics into visual languages. Through his minimal, and almost solely linguistic expressions, he presents to us scenarios that allows us to experience mathematical, logical and abstract concepts. Liao Fei was born in 1981 in Jindezhen, Jiangxi. He graduated from Shanghai Normal University in 2006 and is currently based in Shanghai.
Zhao Qian's work focuses on human activities and the environment around him. Qian translates information into 2D images, distorting the original meaning in the process. His work has been exhibited in Lianzhou Photography Museum (Lianzhou, China), Houston Center for Photography, (Houston, USA), 001 Gallery (Rome, Italy), and Reminders Photography Stronghold Gallery (Tokyo, Japan). His work has also appeared in the group exhibitions in Rathfarnham Castle (Dublin, Ireland), Kala Art Institute (Berkeley, USA), French Pavilion (Zagreb, Croatia), Museum of Contemporary Art(Zagreb, Croatia), Museum of Contemporary Art of Rome (Rome, Italy), Ogden Museum of Southern Art (New Orleans, USA), Zhejiang Art Museum(Hangzhou, China), Dalian Art Museum (Dalian, China) and Today Art Museum (Beijing, China).
Zhao Qian has shown in Unseen Photo Fair, Singapore International Photo Festival, Athens Photo Festival, Copenhagen Photo Festival, FOTOFESTIWAL, PHOTOFAIRS | Shanghai, and Art Beijing Fair. He has received fellowships for residencies such as The Cow House Studio, Vermont Studio Center, and Kala Art Institute. His first monograph "Offcut, the edge" was published by Jiazazhi Press in 2017.
Zhao Qian is a visual artist currently living in China.
Any inquiries please contact yifei.qi@dukekunshan.edu.cn.