Thursday 7 May, 10pm Eastern / Friday 8 May, 10am China
Interdisciplinarity lies at the heart of Duke Kunshan University's innovative curriculum for the 21st century. Recently DKU appointed James Miller, Co-Director of the Humanities Research Center to be its first Associate Dean of Interdisciplinary Strategy. Join Professor Miller and students from the HumanSpace+ research group as they embark on a series of conversations with leading theorists and practitioners of interdisciplinarity in the world today to explore how interdisciplinarity is tied to innovation and future of knowledge.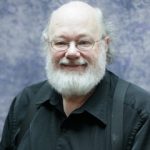 The fourth conversation in this series is with Professor Ed Turner from Princeton University and focuses on the future of the life. Working extensively in both theoretical and observational astrophysics, Professor Turner has published more than 240 research papers with particular concentrations on topics including binary galaxies, dark matter, quasars, exoplanets, astrobiology and the origin of life.  Professor Turner is also a leader of the Breakthrough Starshot initative, which aims to develop a light-powered starship to journey to Proxima Centauri b, an exoplanet discovered in August 2016.
Continue reading "Interdisciplinarity and the Future of Life"