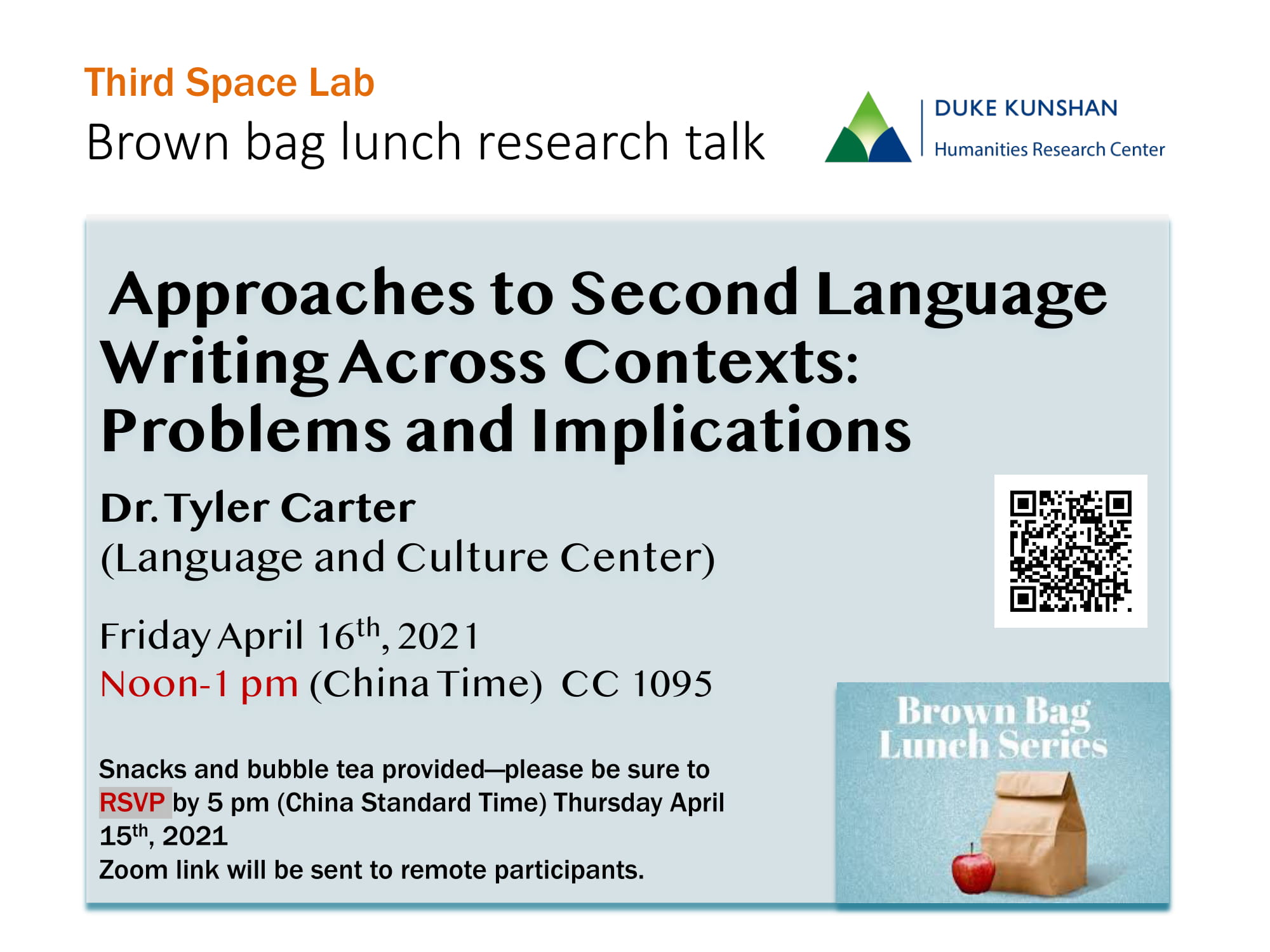 Third Space lab (TSL) invites you to attend the upcoming Brown Bag Lunch Research Talk by Dr. Tyler Carter (Language and Culture Center) on Approaches to Second Language Writing Across Contexts: Problems and Implications at noon on Friday April 16th, 2021 (China Standard Time).
Abstract: Second Language Writing (SLW) instruction includes a wide range of approaches, some complimentary, some at odds. From Process-genre to Academic Literacies, to EAP, to WAC/WID, when used widely across varied national and institutional contexts these approaches may take on lives of their own, accelerating subdisciplinarization and knowledge compartmentalization. This work-in-progress presentation considers Sino-joint venture universities and the wider context of Writing and Language Studies in a discussion of how these approaches relate to one another and the implication of these relationships for teachers and scholars.
Please RSVP by 5 pm China Standard Time Thursday April 15th :
https://duke.qualtrics.com/jfe/form/SV_6zfTuxrqVMARmAu
Location: CC 1095. Zoom link will be sent to remote participant. Bring your own lunch and enjoy the inspiring conversation! Snacks and bubble tea provided—please be sure to RSVP.
ABOUT THE EVENT
The TSL brown bag lunch research talk is open to all members of the DKU community who are interested in engaging in a conversation about research projects, either a published work or a work-in-progress, broadly related to languages, cultures and intercultural communication.
If you are interested in participating either as a speaker or as audience, please fill out this survey with your availability and the potential topic/work you'd be interested in discussing: https://duke.qualtrics.com/jfe/form/SV_bj9cfFmbMBwF80Z. Student speakers are welcome but are encouraged to consult the TSL co-directors first. We will arrange in-person and hybrid sessions. Contact Thirdspacelab@dukekunshan.edu.cn or Dr. Zhang Xin (xz261@duke.edu) for inquires.