Th.D. Concentration in the Arts
Doctoral Research on Theology and the Arts
One of the possible areas of concentration within Duke's Th.D. program is theology and the arts, working with Professor Jeremy Begbie and others. At any one time, DITA typically works with six students in the Th.D. program. The Th.D. provides students with academically rigorous training comparable to the demands of the Ph.D.
Duke Divinity's Doctor of Theology (Th.D.) program provides students with academically rigorous training informed by an understanding of theology as critical reflection on Christian practice and belief in light of Holy Scripture.
Entering students work within theological disciplines such as Bible, church history, theology, ethics, homiletics, Christian formation, and also at the intersection of these disciplines with fields such as political science, peacemaking and reconciliation, medicine, and the arts. The program is intentionally interdisciplinary, and students have access to the resources of both the wider University and partner institutions (including UNC-Chapel Hill, NC Central University, and NC State University).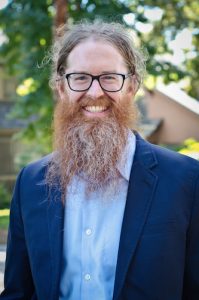 Our first Th.D. alumnus in the DITA program was David Taylor, the son of missionary parents, born and raised in Guatemala City. Taylor served at Hope Chapel in Austin for 12 years as pastor of arts ministries and adult education programs. Among many outreach efforts, he has directed summer music, dance, and film festivals; organized art exhibits; and developed theater ministries and film and theology discussions. He recently edited For the Beauty of the Church: Casting a Vision for the Arts, a collection of essays by Christian leaders and artists.
Dr. Taylor is now Assistant Professor of Theology and Culture with Fuller Theological Seminary and the director of Brehm Texas with the mission "to revitalize the church through the arts for the common good" across Houston.
If I received a dollar for every time I heard of an artist leaving the church because of a pastor who failed to understand the vocation of artists and the God-given place of the arts in human flourishing, I would be a rich man. DITA is a crucial initiative at a key time in our world. Insofar as it is investing in future leaders of the church by offering students a theologically careful, culturally intelligent, aesthetically rich, and pastorally wise understanding of the arts, it performs an invaluable service to both academy and church for the sake of a winsome witness in our society."
Learn More
---
Certificate in Theology & the Arts (CTA)
DITA has created a Certificate in Theology and the Arts (CTA) as part of its mission to promote a vibrant engagement of theology and the arts in a way that contributes to and advances the aims of Duke Divinity School and Duke University. This certificate is available to Duke Divinity students enrolled in the M.Div., M.T.S., Th.M., or M.A.C.P. programs.
Establishing a certificate program will mark a significant step towards making the rich opportunities and resources in the arts and theology that already exist at Duke more visible and accessible. In turn, we expect those opportunities will be multiplied as students and faculty are encouraged to participate in the program.
Certificate Page
---
M.Div. / M.T.S. Courses
Masters-Level Courses in Theology and the Arts
DITA has established a number of courses in theology and the arts at Duke Divinity School for Master of Divinity and Master of Theological Studies students, including:
Introduction to Theology and the Arts
Postdoctoral associate, Dr. Daniel Train, teaches this introduction to the ways in which theology can enrich and be enriched by the arts.
Syllabus
Theology and Music
Dr. Jeremy Begbie teaches this course, which aims to examine some of the ways Christians have thought theologically about music, and the ways in which music might inform theology
Syllabus
Beauty, Suffering, and the Cross
Postdoctoral associate, Dr. Daniel Train, will be co-teaching this new course with Dr.Ray Barfield. This is an exciting new interdisciplinary initiative.
Syllabus
The Passion Narratives: Exegesis, Theology, and the Arts
This course aims to explore the ways in which the four passion narratives can be engaged through contemporary exegesis, church tradition, and diverse art forms, toward fostering scriptural imagination.
Syllabus